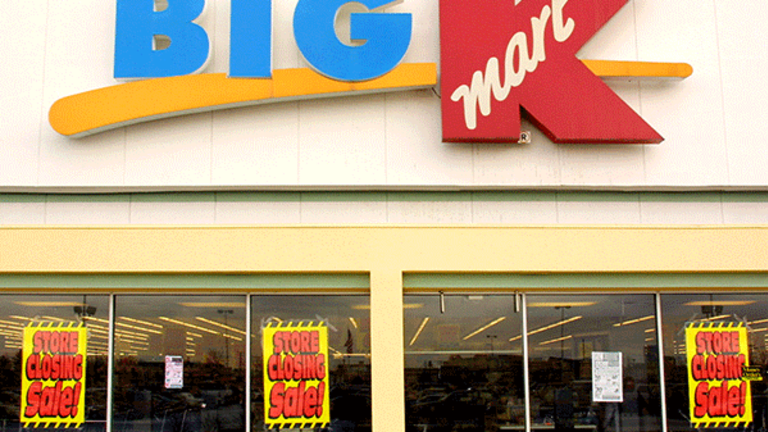 Sears Speeding Exit from Suburban America; 80 Down This Year, 90 to Go
Say goodbye to your local Sears or Kmart store this year.
Sears Holding Corp. (SHLD) sure wasn't kidding earlier this year when the struggling retailer said it would shutter a slew of under-performing U.S. stores in a bid to stay afloat a little longer.
Sears has closed about 80 stores this year, according to calculations done by TheStreet, of which about 58 have been Kmart stores and the rest Sears stores. In the first quarter alone, Sears exited about 50 stores. Back in May, executives said it would close an additional 117 stores, putting it on pace for about 170 store closings this year, so figure about another 90 still to come.
Sears operated 1,592 total stores at the end of the second quarter, down from 1,702 the year earlier.
Even as it sheds costs during its ongoing exit from rural and suburban America, Sears still can't turn a profit. In fact, the store closings may be making matters worse for Sears as it's giving large sums of business to rival retailers such as Walmart (WMT) , Target (TGT) , Kroger (KR) , Home Depot (HD) , Lowe's (LOW) and Dollar Tree (DLTR) .
Kmart's same-store sales fell 3.3%, representing the seventh straight quarterly decline, Sears reported Thursday. Sales were pressed in some of Kmart's most important categories, such as pharmacy, groceries and consumer electronics. Sears itself notched its eighth consecutive same-store sales decline as sales tumbled 7%. Weakness was felt across the board for Sears, with sales falling in home appliances, apparel, cosmetics and footwear.
The company reported a second-quarter loss of $2.03 a share vs. a loss of $2.40 a share last year. Net sales plunged 8.8% to $5.7 billion. The shares fell about 4% to $14.12 in mid-day trading on the Nasdaq.
More store closures likely lie ahead for Sears next year, too, as the entire department store sector tries to shore up profits amid the shift to online shopping. In Sears's case, more drastic measures on store closures may need to be taken to preserve its dwindling cash pile. Cash and equivalents declined to $276 million during the second quarter from $1.8 billion a year ago. As a result, Sears was forced to borrow $300 million from CEO Edward Lampert's investment vehicle ESL Investments.
Sears' continued store closures suggest Seritage Growth Properties (SRG) got most of the company's prized real estate in a crafty deal put together in July last year, when Sears established Seritage as an independent publicly traded real estate investment trust (REIT). It sold 235 Sears and Kmart stores to Seritage along with Sears' 50% interests in joint ventures with Simon Property (SPG) , General Growth Properties (GGP) and The Macerich Company (MAC) , which together held an additional 31 Sears properties.
In return, Sears received total proceeds of $2.7 billion
Green Street Advisers recently estimated that the nation's department stores averaged just $165 in sales per square foot last year, a 24% decline since 2006. For department stores to boost their sales per square foot, vital in driving profits due to the high rents an anchor store such as Macy's (M) pays, Green Street proposed a drastic measure. The firm says the department store sector needs to slash about 800 locations in the U.S, or one-fifth of all anchor space in U.S. malls, to reach the productivity levels they had a decade ago.
Sears would need to shutter about 300, or 43% of its Sears stores, to recapture the sales per square foot it had in 2006, estimated Green Street.
Macy's apparently got the memo from Green Street. The department store announced recently it will close 100 stores by early 2017, or almost 15% of its current 728 locations. The company plans to take the savings from operating these low-volume stores and reinvest them in its top-performing locations.
Sears Holding spokesman Howard Riefs didn't return a request for comment.