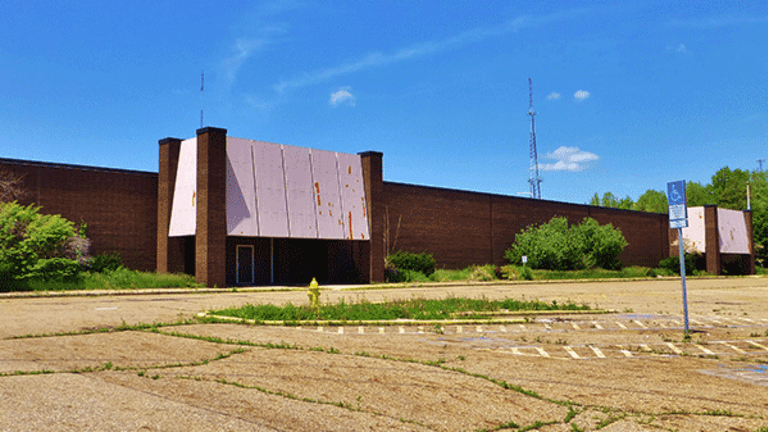 Top Ratings Agencies: Sears Is Still Doomed
Eddie Lampert manages to crush the shorts, for a day.
With its stock hovering near an all-time low and credit default swaps pricing in the potential for a bankruptcy filing this year, Sears Holdings (SHLD) CEO Eddie Lampert decided to take action. 
To the extent Sears' latest tactics are just smoke and mirrors designed to stop the bear raid on its stock, however, is the big question.
Shares of the dying owner of Sears stores and Kmart exploded as much as 26% to $6.94 on Friday on news of a $1 billion restructuring. Details of the restructuring weren't anything Lampert hasn't already shed light on in the recent past. They include the closure of 150 Sears and Kmart stores by the end of the first quarter, continued efforts to sell off real estate, and the shopping of the Kenmore, Diehard and Sears Auto Center businesses, all in an effort to raise cash. What Lampert did newly promise though is to deliver the next phase of organizational streamlining in light of his efforts to slim down the store size and how much inventory is stocked in stores. Sears sprinkled in some other nuggets that likely have the shorts taking cover, for now. 
The company scored a $140 million increase in its credit revolver. It also said it expects to achieve a reduction in debt and pension obligations of $1.5 billion for fiscal 2017 by using cash from the sale of Craftsman ($775 million) and proceeds from its restructuring. 
While Lampert pats himself on the back on Friday, in reality the efforts could prove way too late for the once storied retailer for several reasons. 
First, Sears continues to perform horribly as it cedes market share to better operating rivals such as Walmart (WMT) - Get Walmart Inc. Report , Amazon (AMZN) - Get Amazon.com, Inc. Report and Dollar Tree (DLTR) - Get Dollar Tree, Inc. Report . Sears' fourth-quarter same-store sales plunged 10.3%, comprised of an 8% decline at Kmart and a 12.3% drop at Sears. The company racked up a loss of $535 million to $635 million. Business has gotten so depressed that Sears incurred a charge of between $350 million to $400 million related to the Sears name. In other words, the Sears brand is expected to produce significantly less in future cash flows than Lampert and his lieutenants at one time expected. 
Fourth-quarter adjusted earnings before interest, taxes depreciation and amortization (EBITDA) was a negative $61 million vs a negative $137 million a year ago. It's hard to see how sales -- which are the lifeblood of a retailer -- improve as Sears appears keen on shuttering even more stores, further overhauling its operations and keeping inventory lean. 
Secondly, despite Lampert's proclamation on Friday that Sears has "positive momentum," in truth the company remains in dire straits at the moment. 
Sears burned through $1.6 billion in cash last year, said Fitch Ratings recently, adding that it expects the company to burn through another $1.8 billion this year. As a result, Fitch estimated Sears will have to raise approximately $2 billion in liquidity in 2017, roughly in line with the annual average over the past five years, if it wants to keep the doors open.
Fitch believes restructuring risk for Sears remains "high" over the next 12 to 24 months given the significant cash burn and reduced sources of liquidity. 
Friday's news hasn't persuaded Fitch, however. 
"Net net there is not a lot of new news here, it's most a summary of recent actions -- the company will still need to find sources of liquidity from its operations," Fitch Ratings analyst Monica Aggarwal told TheStreet. "I don't see the path to profitability, the top line remains too challenged given the retail climate," Aggarwal added.
Earlier in January, Moody's downgraded its credit rating on Sears to Caa2 from Caa1. The downgrade reflected the accelerating negative sales performance of Sears' business, Moody's said.
"Although Sears has been able to fund its continued cash shortfalls through planned asset monetization, and additional financings, a meaningful business turnaround in fiscal 2017 is critical given the continued reduction of its asset base", said Moody's vice president, Christina Boni. "We expect operating cash flow to approach a disappointing loss of $1.5 billion for fiscal 2016."
Similar to her peer at Fitch, Moody's Boni was unmoved by what Sears had to say. 
"At some point you can't just cut costs, revenue has to be a driver -- we still expect Sears to be an operating cash flow user this year," Boni said to TheStreet on Friday. 
Updated from 10:10 a.m. with new comments from Moody's