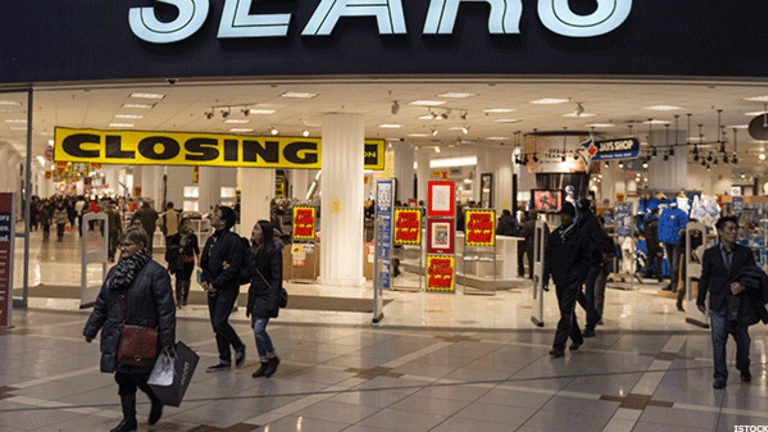 Sears' Second Quarter Was Absolutely Disturbing
Sears just delivered another horrific quarter.
Sears Holdings (SHLD) is in really bad shape as its earnings report shows, and as it prepares for the holiday season.
The struggling owner of Sears and Kmart reported a staggering second-quarter loss of $2.03 a share as it felt intense competitive pressures in businesses such as appliances and apparel from Home Depot (HD) - Get Free Report , Lowe's (LOW) - Get Free Report , J.C. Penney (JCP) - Get Free Report , Best Buy (BBY) - Get Free Report and Walmart (WMT) - Get Free Report . A year ago, the company delivered a loss of $2.03 a share. Net sales plunged 8.8% to $5.7 billion.
The impact of yet another loss could almost be felt in the dishearted statement by Sears' Chairman and CEO Eddie Lampert. 
"We continue to face a challenging competitive environment, and while we continue to focus on our overall profitability, including managing expenses, we reported a net loss for the second quarter," Lampert said.
Make no mistake, part-time hedge-fund manager Lampert has reason to be disheartened. 
Same-store sales at discounter Kmart fell 3.3%, representing the seventh straight quarterly decline. Sales were pressed in some of Kmart's most important categories, such as pharmacy, groceries and consumer electronics.
As for Sears, it notched its eighth consecutive same-store sales decline as sales dived 7%. Weakness was felt across the board for Sears, with sales falling in home appliances, apparel, cosmetics and footwear.
Perhaps more concerning than the sales declines are the dangerously low cash levels for Sears as it gears up for the holidays. Cash and equivalents declined to $276 million from $1.8 billion a year ago. As a result, Sears was forced to accept $300 million in financing from Lampert's investment vehicle ESL Investments.