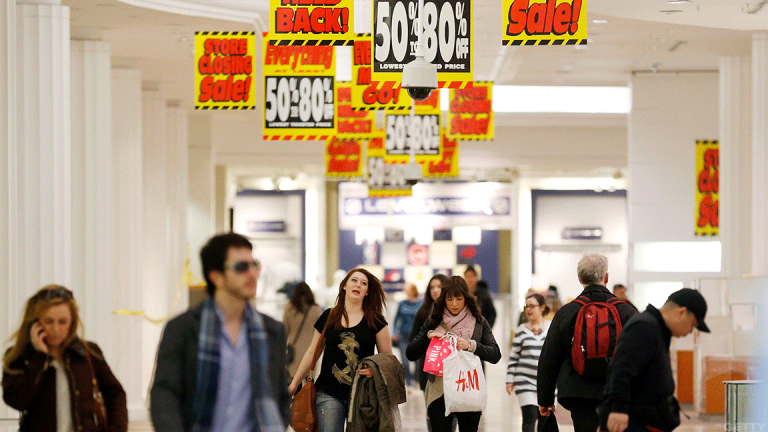 Who Dumped Who - Sears or Whirlpool?
Breaking up is not so hard to do, it seems. The retailer and appliance maker are ending a 100-year relationship.
Sears Holdings Corp. (SHLD) and Whirlpool Corp. (WHR) - Get Whirlpool Corporation Report seem to be caught in a he-said, she-said kerfuffle this week.
The smattering of investors and analysts who still follow Sears were befuddled Monday. Oct. 23, when news broke that the ailing department store would cease to carry Whirlpool products after a relationship of more than 100 years.
"Whirlpool has sought to use its dominant position in the marketplace to make demands that would have prohibited us from offering Whirlpool products to our members at a reasonable price," Sears said in an internal memo, first reported by the Wall Street Journal.
But Whirlpool CEO Marc Bitzer said in an earnings call Tuesday morning, Oct. 24, less than 12 hours after the story broke, that it was the appliance maker that decided to cut the cord with Sears.
"We did inform Sears in May that we would no longer supply Whirlpool branded products as we simply could not reach terms that were acceptable to both parties," he said in the call. "In terms of the impact of shifting that, to be honest it's not a whole lot."
Carrying Whirlpool brands such as Maytag and KitchenAid, Sears represents 3% of the manufacturer's total global revenue, Bitzer added. 
Sears, based on the language in the memo, seems to be accusing Whirlpool of overpricing its products. Whirlpool itself said in the earnings call that raw material inflation had caused lower operating margins. The appliance giant is behind Sears' exclusive line Kenmore, which will continue to be sold in Sears and on Amazon.com.
Still, many found Sears' announcement confusing, given Sears' already declining appeal to customers. Sears used to have up to 40% of market share on appliances, industry experts said. Now, it has 15%—if that.
"It just doesn't add up," said Bill Dreher, an analyst at Susquehanna Financial Group, the only remaining analyst covering Sears listed on Factset. "Sears is not investing in their stores. The shopping experience is dreadful. Customers are beginning to figure this out, and as Sears continues to lose marquee brands like Whirlpool, they're going to lose customers," he told TheStreet.
Whirlpool may have been preparing to phase Sears out for a while now, according to Jennifer Joiner of the retail consulting firm North Highland. "They may have seen Sears as a declining retailer and figured out that they could easily find replacement retailers to carry their products," she said.
Another possibility, according to Dreher, is that Sears made the final break when it realized that the premium products under Whirlpool are simply too pricey now for the average Sears shopper. "Sears has always had a duality of their customer base. Those who go for apparel are more moderate, whereas the customers that buy appliances are wealthier," he said. "It could be that there is an increasing reluctance for wealthier customers to go to Sears now."
Whirlpool shares fell nearly 11% Tuesday, while Sears dipped about 8.5%.
Regardless of who initiated the breakup, watchers all agree that Sears has more stake in it than Whirlpool.
Added Joiner: "The loser in this whole thing is clearly going to be Sears." 
Things weren't always so disastrous for Sears. Check out our timeline of the once beloved retailer's fall from grace:
Don't miss these top stories on TheStreet:
Editors' pick: Originally published Oct. 25.