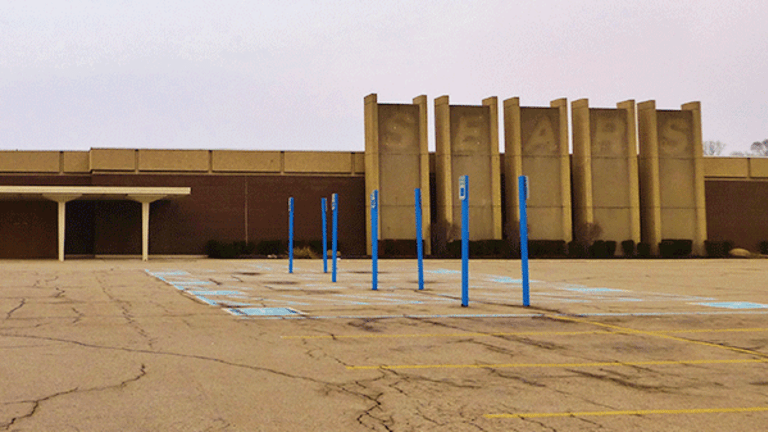 Dying Sears Could Be Quickly Running Out of Cash
The struggling retailer needs greenbacks.
Wall Street may want to temper their exuberance over the quarter struggling Sears Holdings Corp. (SHLD) just announced. 
"Sears' declining cash balance heightens its need to continue to source $2 billion of liquidity annually," David Silverman, Senior Director, U.S. Corporates at Fitch Ratings told TheStreet via email. "The company's ability to continue to operate is dependent on their ability to continue finding these sources -- it currently has a number of unencumbered store locations which could be monetized."
And Sears may want to get moving on finding buyers for those properties, and brands such as Kenmore and DieHard. 
Sears' cash fell to $264 million in the first quarter from $286 million to end 2016. For its part, Sears says it has $3.7 billion in total liquidity that likely reflects its inventories, cash and credit availability.
According to financial analyst Brian Sheehy of Iszo Capital, Sears is burning through $189 million a month in cash. The company only had $70 million left on its credit revolver and $264 million in cash, for liquidity of $334 million, for the quarter ending April 29 per Sheehy's calculations. As a result, Sheehy said Sears could be about to run out of cash sometime within the next 30 days assuming its current burn rate.
Said Moody's vice president and senior analyst Christina Boni,"Clearly Sears' business is under pressure." Boni added that her outlook on Sears -- that is it will still burn a significant amount of cash this year -- generally remains unchanged.      
In January, Sears sold its iconic Craftsman tool brand to Stanley Black & Decker (SWK) - Get Stanley Black & Decker Inc. Report for just $900 million as one of several desperate attempts to raise cash.
How vendors react to Sears in coming weeks in light of its tepid cash position will probably be closely watched by investors.
"[Sears'] vendor relationships appear to be worsening on the margin, highlighted by recent news regarding its dispute with One World Technologies," Silverman said, adding that vendor relationships are also a "concern with regard to inventory availability."
The department store retailer reported Thursday that its adjusted net loss clocked in at $230 million, or $2.15 a share. A year ago, Sears delivered an adjusted loss of $199 million or $1.86 a share. Sales at both the Sears and Kmart banners continued to plunge amid stiff competition from much healthier rivals Walmart (WMT) - Get Walmart Inc. Report , Target (TGT) - Get Target Corporation Report and Home Depot (HD) - Get Home Depot Inc. (The) Report . Same-store sales at Sears crashed 12.4%, marking the 11th straight quarterly decline. At Kmart, sales dived 11.2%, and were down for the 10th straight quarter.
Surprisingly, shares of Sears surged as much as 27% to $9.50 in afternoon trading as investors cheered the company's loss coming in better than expectations. Shares gave back a good chunk of gains by midday, however, closing 13.5% higher at $8.48. 
At least for today, Sears' cash concerns are on the back-burner in the minds of investors.
Sears spokesman Howard Riefs didn't return a request for comment. TheStreet has reached out to Sears on numerous occasions for comment on aspects of its business, with no response.  
Click here for the latest business headlines.
Read More Trending Articles:
Sears Mind-Blowing Loss and Evaporating Cash Should Only Question If It Could Survive