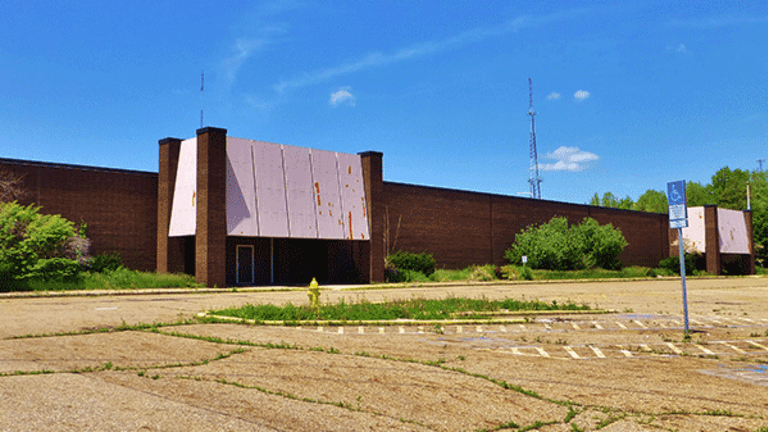 Sears Mind-Blowing Loss and Evaporating Cash Should Only Question If It Could Survive
Another ugly quarter from Sears.
Just your typical disturbing quarter from struggling Sears Holdings Corp. (SHLD) .
The department store retailer reported Thursday that its adjusted net loss clocked in at $230 million, or $2.15 a share. A year ago, Sears delivered an adjusted loss of $199 million or $1.86 a share. Sales at both the Sears and Kmart banners continued to plunge amid stiff competition from much healthier rivals Walmart (WMT) , Target (TGT) and Home Depot (HD) . Same-store sales at Sears crashed 12.4%, marking the 11th straight quarterly decline. At Kmart, sales dived 11.2%, and were down for the 10th straight quarter.
Of particular concern was that Sears' cash fell to $264 million from $286 million entering the first quarter.
Surprisingly, shares of Sears surged as much as 27% to $9.50 in afternoon trading as investors cheered the company's loss coming in better than expectations. Shares gave back a good chunk of gains by midday, however, closing 13.5% higher at $8.48.
But, they may be in need of a reality check. 
"Sears declining cash balance heightens its need to continue to source $2 billion of liquidity annually," David Silverman, Senior Director, U.S. Corporates at Fitch Ratings told TheStreet via email. "Vendor relationships appear to be worsening on the margin, highlighted by recent news regarding its dispute with One World Technologies." Silverman added that vendor relationships are also a "concern with regard to inventory availability."
Nevertheless, what Sears just shared with investors is only the latest in a steady stream of negative headlines.
CEO Eddie Lampert is fresh off a series of bizarre rants against the media's coverage of Sears.
"It's irresponsible and it's been irresponsible for too damn long. We're just looking for a fair chance," Lampert reportedly said at Sears' annual shareholders meeting. "Excuse my rant but a lot of what we're doing deserves a chance to see the light of day." Then, the famously reclusive CEO went off the rails against a supplier in a blog post. Wall Street took the comments as Sears' is having trouble paying its bills due to its dwindling cash pile.
Over the past month Sears shares have nosedived some 33% as Wall Street questions whether the retailer will be able to survive the year.
Not helping Sears is that the retail sector has appeared to take a turn for the worse.
Shares of the biggest names tethered to malls across the country have cratered of late due to strikingly weak first quarter results. In effect, already lagging stock prices for the likes of Macy's (M) , J.C. Penney (JCP) and Sears have made new moves lower on fears the retailers won't be able to successfully navigate the shift to online shopping.
As a result, investors may now be wagering that retailers will be forced to announce a fresh round of store closures and layoffs sometime in early 2018 to cut costs. For some highly indebted names such as Sears, and to a lesser extent J.C. Penney, the volatile operating backdrop could be stoking concerns on whether the businesses will be around in five years time.
Click here for the latest business headlines.
Editors' pick: Originally published May 25.
Trending stories on TheStreet: