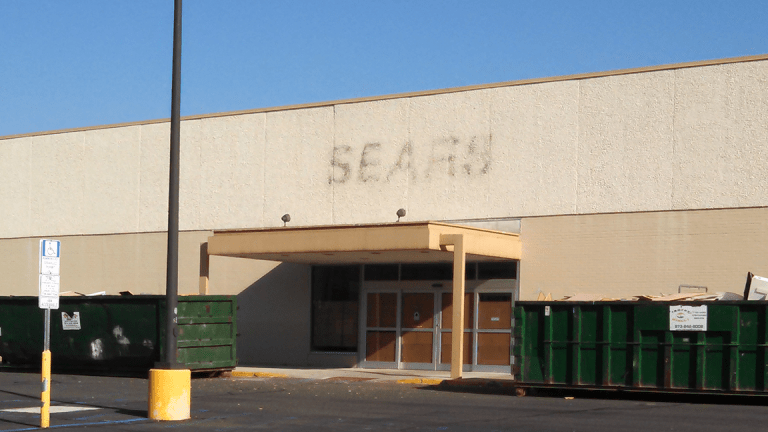 Sears' Latest Financial Trick Will Only Do So Much
Sears pushes back the maturity of a loan set to default next year, which is bad news for investors.
Sears pushes back the maturity of a loan set to default next year, which is bad news for investors.
Although Sears Holdings Corp. (SHLD)  is not yet submerged, the water is rising fast and the life saver, again, is a stash of CEO Eddie Lampert's cash. 
The department store extended the maturity of $507 million in debt set to mature in June 2018. The maturity date is now January 2019, with the option for Sears to further extend it to July 2019, the company announced, Tuesday, Dec. 12. But a deferred payment isn't always good news, at least not to investors. 
The debt deferment "isn't much of a feat," according to Susquehanna analyst Bill Dreher, because the loans originated from affiliates of Sears CEO Eddie Lampert and his hedge fund, ESL Investments. 
Over the last 12 months, the share price has plummeted 65%, while the stock market has tracked record highs. Sears continues to spiral downward as sales declines, including a same-store-sales dip of 15.3% in the third quarter.
And then there are its credit ratings. Moody's downgraded the ailing department store to a Caa3 last month, citing its $625 million loss in one year. 
In conjunction with the loan extension, the department store chain announced a new secured credit facility totaling $607 million — $407 million in a first-lien tranche and up to $200 million in a second-lien tranche. Dreher predicts that these loans are also backed by ESL associates, "which would be consistent with essentially all of Sears' recent financing transactions," he wrote in a note Tuesday. 
"Clearly Sears had some maturities to deal with in 2018," Moody's Vice President Christina Boni told TheStreet. "There's some cash strains on the company and the Caa3 rating indicates that we see a probability of default."
It's not the first time Sears extended the maturity of a loan. In May, it pushed back the maturity date of a loan from July 2017 to January 2018 with the option to extend until July 2018. The department store's long-term debt totaled $3 billion as of Oct. 28. 
"As indicated in our third-quarter earnings announcement, we have taken further action to provide the company with additional financial flexibility as we enter 2018," Rob Riecker, Sears CFO, said in a statement Tuesday. "Looking ahead, we continue to explore alternatives with respect to our debt maturities to meaningfully reduce cash interest payments and provide the company greater flexibility."
More of What's Trending on TheStreet: