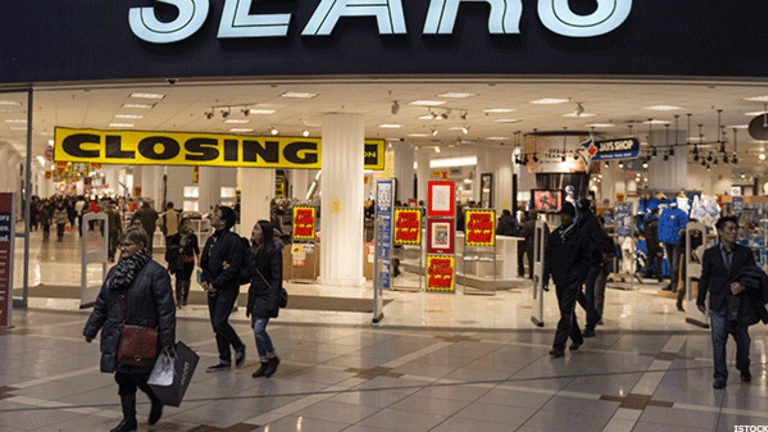 Sears Improves Liquidity, Hints at Disastrous Holiday Season
Sears has obtained a standby letter of credit facility for up to $200 million initially.
Eddie Lampert has thrown his dying retail outfit yet another lifeline. 
Shares of Sears Holding (SHLD) were trading up 5.75% to $8.65 early Thursday morning after the retailer secured a standby letter of credit facility from affiliates of CEO Eddie Lampert's ESL Investments, alleviating investors' fears of a potential Chapter 11 filing early in 2017.
The parent company of Sears and Kmart will be able to request standby letters of credit for an initial amount of up to $200 million, providing additional liquidity to fund operations.
Citibank is serving as administrative agent and issuing bank.
This isn't the first time that ESL Investments has come to Sears's aid. The hedge fund provided $300 million of debt financing in August after funding $125 million of a $500 million loan in April.
"This new standby letter of credit facility further demonstrates that Sears Holdings has numerous options to finance our business strategy," CFO Jason Hollar said in a statement.
Wall Street may want to temper its initial enthusiasm on the cash grab, however. 
A retailer seeking to tap outside sources of cash after its most important quarter of the year suggests it had difficulties getting shoppers through the door and selling merchandise profitably. In the case of Sears, which for years has battled plunging sales and losses, the news hints that the competitive holiday season of 2016 led to another quarter of steep losses and disappointing cash generation from operations.
As a result of its likely poor holiday performance, even with the fresh credit line, Sears could find itself in a precarious position in 2017.
In September, Fitch Ratings said Sears had "significant default risk" within the next 12 to 24 months, triggered by years of weak store traffic and high levels of debt. Fitch defined default risk at the time as "most likely a bankruptcy, or a Chapter 11 filing."
That same month, Moody's similarly warned that Sears doesn't have enough cash to fund its operating losses.
At issue for Sears is how it will repay some $2.8 billion in high-yield bonds and institutional term loans coming due in the next few years.
In July 2017, or about eight months from now, Sears will have a $500 million term loan secured by 21 properties come due. It's already borrowed all but $11 million of that sum.
Sears's total liquid availability at the end of the third quarter was $432 million, down from $1.26 billion in the year-ago period.
"Nothing has changed relative to [our thinking] a few months ago," Monica Aggarwal, managing director of Fitch's retail team, told TheStreet after Sears reported a widening loss and declining sales for the quarter earlier this month. 
Aggarwal pointed out that even if Sears manages to raise money by selling more real estate or its Craftsman tools brand, it may have to go toward servicing its underfunded pension plan (about $1.5 billion) rather than shoring up liquidity levels.
Meanwhile, Sears has uncorked a fresh round of store closures just days after Christmas. That is another red flag on how the holidays panned out for the company and how executives view its prospects in the new year.
The company will reportedly shutter 30 Sears and Kmart stores in early 2017. Sears spokesman Howard Riefs didn't immediately return a request for comment on the closures.
Shares have plunged more than 60% so far this year.
Centerview Partners is acting as Sears's financial adviser on the most recent round of funding, while Weil Gotshal & Manges is providing legal advice.