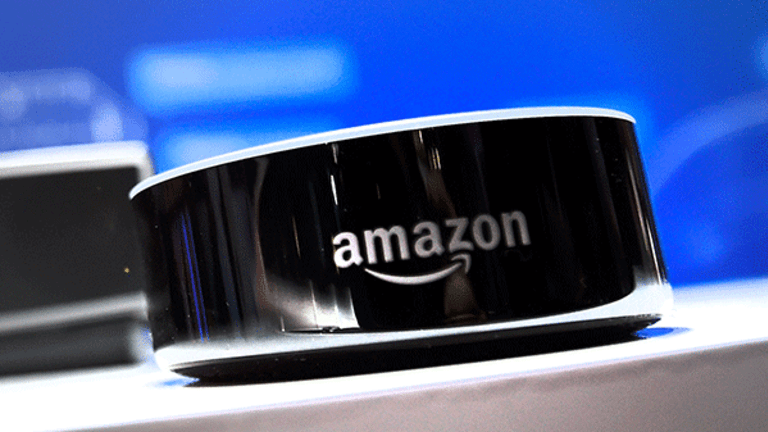 Search Warrant Linked to Amazon Echo Recording in Arkansas Killing Could Affect Sales
In a 16-page argument filed in state court, Amazon asserts the First Amendment should protect both Alexa's audio recordings and responses to users.
Amazon (AMZN) - Get Amazon.com, Inc. Report has moved to to quash a search warrant for it to turn over audio recorded by one of its Amazon Echo devices near an alleged murder in Arkansas, citing free speech concerns, but the case could affect sales of the popular device as well.
In a 16-page memorandum filed Feb. 17 in the Benton County Circuit Court in Arkansas, Amazon argued turning over the recording in connection with a Bentonville Police Department investigation would "chill users" from exercising their free speech in their own homes.
"The publicity generated by this search warrant in particular has led to numerous articles raising concerns about the use of Alexa-enabled devices and other in-home intelligent personal assistants, and in particular whether use of such devices exposes customers' audio recordings and information requests to government review," wrote the company's attorneys at Davis Wright Tremaine and Conner & Winters.
In the case at hand, James Andrew Bates is accused of murdering his friend, former Georgia police officer Victor Collins, in Bentonville in November 2015. Collins was found dead in a hot tub in Bates' home, but Bates has pleaded not guilty and alleged Collins died of accidental drowning. Near the tub was an Amazon Echo that was playing music and could hold clues as to how Collins died. 
The Amazon Echo contains seven microphones that can pick up sound from anywhere in a room even if music is playing, the company said. While audio from its surroundings is not stored directly on the device, that audio is stored in Amazon's cloud, as well as on the Alexa mobile app for Android, iOS and Amazon Fire devices. (Amazon noted users can review the recordings and delete them, but the relevant recordings still exist.)
While Amazon said it turned over subscriber information and purchase history for the device to police, it refused to turn over audio from a 48-hour period from Nov. 21 to 22, 2015, when Collins died, because it said the action would violate Bates' First Amendment rights. The commands that users speak to the voice-activated installed helper on the device, Alexa, as well as the responses of the artificial intelligence to those requests should be protected, the company argued. 
Amazon.com users should be able to browse and purchase "expressive items" on the site without being afraid of the government knowing what those items are, the papers said. In addition, Alexa's responses to the user can contain "expressive material," such as what podcasts, audiobooks and music were purchased through the company, it said. 
To prevent Amazon Echo users from being afraid to exercise their free-speech rights in the privacy of their home, authorities need to show a "compelling need" for the audio recordings from Bates' Amazon Echo and prove that they have exhausted other means to acquire them, Amazon continued. If the police department can prove "a heightened showing of relevance and need for any recordings" and Amazon turns the data over, it should still be reviewed by a judge first to be sure there is a connection between the audio and the death of Collins, the company concluded.
According to media reports, prosecutors have said they will soon respond to the motion. No hearing on the matter has been scheduled.
Experts, meanwhile, have sided with Amazon.
There's no question that the First Amendment protects your right to seek and receive information anonymously, such as through Amazon.com or at a library, without having to fear the government looking over your shoulder, First Amendment Coalition Executive Director David Snyder said. In addition, the amendment protects the response that a device like the Amazon Echo gives a user, he added.
"This is like a high-tech version of a case where a person's library books they checked out are protected by the First Amendment," Snyder explained. 
This protection, however, "is not limitless," Snyder added. In other words, just because the First Amendment applies to Amazon's case doesn't mean the police can't get the recording. First, the police department needs to show a heightened need to obtain the recording, which it has a good chance at doing considering the case involves alleged murder. Second, the department needs to prove that there's a connection between what was recorded and Collins' death.
"This may be the catch for Amazon," Snyder said. 
The case could scare people away from buying Amazon Echo devices in the future, particularly if Amazon ends up having to turn over the audio, he noted.
"If [people] think everything they say near the device will be available to the government, then that will factor into their purchase," Snyder said. 
But the most important implication of the case, he maintained, is the broader potential "chilling effect," meaning people could be deterred from looking up information about controversial topics for fear that the searches would one day be analyzed by the government and misinterpreted. If people think their web or Amazon.com searches will appear on a billboard one day, they will adjust their searches accordingly.
"This kills our ability to learn and communicate," Snyder said. 
CUNY School of Law professor Ruthann Robson agreed with Snyder, saying that Amazon's argument about the First Amendment applying to the Echo device is "on solid ground." Rather than claiming that Alexa is a person who has free speech rights, the company is arguing that it has a First Amendment right to the data recorded from both the user and Alexa, she explained. The U.S. Supreme Court has recognized a corporation's First Amendment right to its data in the past, such as drug prescriptions from physicians. 
"Consumers are becoming more and more aware of the incursions on their privacy by technology; Amazon may rightly fear for its bottom line," she concluded.
Consumer Intelligence Research Partners has estimated that Amazon has sold 5.1 million of the $180 Amazon Echo devices since their introduction two years ago. 
Amazon did not immediately return a request for comment on the case's potential effect on Echo sales.