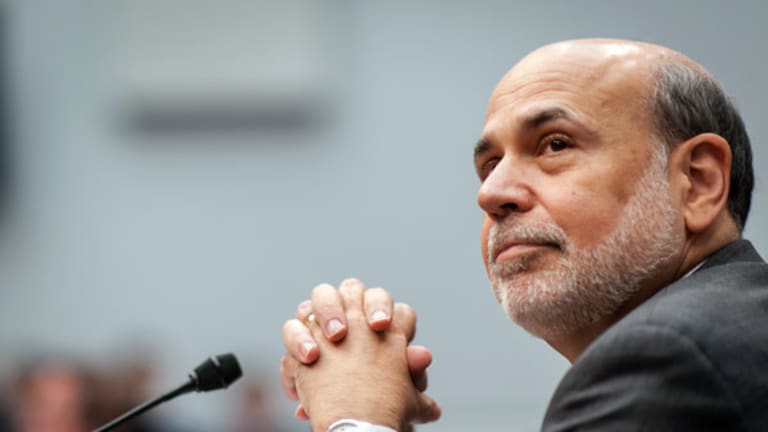 Scope For More Capital at Banks, Ben Bernanke Says
Regulators could take more steps to rein in the largest banks, the Federal Reserve chairma told the Senate Banking Committee.
NEW YORK (
) --
Federal Reserve
Chairman Ben Bernanke on Thursday said additional steps may yet be taken to rein in too-big-to-fail banks, if regulators determine that recent reforms have not sufficiently controlled risks.
Bernanke continued his two-day semi-annual testimony before Congress on Thursday, this time appearing before the Senate Banking Committee.
In an exchange with Massachusetts Senator Elizabeth Warren on too-big-to-fail, the Fed chairman said regulators had taken steps to boost the safety of the biggest banks as required under the Dodd-Frank bank reform legislation, finalizing Basel III Capital rules that boosted capital ratios for the biggest banks and conducting annual stress tests that ensured banks have sufficient capital to withstand periods of economic stress.
He also said regulators were working to complete the implementation of the Volcker rule, which would prohibit banks from trading with their own capital.
Still, the regulators may not view these rules as final. "There is more scope for capital if we are not comfortable with the status of these firms," Bernake told Senator Warren.
Federal regulators last week proposed new rules to boost large banks' capital under the international Basel III agreement. U.S. banks with total assets in excess of $700 billion would be required to maintain a
supplementary Basel III leverage ratio of 6%
, double that of the international standard of 3%.
The minimum Tier 1 common equity ratio for large banks is 7% under Basel III, with additional requirements for "globally systemically important financial institutions," or GSIFIs. Based on determinations by the Basel Committee, the additional capital surcharges for
Citigroup
(C) - Get Report
and
JPMorgan Chase
(JPM) - Get Report
are 2.5%, so each of these banks has a fully phased-in minimum Basel III Tier 1 common equity ratio requirement of 9.5%.
For
Bank of America
(BAC) - Get Report
and
Wells Fargo
(WFC) - Get Report
, the surcharge is 1%, for fully phased in Basel III Tier 1 common equity ratio requirements of 8.0% for each company.
Some big banks such as Citigroup have already met their Basel III requirements, while others such as JPMorgan Chase are close to achieving their requirement by the end of the year.
Still, banks have complained that the tougher U.S. rules would put them on a disadvantage with their international counterparts.
But Bernanke on Thursday said Basel III ratios should be viewed only as a "floor" and not as a ceiling and that regulators will take additional steps necessary to ensure safety and soundness of the financial system.
Federal Reserve Governor Daniel Tarullo has said that the U.S. should lead with tougher capital standards and other countries will follow. Bernanke said it was not clear that all countries will follow the U.S. example, but said that U.S. regulators should do what they can to make banks safe.
"The crisis was an enormous waste of resources," Bernanke acknowledged, in response to a question from Senator Sherrod Brown (D-Ohio) on the need for tougher rules in light of the risks bank failures pose to the economy. "Unsafe practices pose risks not just to banks, but to rest of society and we should look at social costs," in setting regulations, he said.
One downside to the regulations, Bernanke said, was that "if banks are finding it costly to make loans then credit will start flowing through less regulated entities."
The so-called shadow banks will have to be monitored more closely to ensure that the system is truly safe, he said.
-- Written by Shanthi Bharatwaj in New York.
>Contact by
.
Disclosure: TheStreet's editorial policy prohibits staff editors and reporters from holding positions in any individual stocks.