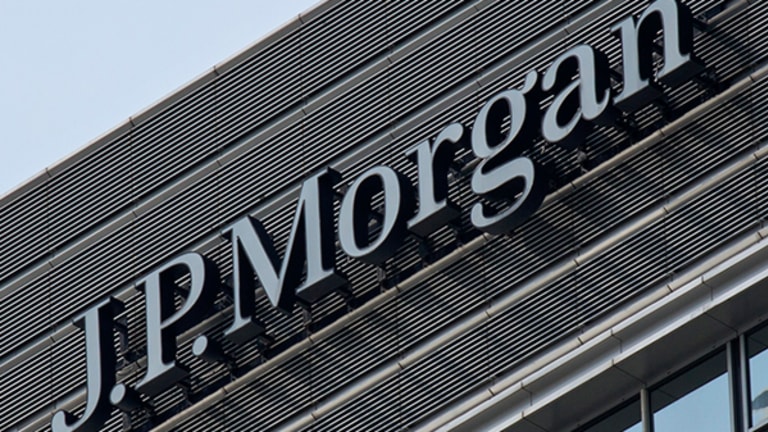 Publish date:
Schneiderman Details $13B JPMorgan Settlement
The New York State Attorney General announced the settlement between JPMorgan and multiple authorities, but said criminal investigations were ongoing.
The New York State Attorney General announced the settlement between JPMorgan and multiple authorities, but said criminal investigations were ongoing.
Updated from 4::40 p.m. ET with Dorsey Whitney comments and additional information throughout.
NEW YORK (TheStreet) -- New York State Attorney General Eric Schneiderman on Tuesday announced a groundbreaking $13 billion mortgage settlement between JPMorgan Chase (JPM) - Get JPMorgan Chase & Co. (JPM) Report and multiple government authorities. 
"Today's settlement is a significant, but by no means final step, by the Federal Housing Finance Agency's Office of the Inspector General, the Department of Justice and the New York Attorney General's Office and our other law enforcement partners, to hold accountable those who commit acts of fraud and deceit," Schneiderman said in a press release.
Schneiderman, who heads President Obama's Residential Mortgage-Backed Securities Working Group, said JPMorgan's settlement will include $4 billion in assistance to distressed homeowners and $9 billion in cash payments. He also said that the deal will cover all civil claims by government authorities related to residential mortgage-backed securities (RMBS) sales by JPMorgan, Bear Stearns and Washington Mutual before 2009.
Schneiderman said $2 billion of the overall settlement will not be tax deductible, but that early on regulators had agreed to treat Bear Stearns and Washington Mutual liabilities as deductible.
JPMorgan acquired Bear Stearns when the investment bank was faced with bankruptcy amid a liquidity crisis in March 2008. Washington Mutual was shuttered by regulators in September 2008, after which it was sold to JPMorgan by the Federal Deposit Insurance Corp.
A major sticking point between JPMorgan and the Justice department was the language under which the company would be expected to admit some fault in its mortgage securitization and sales activities.
"JPMorgan acknowledged it made serious, material misrepresentations to the public -- including the investing public -- about numerous RMBS transactions," Schneiderman said on Tuesday.
Other issues that stalled a settement included JPMorgan's acknowledgement of liabilities surrounding the bank's acquisition of Washington Mutual from the FDIC's receivership. As a result, the FHFA announced its part of the $13 billion settlement weeks ago.
In late October, JPMorgan and subsidiaries agreed to pay a total of $5.1 billion to Fannie Mae (FNMA) and Freddie Mac (FMCC) , to settle the government sponsored enterprises' loss claims on mortgage-backed securities sold to them by JPMorgan Chase and its subsidiaries.
In response to questioning by TheStreet, Schneiderman acknowledged that the delay between the FHFA's settlement and Tuesday's deal was, in part, a result of ongoing negotiations surrounding JPMorgan's assumption of Washington Mutual's legal liabilities.
Schneiderman said in response to other questions posed by TheStreet that JPMorgan was making admissions of fraud and misrepresentations.
JPMorgan CFO Marianne Lake appeared to refute Schneiderman's characterization on a conference call with investors. "We didn't say that we acknowledge serious misrepresentation of facts," Lake said. "We do acknowledge the statement of facts but obviously don't admit to any violation of law."
Thomas Gorman, a partner at law firm Dorsey Whitney and former senior counsel of the SEC's Division of Enforcement, said that the admissions made by JPMorgan "would be helpful to any private litigant because they should establish the basic facts for what the bank did or didn't do in issuing [residential mortgage] securities" prior to the financial crisis.
"This is a very significant victory for the Justice department," Gorman said in a telephone interview. "For JPMorgan it certainly doesn't get them what they wanted -- which is peace," he added.
Schneiderman and the Department of Justice said criminal probes of JPMorgan's mortgage sales activities are ongoing.
The $4 billion in assistance to distressed homeowners will include $2 billion in principal write-downs, as well as $2 billion in financial relief for borrowers and communities, including refinancing mortgage loans at lower rates, donation of repossessed properties, and new mortgage loans to low-and moderate-income families harmed by the financial crisis.
The portion of the settlement going to New York State will include "$613 million in cash and approximately $400 million in consumer relief for struggling New Yorkers." Some of the $613 cash payment would be "directed to provide additional legal services and housing counseling for those affected by Superstorm Sandy," according to a press release from the New York State Attorney General's Office.
Bill Cheney, CEO of the Credit Union National Association, said in a Tuesday telephone interview he was pleased that credit unions would see some restitution for shaky mortgage securities they bought from JPMorgan.
"One could certainly argue that it could have been more," Cheney said. "Having said that, we are happy with the settlement," he added.
"Today's settlement covers a very significant portion of legacy mortgage-backed securities-related issues for JPMorgan Chase, as well as Bear Stearns and Washington Mutual," Jamie Dimon, JPMorgan's CEO said in a statement. He said that JPMorgan is fully reserved for Tuesday's settlement, which covers "civil claims of the Department of Justice and others."
The bank made clear it had not pleaded guilty to any matters and it said it had admitted to a "statement of facts," in the government's case.
The settlement terminates all pending civil enforcement investigations against JPMorgan related to RMBS activities by it, Bear Stearns and Washington Mutual. JPMorgan continues to cooperate with the ongoing criminal investigation by the Department of Justice.
New York AG Schneiderman called JPMorgan's settlement a "peace premium" for the bank. He commended JPMorgan's willingness to put its legal liabilities to rest and said he expects other large banks to follow suit.

JPMorgan on Friday announced a separate agreement to pay $4.5 billion to a group institutional investors to settle loss claims on residential mortgage-backed securities (RMBS) issued by the JPMorgan, Chase and Bear Stearns between 2005 and 2008.
That agreement didn't cover sales by Washington Mutual, however, Morgan Stanley analyst Betsy Graseck in a note to clients on Monday wrote that her firm was assuming that Washington Mutual's liability for RMBS sales to institutional investors would remain with the FDIC. "If we're wrong, our bear case assumes a $3.3b payout," she wrote.
JPMorgan's third-quarter earnings were wiped out by a $9.15 billion provision for litigation expenses. The company reported having $23 billion in litigation reserves as of Sept. 30, and said in a filing with the Securities and Exchange Commission on Friday that "the firm believes it is appropriately reserved for this and any remaining RMBS litigation matters."
JPMorgan in a statement implied there would be no effect on the company's fourth-quarter earnings. The bank's shares closed up nearly 1% in Tuesday trading, to $56.15.
Interested in more on JPMorgan Chase? See TheStreet Ratings' report card for this stock.
RELATED STORIES:
5 Cheapest A-Rated Bank Stocks
Geithner Mum on Private Equity Leverage Ahead of Crisis
GE's Card Spinoff Is a Great Deal for Investors
Capital One, Discover Are Bargains as Industry Resumes Growth
-- Written by Antoine Gara in New York and Philip van Doorn in Jupiter, Fla. %MCEPASTEBIN%