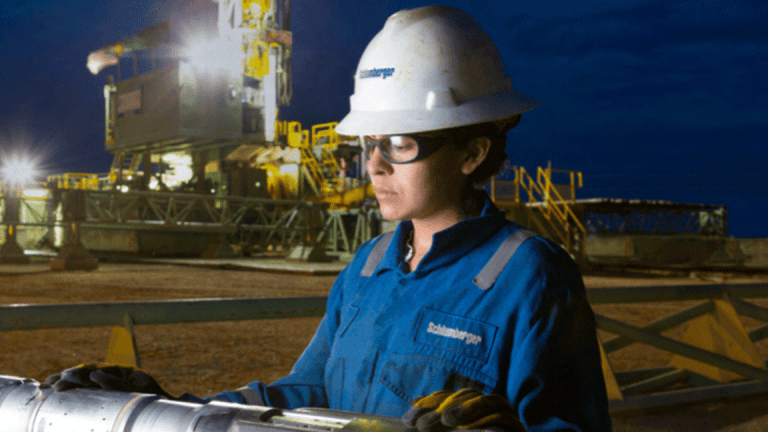 Schlumberger Earnings: A Crucial Quarterly Update for Oilfield Services Sector
Could this finally be a breakout year for this battered industry? Investors will be looking for clues when Schlumberger reports its quarterly results and sector commentary on April 18.
Once again, it's time to take the pulse of the oil and gas services sector, as crude oil prices approach a six-month high. Schlumberger (SLB) - Get Schlumberger NV Report will not only share the results of its first quarter of 2019 on April 18, but also provide its trademark detailed outlook on the whole industry as well.
The Oilfield Service Landscape
Investing in O&G service companies has been frustrating to say the least, with the sector index (OIH) - Get VanEck Vectors Oil Services ETF Reporthaving lost over two-thirds of its market value since the start of the 2014 down cycle. Even with West Texas Intermediate prices having rebounded nearly 50% since the end of the most recent stock market correction in late December 2018, the sector has moved up barely half this much.
Helping to keep a lid on share prices, investors not only seem scarred by several years of under-performance, but also highly skeptical of the industry's prospects, particularly the North America onshore business. In his last update to analysts, Schlumberger's CEO Paal Kibsgaard maintained his conviction that E&P investments in the region will likely dip more than 10% in 2019 -- the undesirable effect of operational issues that have created a production bottleneck, primarily in the Permian basin.
The good news is that these headwinds are likely to be temporary. The International Energy Agency (IEA) expects the U.S. shale industry to lead a supply boost over the next five years, possibly granting the U.S. the status of largest crude oil exporter in the foreseeable future. Should the IEA be correct in its assessment, an upbeat message next week regarding the end of U.S. production challenges could be what the market needs to stand behind O&G service companies, including Schlumberger.
First Quarter Results
The first-quarter performance of Schlumberger's drilling, completion and production businesses internationally will be noteworthy. Activity outside the U.S. has picked up the pace, even if later than many had hoped for, precisely when North America showed clear signs of slowing down, in the middle of 2018.
The phenomenon underscores the importance of Schlumberger's geographically diversified footprint, something that could make an investment in the company more appealing. This time, it would not be a surprise to see areas such as the Middle East and Asia perform above average, especially if the rise in oil prices in the first quarter helped to support demand for new projects.
"We value the company's international presence as it means a lessened exposure to North America, where new drilling activity remains limited," said Jim Cramer's Action Action Plus team, which owns Schlumberger.
Otherwise, margins will be another important topic to pay close attention to. Softness in North America, including lack of pricing resilience in businesses like OneStim, is a key factor that could drag profitability once again in the first quarter.
A Solid Stock In an Uncertain Sector
Even following the recent recovery in crude prices, the energy services sector is still not out of the dog house. Fundamentally, the space is likely to benefit from increased demand for oil and gas in the next several years, as global economic activity remains healthy and a supply glut seems to have worked itself out. But over the next several months, enough headwinds will probably continue to exist, primarily in the form of production challenges in North America.
While it is hard to bet on the direction of Schlumberger's stock in the near-term, shares of the global oilfield services leader still look appealing. The company's efforts to protect itself against the multi-year sector downturn, along with its geographic diversification, could mean that Schlumberger will be able to weather the near-term turbulence better than its peers.
Therefore, long-term investors may benefit from buying what could be considered a high-quality name for a discounted price that, for now, reflects subdued investor sentiment.
The author has a long position in SLB.