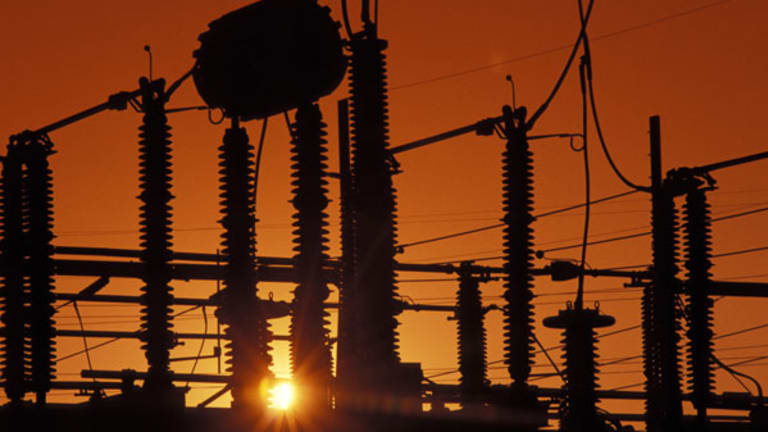 Schlumberger: Energy Stock Winners & Losers
Schlumberger beats the Street and oil service stocks continue to trade on earnings sentiment.
Schlumberger beats the Street and oil service stocks continue to trade on earnings sentiment.
NEW YORK (
) -- It's all about sentiment in the oil services sector when it comes to this week's earnings trading plays.
Schlumberger
(SLB) - Get Report
didn't tell the market anything that it didn't already know when it reported a doubling of profits on Friday morning.
In fact, Schlumberger gave the market that same outlook that
Halliburton
(HAL) - Get Report
and
Weatherford International
(WFT) - Get Report
had provided in their earnings earlier this week: earnings driven by strong North American land drilling, while international and offshore remain trouble spots.
The Schlumberger earnings headlines focused on the profit doubling, yet Halliburton also doubled its profits, and in the case of Weatherford, profits were up 87% over the same quarter last year.
So why has Schlumberger rallied by close to 5% on Friday morning, whereas Halliburton and Weatherford sold off after their earnings? It's not a matter of oil service sector fundamentals, which were virtually the same in all three earnings, but expectations ahead of the printed numbers.
>>Weatherford Dip Echoes Halliburton
"When we came into the earnings period we noticed implied options volatility at three times normal for Halliburton, and we knew whatever the reaction, it would be event-driven players driving the action," said Alan Laws, Barclays Capital earnings analyst.
David Havens, Sterne Agee analyst, said that expectations for Halliburton and Weatherford were higher than for Schlumberger. Schlumberger's commentary ahead of earnings had been far more indicative that international would be less robust, Havens said. Whereas the whisper number for Weatherford and Halliburton had been higher than the printed earnings, especially in the case of Halliburton, the whisper number for Schlumberger was a miss, Haven said. Therein lays the difference in the reaction from investors.
"It's all sentiment and gaming, not fundamentals in the business," Havens said.
"People have been ignoring Schlumberger to their own chagrin," said Barclays' Laws.
Schlumberger was able to catch up to the other oil services companies in its North American business, while for all three the most recent quarter featured international margins flat to down in the range of 100 basis points.
There were a few details in the earnings that weren't part of the broader consistent message all three oil service plays gave to the market about international continuing to lag while North America propped up earnings.
For one, Weatherford is pulling back in Mexico, and that took the market by surprise. The analysts said investors were also surprised to see the international trajectory down at Halliburton, but they shouldn't have been. Halliburton shares were up 2.5% on Friday after the Schlumberger beat, while Weatherford shares remained flat in trading. The Barclays analyst had previously said that the Halliburton slide after its earning beat was an easy basis-point pickup opportunity for investors.
>>Energy Losers: has Halliburton Peaked?
For Schlumberger, in addition to catching up in North America, the company mentioned during its conference call that it was considering a leveraged repurchase of its shares, possibly through a mini-tender offer.
Barclays' analyst Laws says that for Schlumberger the trend looks positive because the sector is hitting a part of the cycle when 60% to 75% of its growth will come from international, and it's the undisputed "powerhouse" in the international market.
The big question left for an oil service earnings season that has been highlighted by event-driven trading is the earnings from
Baker Hughes
(BHI)
, which doesn't report until Nov. 1, and has been an execution laggard in the oil service sector.
"These days all it takes to get a stock moving in this sector is to beat the whisper," Havens said. While the whisper numbers have been clearly bull or bear in the case of the three big oil service sectors already to report, analysts said there was no clear whisper for Baker Hughes, and its earnings predictability has been much lower.
Baker Hughes needs to show improvement in North America, since international margins should be down as in the case of its oil service peers. Baker Hughes needs to show 13% top-line growth and a 400 basis point improvement in its North American margins, according to Barclays' Laws. "If they don't show improvement, people will turn their noses up at the results."
Baker Hughes shares were up 2% on Friday at mid-day.
The Sterne Agee analyst said investors had been overly bullish on Baker Hughes after the acquisition of
BJ Services
, but international underperformance outweighed the U.S. acquisition in the previous quarter and now investors are taking a wait-and-see approach.
The Barclays analyst, though, wasn't waiting on Baker Hughes. "I think they will miss. All these companies are the same on paper and it comes down to execution, and that's been an area of weakness for them," Laws said.
-- Written by Eric Rosenbaum from New York.
RELATED STORIES:
>>Energy Losers: has Halliburton Peaked?
>>Weatherford Dip Echoes Halliburton
>>Energy Winners: Halliburton, QuickSilver Resources
Follow TheStreet.com on
and become a fan on
Copyright 2009 TheStreet.com Inc. All rights reserved. This material may not be published, broadcast, rewritten, or redistributed.