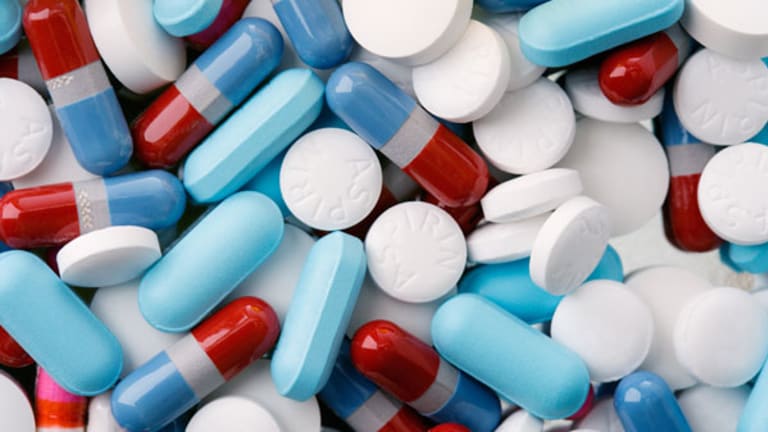 Publish date:
Schering's Hepatitis C Data Dull Vertex's Shine
The race for a direct antiviral tightened with the release of phase II data on boceprevir.
The race for a direct antiviral tightened with the release of phase II data on boceprevir.
Schering-Plough's
( SGP) experimental hepatitis C drug, once thought to be in trouble, has roared back to life, and now appears to be formidable competition to a similar drug from
Vertex Pharmaceuticals
(VRTX) - Get Report
.
Preliminary, but positive, efficacy and safety data from a phase II study of Schering-Plough's hepatitis C drug boceprevir were released Thursday morning. The announcement sent shares of Vertex down $5.25, or 14.6%, to $30.62, as Schering-Plough shares were up 53 cents, or 1.6%, to $32.78.
Boceprevir is a pill designed to attack hepatitis C by inhibiting the protease enzyme, one of the key enzymes the virus uses to copy itself. This "direct antiviral" approach differs from current hepatitis C drugs, which boost the immune system's ability to tamp down and eliminate the virus.
Vertex's hepatitis C drug telaprevir works via the same mechanism of action.
Vertex has pushed telaprevir's clinical development with alacrity, but Schering-Plough has moved at a slower pace. Also, some of the earlier clinical data on boceprevir was lackluster, leading many of the Wall Street investors following the race to develop new hepatitis C drugs to believe boceprevir's future was in doubt.
Today's new clinical data, however, suggest that boceprevir is alive and kicking.
In a phase II study of newly diagnosed hepatitis C patients, a three-drug combination of boceprevir, pegylated interferon and ribavirin achieved a rate of early virologic response in 70% of patients, which means these patients had undetectable levels of the hepatitis C virus in their systems at 12 weeks.
By comparison, 34% of patients receiving peglyated interferon and ribavirin alone (the current standard treatment) reached an undetectable viral level.
Vertex shares were weak Thursday morning because this boceprevir data stands up well to telaprevir.
In an ongoing phase II study, the three-drug combination of telaprevir, pegylated interferon and ribavirin achieved a rate of early virologic response in 70% of patients when measured at 12 weeks.
On the safety and tolerability side of the ledger, Schering-Plough says there were no increased reports of skin-related toxicities, including rash, among boceprevir patients. This is potentially important because rash -- sometime severe -- has been reported by patients given Vertex's telaprevir.
Now, a word of caution: Comparing two drugs across separate studies, especially when the design of the studies is different, is fraught with problems. Boceprevir and telaprevir have never been tested directly against each other in a clinical trial.
But with that cautionary statement made, boceprevir does appear to be an active hepatitis C drug, which is more than many gave it credit for before Thursday morning. At this point, all we have on boceprevir is a press release from Schering-Plough, so the clinical data will get a lot of scrutiny when it is presented at a medical meeting.
Vertex is still ahead in the race to be the first new approved hepatitis C drug. It plans to push telaprevir into phase III studies by the end of 2007 or early in 2008. Schering-Plough hasn't announced phase III plans yet, but those trials are likely to be well behind Vertex's timetable.
Some are calling for Vertex to be bought on today's weakness. Summerstreet Partners, an independent healthcare research firm, is telling clients today that the selloff in Vertex shares is unjustified because of telaprevir's big lead in development. The firm says Schering-Plough is 18 months to two years behind. Moreover, Vertex will be presenting new telaprevir data at next month's big liver disease meeting being held in Boston.
But for others, the new boceprevir data changes the hepatitis C landscape. It's good news for hepatitis C patients, potentially not so good for Vertex.
Adam Feuerstein writes regularly for TheStreet.com. In keeping with TSC's editorial policy, he doesn't own or short individual stocks, although he owns stock in TheStreet.com. He also doesn't invest in hedge funds or other private investment partnerships. Feuerstein appreciates your feedback;
to send him an email.