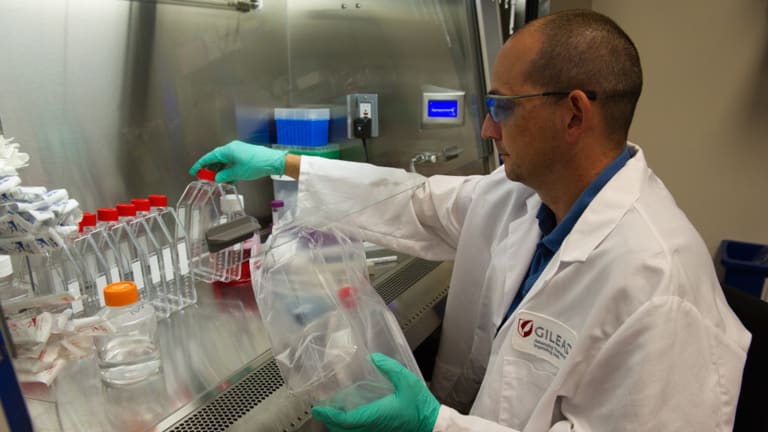 Sarepta Submits DMD Drug for FDA Approval Review
New Sarepta CEO Ed Kaye filed for approval of eteplirsen with the FDA as promised, allowing him to check off a hugely important item on the company's to-do list.
New Sarepta CEO Ed Kaye filed for approval of eteplirsen with the FDA as promised, allowing him to check off a hugely important item on the company's to-do list.
CAMBRIDGE, Mass. (TheStreet) -- Sarepta Therapeutics (SRPT) - Get Report completed the submission of a new drug application to U.S. regulators seeking the approval of eteplirsen for the treatment of patients with Duchenne muscular dystrophy, or DMD, the company announced Monday.
Getting eteplirsen filed with the U.S. Food and Drug Administration in the middle of the year, as promised, allows new Sarepta CEO Ed Kaye to put a check mark next to a hugely important item on the company's to-do list. Sarepta still has a lot to get done, but eteplirsen is now on track for an FDA approval decision in the first quarter of next year.
Sarepta is just two months behind rival BioMarin Pharmaceuticals (BMRN) - Get Report, which submitted its competing DMD drug drisapersen to the FDA at the end of April. The BioMarin FDA filing includes results from a failed phase III study re-analyzed to show a drisapersen benefit for a subset of enrolled DMD patients.
On Monday, BioMarin announced the FDA acceptance of the drisapersen filing under priority review. The FDA approval decision date for drisapersen is Dec. 27. 
The FDA is expected to convene a panel of outside experts in the fourth quarter to review the Sarepta and BioMarin drugs and offer guidance to the agency on whether or not the drugs deserve to be approved. An official announcement of an FDA advisory panel covering the DMD drugs has not yet been made but will likely come relatively soon after the agency accepts Sarepta's eteplirsen filing in 60 days.
The clinical portion of Sarepta's eteplirsen filing relies most heavily on results from a small phase II study in which 12 DMD boys administered the drug once per week have maintained an ability to walk far longer than what is typically seen with untreated DMD patients.
As anyone following Sarepta knows by now, the eteplirsen data are controversial because of the way the study was conducted and the small number of DMD patients enrolled. The company is also relying on additional supportive data from muscle biopsies showing higher levels of dystrophin production, presumably caused by eteplirsen. Dystrophin is a protein that plays a key role in muscle function and repair. The genetic inability to make dystrophin is what causes DMD. Sarepta's eteplirsen is designed to "skip over" the section of damaged gene in DMD patients and restore the gene's ability to produce partially functioning dystrophin.
Sarepta's original plan to seek FDA approval for eteplirsen in late 2014 was put on hold because the FDA raised questions about the reliability of the dystrophin production data. The relationship between Sarepta and the FDA soured, which in turn played a part in the departure of former CEO Chris Garabedian. Sarepta's stock price fell sharply because of its uncertain future.
Kaye, Sarepta's former chief medical officer, became the company's new CEO in March and immediately took steps to mend fences with the FDA and win back the trust of investors. At a meeting held in May, Sarepta was able to alleviate FDA concerns about the way dystrophin production was being measured in eteplirsen-treated patients, as well as provide the agency with additional information requested. After the meeting, the FDA told Sarepta that eteplirsen could be filed for approval. Sarepta's stock price has almost rebounded fully to where it traded last year before the eteplirsen filing delay was announced.
The eteplirsen application is now submitted to FDA but Sarepta must still complete a dystrophin production analysis from a fourth set of muscle biopsies taken from patients. These data, along with 192-week walk performance results from patients in the phase II study, will be submitted to the FDA during the review process, the company said.
In conjunction with the completed eteplirsen FDA submission, Sarepta also raised $20 million in debt from a new $40 million debt agreement.
Adam Feuerstein writes regularly for TheStreet. In keeping with company editorial policy, he doesn't own or short individual stocks, although he owns stock in TheStreet. He also doesn't invest in hedge funds or other private investment partnerships. Feuerstein appreciates your feedback; click here to send him an email.