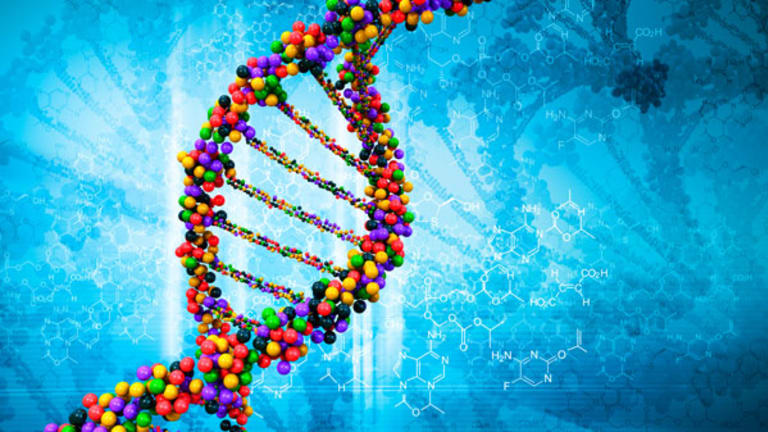 Sarepta: Staying Long and Strong
Contributor Dan Rosenblum believes Sarepta's upside potential far outweighs the risk in the stock.
NEW YORK (
) -- It's been a little over a week since
Sarepta Therapeutics
(SRPT)
announced the FDA asked for more information before deciding on whether or not to allow the company to seek accelerated approval for eteplirsen in Duchenne muscular dystrophy (DMD). This makes the coming "file or no file" announcement almost akin to an approval decision by FDA.
While I had originally assumed the FDA would allow Sarepta to file eteplirsen and then take a good, hard look at all the data, it now appears the FDA wants to make sure the first drug to take advantage of new accelerated approval provisions not be a bust. If the agency allows Sarepta to file early it means approval is almost guaranteed.
The Street is beginning to realize that eteplirsen's accelerated approval filing, if it happens, is akin to an approval. For Sarepta's stock, this should result in a massive reaction in one direction or the other as soon as the company discloses its eteplirsen filing plans this summer.
Which brings me to my next point: Short interest in Sarepta has been creeping up steadily every month and now stands at a whopping one-third of the entire float. This baffles me as the risk-reward here from a short perspective makes no sense.
If accelerated approval is granted, I can see a $2 billion valuation given to Sarepta, or more than double the company's current level. If permission for accelerated approval is denied, I can't see Sarepta trading below a $700 million market value, equal to about $21 per share. That's actually pretty cheap for a company with a potential billion-dollar drug franchise in phase III development.
From a shorts' perspective, making the correct call now delivers $5 to $10 downward move in Sarepta. But if the shorts are wrong, Sarepta shares could be up $30 or $40. I believe the odds that Sarepta gets the go-ahead to file early are better than 50/50, so the short thesis doesn't work.
Speaking of valuations, I think the massive upward move in
Vertex Pharmaceuticals
(VRTX)
last week shows just how cheap Sarepta really is. The Street is valuing Vertex's cystic fibrosis drug franchise at probably $11-$12 billion. Meanwhile Sarepta's DMD franchise gets a $900 million valuation. I know Vertex has more robust data and the cystic fibrosis market is almost double the size of the DMD market, but the valuation disparity is still staggering and unjustified. 
Vertex's latest data demonstrating efficacy in a second "corrector" drug for cystic fibrosis validated the company's entire cystic fibrosis technology platform. If in the next year, Sarepta can show that a second exon-skipping drug works as well as eteplirsen, the stock should soar.
It's been nine months since Sarepta's stock first popped on the 36-week eteplirsen data. But despite the 1000% move in its stock price, no Sarepta executives have sold shares. That's amazing. I know other people brush off the absence of insider selling at Sarepta, but it's unique in the biotech sector. All too often we see big upside moves in stock prices met with massive insider selling.
Lastly, Sarepta added a change-of-control provision to the CEO's employment agreement. Does this suggest the company has been approached by a potential buyer? I like the idea of Vertex buying Sarepta, particularly now that Vertex has strong stock for use in any acquisition. I'm not trying to spread a rumor, but a combination of the two companies makes good, strategic sense. And it helps that the two companies are already both located in Boston.   
Rosenblum is long Sarepta.
Dan Rosenblum has been a full-time stock trader since 1999 after leaving a job at a publicly held medical-device company. Rosenblum joined
that year and has been the online trading community's resident biotech expert ever since. Rosenblum writes the
newsletter, which has outperformed the S&P 500 and the Nasdaq Biotechnology Index every year since its inception in 2006. Rosenblum lives with his wife and kids in Rockland County, New York.