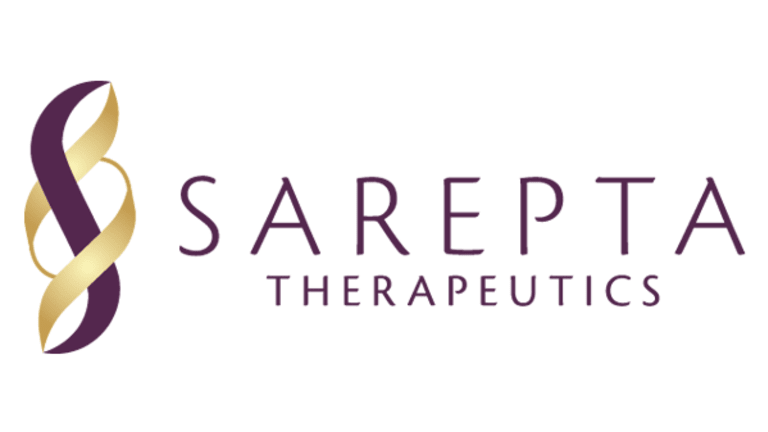 Sarepta Secures FDA Approval for Duchenne Drug After Long Fight
Sarepta, its shareholders, biotech investors, and Duchenne patients and their families have been waiting years for today's news.
Sarepta, its shareholders, biotech investors, and Duchenne patients and their families have been waiting years for today's news.
The first drug to treat the underlying cause of Duchenne muscular dystrophy, developed by Sarepta Therapeutics (SRPT) - Get Report , secured marketing approval from the U.S. Food and Drug Administration, the FDA announced Monday. 
Sarepta, its shareholders, biotech investors, and Duchenne patients and their families have been waiting years for today's news.
Nothing about the clinical and regulatory path taken by eteplirsen, the scientific name for the Sarepta drug, has adhered to the conventional biotech drug development playbook. The FDA's affirmative approval decision announced today emerged from a volatile and controversial review process that took an interminable 14 months to complete.
But that's all history now. Eteplirsen, rebranded as Exondys, is approved for sale in the U.S. Within days, Duchenne patients will have access to a drug which slows the progressive weakening of their muscles that is a hallmark of the rare, inherited disease.
And investors will now turn their attention to forecasting future Exondys sales instead of debating if the drug will ever (or should) reach the market.
Sarepta shares spiked 95% to $54.90 in Monday trading. 
The FDA letter confirming Exondys' approval can be read here.
"Patients with a particular type of Duchenne muscular dystrophy will now have access to an approved treatment for this rare and devastating disease," said Janet Woodcock, director of the FDA's Center for Drug Evaluation and Research, in a statement. "In rare diseases, new drug development is especially challenging due to the small numbers of people affected by each disease and the lack of medical understanding of many disorders. Accelerated approval makes this drug available to patients based on initial data, but we eagerly await learning more about the efficacy of this drug through a confirmatory clinical trial that the company must conduct after approval."
The FDA is requiring Sarepta to conduct a follow-on study to confirm the ability of Exondys to improve motor function in Duchenne patients. If this study fails, FDA could remove Exondys from the market.
The company has not yet announced Exondys pricing but it's believed the drug could cost $400,000 to $500,000 per year.
There are approximately 25,000 to 30,000 Duchenne patients in the U.S. and Europe, but only 13% of them, or roughly 3,500 patients, carry the specific genetic mutation which can be treated with Exondys.
Of those 3,500 eligible Duchenne patients, approximately 1,400 reside in the U.S., estimates Baird analyst Brian Skorney. This will be the initial commercial opportunity for Sarepta with Exondys.
Duchenne muscular dystrophy is a rare, genetic disease caused by a mutation on the X chromosome. This mutation, in turn, results in malfunctioning or missing dystrophin, a protein necessary for proper muscle function. Boys with DMD (the disease almost always strikes boys) suffer from progressive weakening of their muscles. By around 12, they can no longer walk. The disease also affects breathing and heart function. Few DMD patients live beyond 30.
Since DMD is caused by a mutation in the gene encoded to make dystrophin, one approach to treating the disease is to design a drug capable of removing or "skipping over" the damaged section, or exon, of the gene. Doing this allows the gene to produce dystrophin that is partially functional and stabilizes muscle function. This is how Exondys works.
Adam Feuerstein writes regularly for TheStreet. In keeping with company editorial policy, he doesn't own or short individual stocks, although he owns stock in TheStreet. He also doesn't invest in hedge funds or other private investment partnerships. Feuerstein appreciates your feedback; click here to send him an email.