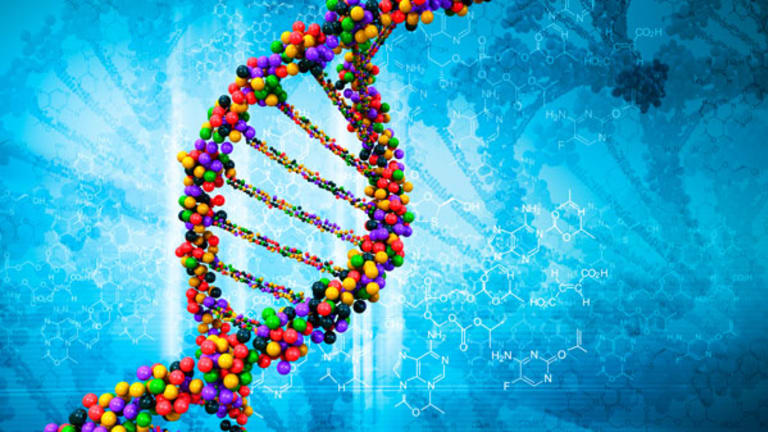 Sarepta Plunges on Harsh FDA Eteplirsen Review Ahead of Next Week's Advisory Panel Meeting
The FDA's review team appears to cast significant doubt on eteplirsen's approval chances.
The FDA's review team appears to cast significant doubt on eteplirsen's approval chances.
Updated below with additional information and analysis.
Sarepta Therapeutics' (SRPT) - Get Report stock price plummeted Friday on a very negative clinical review of the company's Duchenne muscular dystrophy drug, eteplirsen, released by the U.S. Food and Drug Administration.
The FDA is convening an outside advisory panel on Jan. 22 to review the eteplirsen data, but Friday's internal assessment by the agency's review team appears to cast significant doubt on the drug's approval chances. Sarepta, of course, will get an opportunity to defend the eteplirsen data and convince the Jan. 22 panel members to vote in favor of the drug's approval.
"Although FDA is prepared to be flexible with respect to a devastating illness with no treatment options, we cannot approve drugs for which substantial evidence of effectiveness has not been established," the FDA states in a summary of the eteplirsen medical review.
A full copy of the FDA's eteplirsen review can be found here.
Sarepta shares are down 55% to $14.21 in Friday trading.
The FDA, on Thursday, formally rejected drisapersen, a competing DMD drug from Biomarin Pharmaceuticals (BMRN) - Get Report .
Update: Additional analysis, thoughts and observations on what lies ahead for Sarepta and its DMD drug eteplirsen:
Had you asked me Thursday to sketch out the plot line for the Jan. 22 FDA advisory panel, I would have said something like this: The FDA will be very critical of Sarepta's tiny, 12-patient study, but the agency will also be open to a positive interpretation of the long-term (three year) walk benefit observed in the study.
Yesterday, I also would have told you the FDA will be more likely to find Sarepta's extracurricular work comparing the limited eteplirsen dataset to matched historical controls suggestive of the drug's efficacy. This analysis proves nothing definitive, but it's strong enough to grant eteplirsen accelerated, or conditional, approval.
The actual FDA review of eteplirsen issued Friday is much more negative than I believed it would be. The FDA concludes the 12-patient eteplirsen study to be a near-total failure that raises doubts about eteplirsen's ability to improve muscle function in DMD patients.
FDA's medical reviewers dismiss the long-term walk benefit observed in the eteplirsen study as being no different from the natural disease progression seen in untreated DMD patients. The FDA includes some damning data charts to make sure its point is clear.
There isn't much wiggle room to find a silver lining of optimism in the FDA's analysis of the eteplirsen clinical trial conducted by Sarepta.
Likewise, the FDA finds nothing to cheer about in the analysis of dystrophin production. Dystrophin is the "muscle lubricating" protein that is missing or nonfunctional in DMD patients. Eteplirsen is designed to produce partially functional dystrophin.
Sarepta has disclosed data previously showing eteplirsen's ability to make dystrophin in 11 of 12 patients, but the company has never quantified how much of the protein is made in patients.
Today, we got the answer from FDA: After three-plus years, the level of dystrophin in eteplirsen-treated patients was 0.9% of normal. That's not very convincing. Going into Friday, Sarepta bulls were hoping to see dystrophin levels roughly 3% of normal in eteplirsen-treated patients. Making only 0.9% of normal dystrophin is a disappointment.
Eteplirsen is safe! That's the best conclusion taken from Friday's FDA eteplirsen review. But it's also a consolation prize that doesn't counteract the more damning efficacy analysis.
The overall content and tone of the FDA's eteplirsen review reads like the agency has little intention of approving the drug now, so it plans to use next Friday's advisory committee meeting to justify that decision. This is the exact game plan FDA used in November to produce a negative advisory panel for Biomarin's DMD drug drisapersen. The FDA followed through Thursday by formally rejecting drisapersen.
Sarepta will surely challenge the FDA's analysis and make strong arguments in favor of eteplirsen's approval at next Friday's panel. You can read some of the arguments the company will use to defend eteplirsen here. The company will be supported by a small army of DMD patients, their families and advocates urging the panel members to recommend eteplirsen's approval.
Panel members will be under great pressure to vote positively on eteplirsen because drisapersen was formally rejected. The DMD community will argue that rejecting eteplirsen is a death sentence for patients because without it, they will have no treatment options.
At the risk of sounding too much like Jim Carrey's Lloyd Christmas character in "Dumb and Dumber," yes, there's still a chance of a positive outcome for Sarepta at the Jan. 22 FDA advisory panel meeting. But given the FDA's negative outlook on eteplirsen, I'd define a positive outcome as a unanimous or nearly unanimous panel vote(s) recommending eteplirsen. A split vote is not going to be enough.
Sarepta can fall back on a large, phase III study of eteplirsen in DMD patients currently underway. Biomarin has not started its next phase III study of drisapersen. Sarepta hasn't provided timing guidance on when the eteplirsen phase III study will be completed, but probably assume 2017.
One last thing to say, as someone who has been bullish on Sarepta for a long time and predicted eteplirsen's approval: The final verdict on eteplirsen has not been rendered, but I should have been more critical of Sarepta, like I was with Biomarin and drisapersen.
Based on today's FDA review, I was wrong, too believing, in the eteplirsen study results. Investors who were more critical of Sarepta and eteplirsen look much more right today. I had blinders on when it comes to Sarepta, and that was a big mistake on my part.
Adam Feuerstein writes regularly for TheStreet. In keeping with company editorial policy, he doesn't own or short individual stocks, although he owns stock in TheStreet. He also doesn't invest in hedge funds or other private investment partnerships. Feuerstein appreciates your feedback; click here to send him an email.