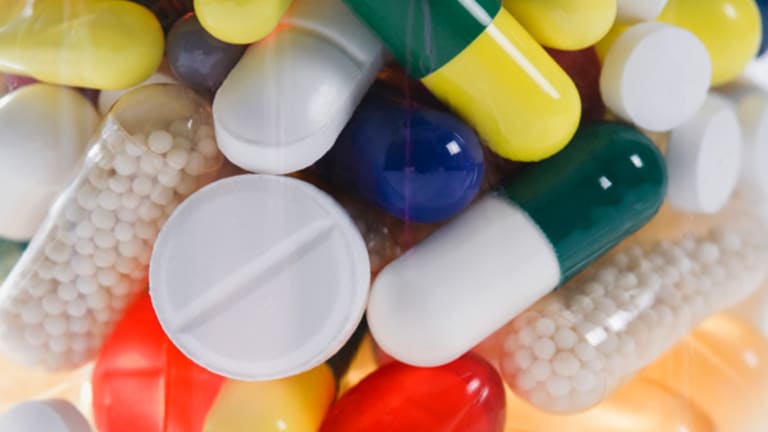 Publish date:
Sarepta Fans: A Single Data Slide Raises Questions About Glaxo's DMD Drug
The placebo effect may account for much of drisapersen's benefit in DMD patients.
The placebo effect may account for much of drisapersen's benefit in DMD patients.
NEW YORK (
) -- I spent a lot of time last night examining the efficacy curves depicted in the photo posted above. This is the money shot from Thursday's presentation by
GlaxoSmithKline
(GSK) - Get GlaxoSmithKline plc Sponsored ADR Report
of the first placebo-controlled data on its Duchenne muscular dystrophy (DMD) drug drisapersen. I trekked out to idyllic Cold Spring Harbor Laboratories, along with a sizable contingent from Wall Street, to scrutinize the drisapersen data first hand.
Not surprisingly, we were all really there because of the intense investor interest in
Sarepta Therapeutics
(SRPT) - Get Sarepta Therapeutics, Inc. Report
and its competing DMD drug eteplirsen.
Sarepta folks, including CEO Chris Garabedian, attended the drisapersen presentation, too.
Let's examine the data contained in the slide above to see what it tells us about drisapersen, and perhaps eteplirsen as well.
The curves represent results of the six-minute walk test over time. Look at the green line. These are the 18 DMD patients treated with continuous drisapersen. From Day 1 of the study through week 13 and week 25, these patients walk further in six minutes than they did at baseline. The green line goes up to the right. That's a positive result.
Now, compare the green line to the blue line, which represents 18 DMD patients treated with a placebo. From Day 1 through week 13, the blue line is flat, then declines slightly to week 25. These patients can't walk as far in six minutes than they did at baseline.
The difference in walking ability at week 25 between the patients treated with continuous drisapersen and placebo is 35 meters, which was statistically significant, meeting the primary endpoint of the study. These are the data that support drisapersen's benefit to DMD patients.
Or, perhaps not.
Glaxo conducted this placebo-controlled study of drisapersen under blinded conditions, meaning patients were not supposed to know if they were being treated with drug or placebo. In reality, the study was not blinded because the drisapersen injection is very painful. Talk to parents of boys in the study (as I have) and they'll tell you they knew if their kids were on drisapersen or placebo from the first day of the study.
Glaxo's own safety data presented Thursday illustrate the lack of a real study blind. Almost 80% of the drisapersen-treated patients reported injection site reactions, compared to 33% of placebo-treated patients.
It's entirely possible patients who knew they were receiving drisapersen were motivated to perform better during the two six-minute walk tests performed at weeks 13 and 25. Likewise, the kids on placebo were unmotivated. It's impossible to quantify with any precision the effect of unblinding might have had on this trial, but the placebo effect needs to be taken into account.
At some point during the course of a clinical trial, the positive impact of the placebo effect runs out. Take a look at the slide again. From week 25 through week 48, continuous drisapersen patients (green line) and placebo patients (blue line) behave exactly the same. The two lines mirror each other, which suggests -- but doesn't prove -- drisapersen might be nothing more than a placebo.
What do we need to be more confident in drisapersen's efficacy? Measurements of dystrophin production. Unfortunately, Glaxo didn't bring these data to Cold Spring Harbor Thursday.
Dystrophin is the protein that helps repair muscles and generally makes muscles function better. DMD patients have a defect in a gene that makes them unable to produce dystrophin. Drisapersen and Sarepta's eteplirsen are designed to "skip over" the defective gene so patients can make partially functional dystrophin.
If the green and blue lines in the slide above truly demonstrate drisapersen's ability to improve walking ability of DMD, we should also see dystrophin production in the drisapersen patients and none in the placebo patients.
Dystrophin was measured in this study but Glaxo says the data are still being crunched and will be presented soon. These dystrophin data are extremely important. I don't believe you can draw any conclusions about drisapersin's efficacy without them.
Here's where I note Sarepta has shown a correlation between dystrophin production and improved walking ability in its small eteplirsen study.
One additional interesting note about the performance of the placebo patients in the Glaxo study, which raises an uncomfortable question for Sarepta.
The placebo patients in the Glaxo study performed better on the six-minute walk test compared to placebo patients in Sarepta's study. One of the tenets of the Sarepta bull thesis is that DMD patients left untreated lose the ability to walk rather rapidly. But the generally stable walking ability of placebo patients in the Glaxo study raise questions about the "realness" of the results seen in the Sarepta study.
If the quick and steep decline in the walking ability of the Sarepta placebo patients is an anomaly, FDA may decide that another clinical study of eteplirsen is needed before the drug can be approved.
Fortunately for Sarepta, it's entirely possible (perhaps even probable) that both sets of placebo data are real.
Glaxo enrolled DMD patients with a mean age of 7 years. Some kids in the study were as young as 5 years old. Their baseline walking ability was also relatively strong. Younger, healthier DMD patients walk better, which could easily explain the stable walking ability of the placebo patients.
By contrast, the DMD patients enrolled in the eteplirsen study averaged 8-9 years and entered with more advanced disease. DMD kids like these are expected to show more rapid declines in walking ability.
Lastly, let's look at drisapersen's safety. Seventy percent of drisapersen-treated patients reported renal toxicity in the study. This is a hint at the more serious treatment discontinuations and hospitalizations that we know occurred among drisapersen-treated patients in the larger phase III study. These data underscore what looks like an important advantage for Sarepta's eteplirsen.
-- Reported by Adam Feuerstein in Boston.
Follow Adam Feuerstein on
.
Adam Feuerstein writes regularly for TheStreet. In keeping with company editorial policy, he doesn't own or short individual stocks, although he owns stock in TheStreet. He also doesn't invest in hedge funds or other private investment partnerships. Feuerstein appreciates your feedback;
to send him an email.