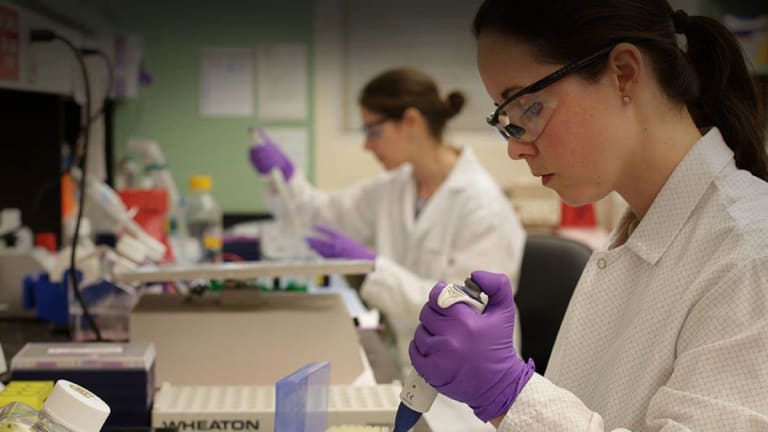 Sarepta Shares Keep Climbing and PTC Therapeutics Bounces Back
Sarepta adds another 7% on top of nearly 40% gains on Tuesday following good results for a new gene therapy.
Sarepta adds another 7% on top of nearly 40% gains on Tuesday following good results for a new gene therapy.
The week keeps getting better and better for Sarepta Therapeutics Inc. (SRPT) - Get Report . Sarepta shares were up $10.23 -- or 7.11% -- to $154.16 in mid-afternoon trading Wednesday after adding 36.8% Tuesday after the firm disclosed impressive test results for its new gene therapy designed to cure a rare form of muscular dystrophy. Rival drugmaker PTC Therapeutics Inc. (PTCT) - Get Report , which took a 30.6% hit Tuesday on Sarepta's announcement, regained some of its losses and rebounded 6.26% to $35.32 as of Wednesday afternoon.
Analyst Yun Zhong of Janney Montgomery said SRPT is rising because "we see the company having strong potential, and it's not surprising to see investors thinking that, too."
Zhong anticipates Sarepta will continue to rally, as investors are excited about the quality of findings on the gene therapy's effectiveness, as well as about the drug's market potential. He said that while some people affected by genetic disorders aren't candidates for treatments currently on the market, more patients might benefit from gene therapy.
Sarepta's focus has been on curing a rare disorder called Duchenne muscular dystrophy, which affects one out of every 3,500 to 5,000 male newborns worldwide. The genetic disorder leads to muscle degeneration and weakness due to an absence of dystrophin, a protein that helps muscle cells stay intact.
Sarepta's gene therapy aims to rectify the problem by replacing this missing protein. Results from the trial showed a decrease in serum creatine kinase, an enzyme biomaker associated with muscle damage from the disease. Gene expression in the three patients tested with the drug had a mean 38% compared to analysts' predictions of 10%-15%.
Zhong said that means people affected by the disorder should be able to live longer. "That 10% [extra gene expression] is enough that people can maintain a normal life span," he said.
The analyst added that Sarepta could expand its gene therapy to treat other neuromuscular disorders beyond just Duchenne muscular dystrophy. Sarepta shares began rallying Tuesday after test results for the gene-therapy drug outperformed Wall Street's expectations.
Conversely, PTC Therapeutics -- which makes a competing drug aimed at same disease -- plunged that day. That's because Sarepta's new treatment could negatively affect PTC Therapeutics' rival drug Translarna, which last year accounted for $145 million of PTCT's roughly $194 million of revenues.
But Raju Prasad, an analyst at William Blair, wrote in a recent research note that "the resulting weakness in PTC Therapeutics is overblown," particularly considering positive PTC Therapeutics released its own positive data this past weekend. PTCT unveiled promising early stage trial results of its new spinal muscular atrophy drug risdiplam, showing improved muscle performance in 90% of infants in the trial.
Spinal muscular dystrophy, a degenerative genetic disease that affects voluntary muscle control, is the leading genetic cause of death in infants and toddlers. People affected by the disease are born either with no motor-neuron gene or a defective one. That can affect swallowing, breathing and movement.