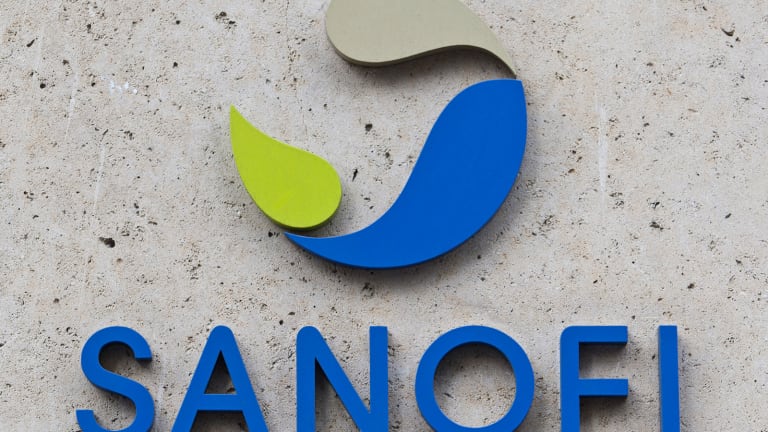 Sanofi to Exit Animal Care in $25 Billion Asset Swap With Boehringer
The Medivation bidder will swap its Merial animal care unit for Boehringer's over-the-counter operations and cash.
French drugs maker Sanofi (SNY) - Get Sanofi Report will hand its €11.4 billion ($12.6 billion) Merial animal medicines business to Boehringer Ingelheim in exchange for the German company's over-the-counter medicine's business and €4.7 billion of cash.
The deal announced on Monday comes almost exactly six months after the companies announced they were in exclusive talks over the asset exchange, which excludes the German company's Chinese operations.
Shares in Sanofi traded Monday morning at €70.02, up 65 euro cents or just under 1% on their Friday close.
"The strategic swap lays the foundation for both companies to reach size and scale in two highly attractive pharmaceuticals activities," said Sanofi and Boehringer.
Sanofi will increase its share of the consumer healthcare market to about 4.6%, equating to about €4.9 billion based on 2015 sales figures. It will also strengthen its operations in key target markets of Germany and Japan, where it had largely failed to build sales volumes of its own cough, cold and stomach medicines.
Sanofi said it expects the deal to boost earnings per share from 2018 onwards and said it would use cash from the sale to repurchase its own stock.
Sanofi CEO Olivier Brandicourt is reshaping the French drugs maker to reduce its reliance on a handful of key drugs, including Lantus, a diabetes treatment that recently lost patent protection in the U.S.
Brandicourt, who took up his role last year, is also seeking to boost his company's pipeline of new drugs with a $9.3 billion hostile bid for biotech Medivation (MDVN) . That offer $52.50 per share appears unlikely to succeed given Medivation's current share price of $56.95. It suffered a further blow on Friday when influential shareholder advisory service Glass, Lewis  advised Medivation shareholders to reject the bid and Sanofi's efforts to oust Medivation's board.
For closely held Boehringer the asset swap with Sanofi will make it the world's No. 2 animal care provider, doubling its sales in the sector to about €3.8 billion based on 2015 figures.
The deal is expected to close by the end of the year.