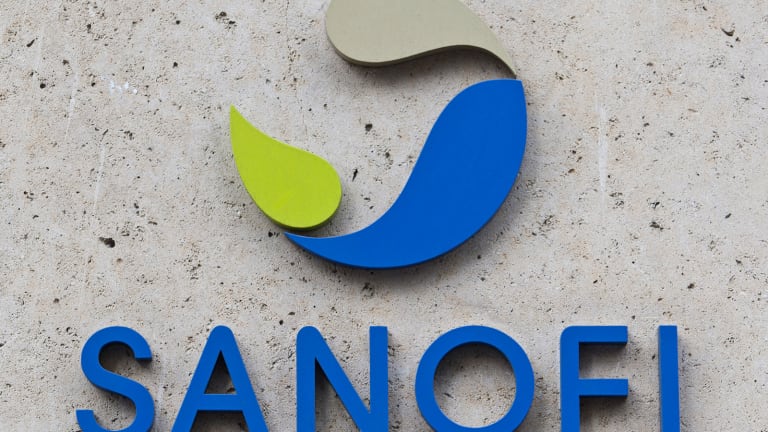 Sanofi SA (SNYNF) shares hit their highest mark in more than a year Friday, boosted by better-than-expected first-quarter profits on strong sales from its biotech unit Genzyme and its over-the-counter business.
Sanofi shares climbed 2.3% to €87.91, making it the second biggest gainer on the main French market as investors hailed the results, although gains were pared to around €87.32 by mid-day in Paris.
First-quarter business net income, which excludes the impact of M&A, increased 4% to €1.8 billion ($1.95 billion), almost 13%  ahead of analyst consensus expectations of €1.6 billion. Total sales rose 8.6% to €8.65 billion, about 4% ahead of consensus forecasts.
Despite the significant beat, Sanofi left its full year guidance unchanged, reiterating expectations that full year earnings per share growth would come in at somewhere between nothing and -3%.
"While Sanofi has maintained its 2017 guidance (highlighting that decline in its Diabetes franchise will accelerate post 1Q), we see the strong performance in the quarter as providing cushion for its initial FY17 guidance and see risks to guidance skewed upwards," noted Goldman Sachs.
Revenues from Sanofi's pharmaceuticals business, which includes Genzyme, were €7.86 billion, ahead of consensus expectations of about €7.67 billion despite a continuing sharp decline in the sale of its blockbuster Lantus insulin drug, which has lost patent protection. The vaccines operation posted sales of €784 million, about 8% ahead of expectations.  
"We have started the year with robust growth driven by specialty care (Genzyme) and vaccines as well as good performance in emerging markets," said CEO Olivier Brandicourt. "Our top line in the first quarter also benefited from the integration of the Boehringer Ingelheim consumer health care and European vaccine businesses."
Lantus sales fell 14.7% over the quarter €1.23 billion. Sanofi warned that the decline in sales of its insulin drugs was likely to accelerate over the remainder of the year.
Sales of its over the counter products climbed 42% to €1.34 billion following the acquisition of the consumer health care operations of Germany's Boehringer Ingelheim earlier this year.