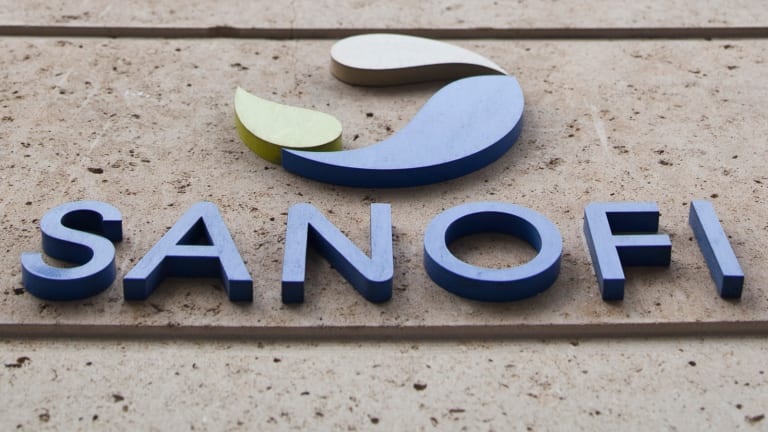 Publish date:
Sanofi Gains Boost from MS Treatments as Diabetes Drug Lantus Flounders
The thwarted Medivation bidder lifts its full-year earnings estimates and announces a share buyback program.
The thwarted Medivation bidder lifts its full-year earnings estimates and announces a share buyback program.
French drug maker Sanofi (SNYNF) increased its full-year earnings forecast after strong sales from its specialty care unit offset declines in diabetes drugs sales and boosted earnings beyond analyst expectations.
Sanofi shares jumped 6.6% to €73.43 ($80.13).
The Paris-based pharmaceuticals company posted third-quarter sales of €9.7 billion, beating the analyst consensus forecast of €9.5 billion, while operating profit came in at €3.1 billion,  nearly 15% ahead of analysts' expectations of €2.7 billion.
Earnings per share for the quarter were €1.79, easily topping the €1.54 consensus estimate.
"We have generated solid sales momentum in the third quarter and seen a strong contribution to our financial performance from savings and efficiencies arising from our more focused organization," Sanofi CEO Olivier Brandicourt said in a statement. "As a result, we are able to increase our FY 2016 Business EPS guidance."
Sanofi said EPS will grow between 3% and 5% this year at constant exchange rates, up from its previous guidance of "broadly stable."
"Consensus is expecting FY2016 EPS of €5.47, which is about -3% compared to FY2015," noted Goldman Sachs on Friday.
Multiple sclerosis medicines Aubagio and Lemtrada were the star performers for the quarter, posting combined sales of €446 million, up 54% on the same period last year. Sales of Sanofi's biggest selling drug, Lantus, a diabetes medicine that lost patent protection last year, continued to fall, down 9.8% to €1.39 billion, leaving it in line with analyst expectations. Sales of Toujeo, a new diabetes treatment that Sanofi hopes will offset some of Lantus' falling sales, posted revenue of €167 million for the quarter, up 265% and slightly ahead of expectations.
Brandicourt earlier this year suffered a setback in his efforts to restructure Sanofi and build its oncology business when he missed out on buying Medivation (MDVN) , which agreed to a $14 billion takeover by rival Pfizer (PFE) - Get Report . The failure of that bid means the CEO still has significant room on his balance sheet to fund acquisitions and he said Friday he was prepared to "act rather swiftly" if a promising opportunity arises.     
Sanofi will also begin the process of carving out its European generic drugs business in preparation for a sale of the unit. The unit made sales of €197 million in the third quarter, up 2% on the same period last year. The company said it would retain its remaining generic drug operations, including businesses in the U.S. and emerging markets.
Finally, the company announced a €3.5 billion share buyback program that will begin this year and end in 2017.