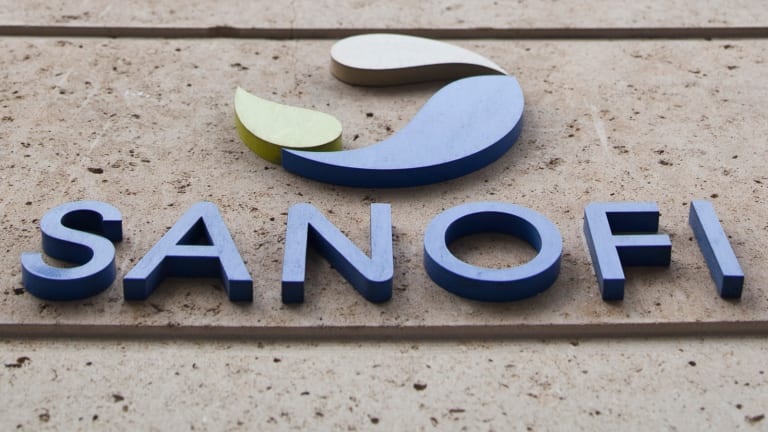 Sanofi Announces Second Billion-Dollar Deal In a Week, and It May Not Be Done
A week after unveiling an $11.6-billion deal for Bioverativ, Sanofi said it was spending another $4.8 billion to acquire Belgian biotech firm Ablynx.
French biopharmaceutical firm Sanofi SA (SNY) kicked off Monday, Jan. 29, the same way it began the previous week: with news of a fresh acquisition. After signing back-to-back deals worth about €13.3 ($16.4 billion) combined, Sanofi left the door open for additional acquisitions, although perhaps not at the same frequency as those two.
"We're not expecting to do one acquisition every week, that's for sure," said Sanofi CEO Olivier Brandicourt on a conference call with analysts following Sanofi's deal to buy Belgian biotech firm Ablynx NV (ABLX) for approximately €3.9 billion ($4.8 billion). The Ablynx deal comes a week after Sanofi's $11.6 billion agreement to buy Bioverativ Inc. (BIVV) , a Waltham, Mass.-based maker of hemophilia treatments.
Sanofi's American depository receipts were trading at $45.17 on Monday, down 1.3%, while Ablynx's ADRs were up 12.3% to $53.52.
On the call, Brandicourt said Sanofi had a general target of about €20 billion ($24.7 billion) for acquisitions. Sanofi has "been able to keep a very strong balance sheet and generate significant cash flow and and therefore all opportunities need to be examined on a case-by-case basis," he said.
Sanofi chief financial officer Jérôme Contamine said the company expects that to maintain its current credit ratings after the two acquisitions.
Moody's Investors Service Inc. has an A1 long-term rating on Sanofi. Fitch Ratings Inc. has an AA- rating. Standard & Poor's has an AA rating.
Sanofi's deals in recent years include its purchase of influenza drug maker Protein Sciences Corp. for up to $750 million in 2016.
Sanofi agreed to acquire all of Ablynx's outstanding shares, including convertible bonds, at €45 ($55.70) per share in cash, in a deal that will expand Sanofi's pipeline of rare blood disorders treatments. The deal has been unanimously approved by the boards of both companies.
Ablynx's two most promising drugs are caplacizumab a treatment for a rare blood clotting disease called thrombotic thrombocytopenic purpura, and vobarilizumab, a treatment for rheumatoid arthritis. The company also has a pipeline of earlier stage drugs including ALX-0171, which could be used to treat a respiratory infection in infants. It specializes in drugs developed from studies of the immune systems of llamas and alpacas.
During the conference call, Sanofi was asked how competitive the process was for Ablynx was and how much time it had to conduct due diligence. Brandicourt replied that Sanofi has been working at a high speed and doing its due diligence quickly.
The reason Sanofi was able to work at that pace is that it has known Ablynx since 2015, Brandicourt noted. That was the year that Sanofi's Genzyme unit signed a collaboration agreement with Ablynx on multiple sclerosis research.
Then last year, Sanofi inked a research collaboration and licensing agreement with Ablynx to develop products for the treatment of immune-mediated inflammatory diseases.
Sanofi expects to complete its acquisition of Ablynx by the end of the second quarter.
In early January, Ablynx received an unsolicited €2.6 billion ($3.2 billion) bid from Danish drug maker Novo Nordisk A/S (NVO) , after the target had twice refused to enter talks. Novo Nordisk offered €30.50 ($37.75) per share for Ablynx, including €28 ($34.64) in upfront cash and €2.50 ($3.09) of contingent value rights dependent on the progress of certain treatments. Ablynx's board opposed the bid claiming that it "fundamentally undervalues Ablynx and its strong prospects for continued growth and value creation."
In a statement on Monday, Novo Nordisk said it will not make a revised proposal for Ablynx. Novo Nordisk's ADRs were trading at $57.56 on Monday, down 1%.
-- Lisa Botter and David Marcus contributed to this article
More of What's Trending on TheStreet: