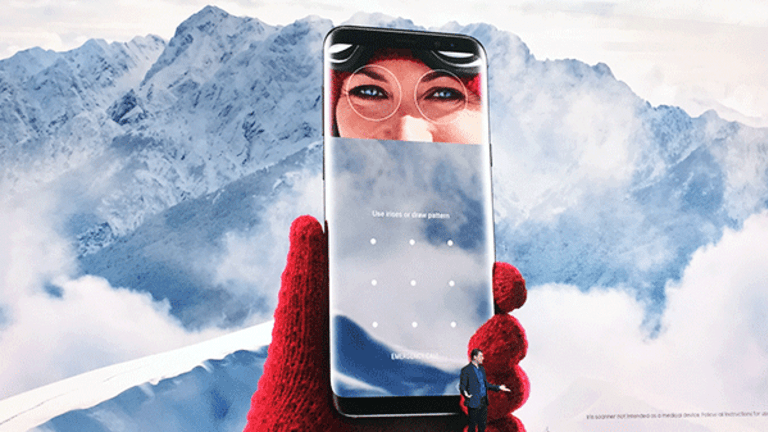 Samsung's Galaxy S8 Screens Are Tailor-Made for the Social Media Era
The 5.8-inch and 6.2-inch displays sported by Samsung's latest flagship phones will be well-received by consumers used to constantly scrolling through Facebook feeds and other content.
Though not the only reason the company became the dominant player in the high-end Android phone market, differentiated displays have long been Samsung's (SSNLF) calling card in this space. With the help of its giant Samsung Display unit, the company was the first to launch mass-market smartphones sporting OLED displays instead of LCDs, pioneered the phablet category via its Galaxy Note line and launched the first phone with a curved/wrap-around display (the Galaxy S6 Edge).
And while Samsung is eager to tout a number of new features it has built into its new Galaxy S8 and S8 Plus phones, it's their large and unconventional displays that are bound to have the biggest impact on their reception. Fortunately for Samsung, mobile content consumption trends mostly work in it favor.
As expected, Samsung unveiled the 5.8-inch S8 and 6.2-inch S8 Plus at a New York event on Wednesday morning. On a diagonal basis, the phones' display sizes easily top those of the 5.1-inch Galaxy S7 and 5.5-inch Galaxy S7 Edge, as well as Apple's (AAPL) - Get Apple Inc. Report4.7-inch iPhone 7 and 5.5-inch iPhone 7-Plus.
Those once in the market for Samsung's discontinued and occasionally exploding Note 7 might be interested to know the new phones are also larger than the Note 7's 5.7-inch display. Apple is rumored to be prepping an iPhone 8 with a 5.8-inch curved OLED display for a September launch.
Samsung pulled this off without making its phones uncomfortable for the average user partly by adopting an 18.5-to-9 aspect ratio that's noticeably larger than the 16-to-9 ratio found on the S7 and most rival devices. It also significantly reduced the phones' bezels by using curved OLEDs and ditching the S7's physical home button in favor of a software-based button similar to that on many other Android phones.
As a result, the S8 is actually 1.5mm narrower in width than the S7, and the S8 Plus just 0.5mm wider than the S7 Edge's. The phones are 6.5mm and 8.6mm longer, respectively, than those previous versions, but width, rather than length, tends to be the biggest pain point for users of large-screen phones.
Samsung also claims the S8 and S8 Plus displays are the first to receive Mobile HDR Premium certification. The phones go on sale at all 4 top U.S. carriers on April 21; the S8 features a $720 starting price at Verizon (VZ) - Get Verizon Communications Inc. Report , while the S8 Plus starts at $840. By comparison, the iPhone 7 and 7-Plus start, respectively, at $649 and $769, but the iPhone 8 is expected to cost more.
Apple is a holding in Jim Cramer'sAction Alerts PLUS Charitable Trust Portfolio. Want to be alerted before Cramer buys or sells AAPL? Learn more now.
In line with reports, some S8 models will be powered by Qualcomm's (QCOM) - Get Qualcomm Inc Report new Snapdragon 835 flagship processor, and others by Samsung's Exynos 8895 processor. Both pair four high-performance CPU cores with four low-power cores, and are made using Samsung's cutting-edge 10-nanometer manufacturing process.
Each phone has a 12 megapixel rear camera that's the same as the S7's well-received camera from a hardware standpoint. However, Samsung has joined Apple and others in integrating software that takes multiple shots in rapid succession and creates an optimized photo from the bunch. The front camera now has an 8MP image sensor and a revamped facial-detection system.
Outside of the displays, the most-hyped S8 feature is of course Samsung's Bixby assistant, which stems from its recent acquisition of startup Viv Labs (founded by the creators of Apple's Siri). Samsung created a dedicated side button to either make voice commands or access a home page that (like Alphabet/Google's (GOOGL) - Get Alphabet Inc. Class A Reportapp feed) surfaces information and content that it believes is relevant to a user.
Bixby is also integrated with the S8's camera to identify objects and rear text picked up by the camera (echoes of Google Goggles). It can also control apps -- for now, only 10 Samsung apps are supported -- and it's promised to understand the context in which a command is given.
With the possible exception of the camera feature, Samsung might have a hard time getting consumers to use Bixby instead of Google Assistant (an outgrowth of the older Google Now), which is rolling out on devices running Android 6.0 and higher and can typically be accessed by either saying "OK, Google" or holding down the home button. Google has a big head-start in amassing user data, as well as in using machine learning to decipher natural-language commands and understand context. It also has the benefit of integrating Google Search and other Google services, and is beginning to create a developer ecosystem.
It's worth remembering here that this isn't Samsung's first stab at launching a rival voice assistant. The company's S Voice assistant has been around since 2012, and generally hasn't done well in tests against rival assistants.
Other attempts to differentiate the S8 via proprietary software and services also have big question marks attached. Samsung's age-old TouchWiz Android interface has gotten a facelift, but consumers generally tolerate rather than love TouchWiz, and that doesn't seem about to change. The Samsung Pass service now lets users log in to select websites via biometric recognition, but Google has had a fingerprint programming interface (API) for Android developers since 2015.
Samsung's DeX dock for the S8 looks appealing at first glance. Much like Microsoft's (MSFT) - Get Microsoft Corporation ReportContinuum technology, which unfortunately only works with Windows Phones, DeX lets a phone be paired with a monitor, keyboard and mouse, and transform into a PC. But between a rumored price tag of around $160 and limited Android app support, it's likely to be a niche product. Moreover, it could be just a matter of time before Google launches a rival solution supporting Android phones in general, given its attempts to fuse Android and the Chrome OS.
Thus, unless Bixby turns out to be much better than anyone expects, the S8 and S8 Plus' displays are going to be their main selling point. And here, one can't overlook how well the displays, with their outsized lengths and reasonable widths, are suited for an era where consumers are constantly scrolling down never-ending social media feeds.
Facebook (FB) - Get Meta Platforms Inc. Class A Report claims its average user spends over 50 minutes per day on its core app, Facebook Messenger and Instagram. A 5.8-inch or 6.2-inch display with a larger-than-normal aspect ratio will make it easier to go through a Facebook or Instagram feed filled with unseen material. It also won't hurt when using Twitter (TWTR) - Get Twitter, Inc. Report, reading a lengthy web article or browsing through a Spotify library or YouTube videos.
When it comes to photos and videos, the extra screen real estate isn't as useful right now, since a lot of content is recorded using a 4-to-3 or 16-to-9 aspect ratio, and will be shown on an S8 with black bars on the left and right. But an increasing amount of video is being made using a 21-to-9 ratio, and such material will appear on an S8 with smaller black bars on the top and bottom. And apps and games should automatically be resized to take up the whole screen.
Regardless, it won't take long for many consumers getting a first-hand look at an S8 or S8 Plus to see how their huge screens could be of practical use. For now, those screens give Samsung an important way to stand out in a very competitive high-end phone market.