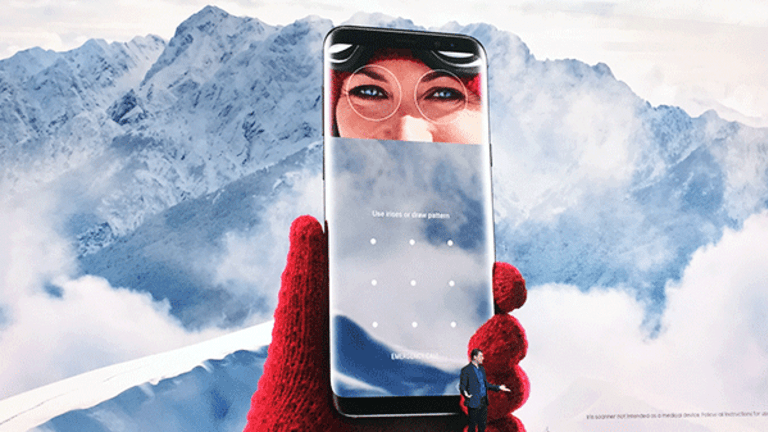 Samsung's Galaxy Note 8 to Be Unveiled Today - Here's What You Need to Know
Samsung's last smartphone in the Note series caused a bit of an explosion -- and not in a good way.
Samsung's  (SSNLF)  Galaxy Note 8 will be unveiled at a launch event in New York on Wednesday morning, just a month ahead of Apple Inc.'s (AAPL) expected launch date for the iPhone 8. 
The Note series is best known for its larger screen size and for having a stylus. When the first Note phone was released in 2011 it had a 5.3-inch display which was considered comically large at the time. But that phone ended up starting a trend for larger-sized smartphones with maximum screen space, according to Jackdaw Research chief analyst Jan Dawson. The iPhone 7 Plus that came out last September measures 5.5 inches. 
Samsung, officially Samsung Electronic Co., seemed to go through a period of trying crazy things like a huge display and just seeing what sticks, Dawson said. And the Note series stuck. People have started to demand as large a screen as possible for their smartphones because they want it to be as close to a computer as possible for when they can't sit behind a desk. "It has to be a tablet and a smartphone in one for maximum productivity," he said. 
We Might Have Unlocked the Secret Behind Amazon's Big Deal for Whole Foods
Since other smartphones have caught up to the Note series in size, the stylus is now its most prominent feature, Dawson noted. Most phones rely on touch and multitouch. While it's an unusual feature compared to the broader market, the stylus has made the Note series a very popular phone over time. "The Note series has a very loyal base," Dawson said. 
What's so great about the S Pen stylus? The Note 7 stylus had 4,096 different pressure sensitivities. The tool lets users doodle on a locked screen, translate text, and write notes in apps. This year's stylus is rumored to have a built-in speaker.
The Note 8 is also expected to debut a new camera that is supposed to be even better than the highly praised camera on the Galaxy S8, which was released in April. The camera is expected to feature dual rear cameras that will allow for portrait mode, a feature that's already on the iPhone 7 Plus and lets users blur the background on photos. 
The Note 8 is the first in the series since the horrific Note 7 disaster in the fall of 2016 that led to Samsung's biggest recall ever. The recall cost Samsung $5 billion total, despite the company claiming that just 330 of the 3 million Note 7 devices it sold had battery issues that caused overheating and sometimes explosions. While Samsung most likely won't apologize again for the battery issue that caused phones to overheat or explode, it will definitely emphasize the safety features and testing that went into the new phone, Dawson predicted.  
Rumors circulated last year that Samsung rushed the testing process on the Note 7 in order to get the phone out to market in early August before Apple released its iPhone 7 and iPhone 7 Plus in September. This year, Samsung will comfortably beat Apple to market again. While most smartphone users are strictly loyal to either Samsung or Apple, some Note loyalists might decide to wait a month to see what Apple has to offer, Dawson said.
Apple is a holding in Jim Cramer's Action Alerts PLUS Charitable Trust Portfolio. Want to be alerted before Cramer buys or sells AAPL? Learn more now.
The Note 7 retailed for about $850 last year. The Note 8 is expected to jump about $50 to $900 and will hit shelves September 15, according to Android World. If you're zipping your wallet back up, remember that the new iPhone 8 is expected to retail for a starting price of $1,200 when it comes out next month.
Don't miss these top stories on TheStreet:
We Might Have Unlocked the Secret Behind Amazon's Big Deal for Whole Foods