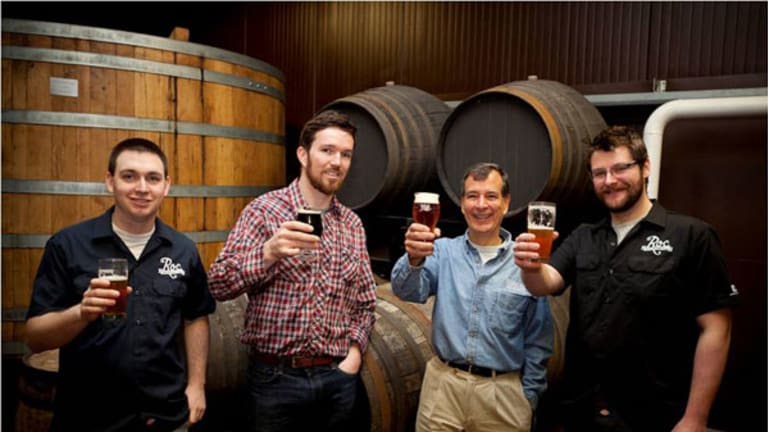 Sam Adams Buys a Round for Small Beer, Food Businesses
Boston brewer Sam Adams is providing microloans to small businesses in food, beverage and hospitality.
NEW YORK (
) -
Boston Beer Co.
(SAM)
, the maker of Sam Adams beer, is expanding its five-year-old initiative to help small businesses in the food and beverage industry with funding, coaching and other resources available from the $2 billion market cap brewery.
Known as
Samuel Adams Brewing The American Dream
, the program is adding $1 million in funding for microloans targeting about 100 new small businesses through its partnership with non-profit lender
. Companies, including other craft brewers, can apply for microloans ranging from $500 to $25,000. All loan payments are recycled back into the fund.
The brewery is also using the campaign to appeal to customers, asking them to support the financing of small businesses through its program "Raise a Pint, Brew a Dream." Starting today through May 31, for every Samuel Adams Boston Lager draft sold at participating locations nationwide,
will donate five cents to the Brewing the American Dream microloan fund.
Boston Beer founder Jim Koch (second from right) along with Brewing the American Dream beneficiaries Chris Spinelli (far left) and Jon Mervine (far right) of Roc Brewery and Jim Woods (second from left) from MateVeza visit the Sam Adams brewery.
The program is also expanding its coaching and mentoring activities for small businesses. This year, Brewing the American Dream will introduce an event called the "Pitch Room" that will focus on helping small-business owners appeal to potential investors. Customers and small-business owners will have the opportunity to pitch their products to national retailers and restaurants.
A select few will then present at a national competition, where they'll have the chance to win a $10,000 business grant and a series of personalized coaching and mentoring sessions with the staff at Boston Beer, including the company's founder, Jim Koch.
The initiative "is a way of leveraging a couple million dollars' worth of loans and a lot of coaching and mentoring and counseling and transferring our business expertise to the people who are going to create jobs in the U.S.," says Koch, who adds that the initiative is a pet project for him.
"When I started Sam Adams what would have been really helpful to me that I couldn't get
was loan money ... even to get nuts and bolts business advice. Even for me with a Harvard MBA, I didn't know how to make a sales call or design a label or how to set up a payroll
system. Those are things that 20 min with somebody who does that will prevent a lot of expensive mistakes," he says.
The program will also extend its popular speed coaching activities in cities throughout the country. This year the program is hosting events in 10 locations: Boston, Chicago, Cincinnati, Cleveland, Denver, Los Angeles, New York, and Washington, DC - and, for the first time, Miami and San Francisco.
At the speed-coaching events, business owners are paired with Sam Adams employees, as well as local business experts who provide advice in their areas of expertise. Each attendee has the opportunity to participate in a series of high-impact, one-on-one 20-minute coaching sessions intended to address their specific problems and concerns.
For example, a business owner with a packaging question might meet with one of Boston Beer's packaging or graphic design experts who can provide specific ideas on color, style and size to help capture the attention of potential consumers.
Brewing The American Dream was launched in 2008 and strongly supported by Boston Beer Co. founder Jim Koch. It was originally formed to help local New England small businesses (and yes, even small craft breweries) get the financing and resources they need.
The program has since expanded nationally. Accion has doled out $1.9 million in microloans through the program to 225
across the U.S., with the average loan at about $8,000. The initiative has also provided coaching to more than 3,000 business owners and created or saved nearly 1,400 jobs, Boston Beer says.
While there is no annual revenue minimum for applicants, established companies are preferable. "What we want them to do with the loan is use it to grow their business and create jobs, profit so they can pay the loan back and then we can recycle that loan to another small business that can do the same thing," Koch says. "We have had business where we've made two or even three loans."
At a corporate level, Koch says connecting with food and beverage entrepreneurs keeps Sam Adams connected to its entrepreneurial roots - an advantage when competing with the likes of beer conglomerates like
Anheuser-Busch InBev
(BUD)
and
Molson Coors
(TAP)
.
"For Boston Beer, it keeps our people in contact with our own entrepreneurial roots. In our business,
Sam Adams makes up 1% of the U.S. beer market so we have to stay entrepreneurial and maintain our small business mentality and culture and this is a way of doing that," he says.
That said, Koch notes that the fund has more money available to lend than applicants right now.
"
We have some significant resources that we could share we could help other business do what I didn't have," Koch says. "Sam Adams has helped create a revolution in in brewing. Maybe there's another Sam Adams out there. It would be cool if we could help them make their way down the path that I've been down."
Shares of Boston Beer were gaining 0.7% in New York to $158.61 to extend its advance this year to 18%.
-- Written by Laurie Kulikowski in New York.
To contact Laurie Kulikowski, send an email to:
Laurie.Kulikowski@thestreet.com
.
>To submit a news tip, email:
.
RELATED STORIES:
>>March Retail Sales Feel The Winter Blues
>>Credit Unions Would Lend More if the Politicians Would Allow It
>>Zumiez Shares Spike on Sales Numbers
Follow
TheStreet
on
and become a fan on
Disclosure: TheStreet's editorial policy prohibits staff editors, reporters and analysts from holding positions in any individual stocks.