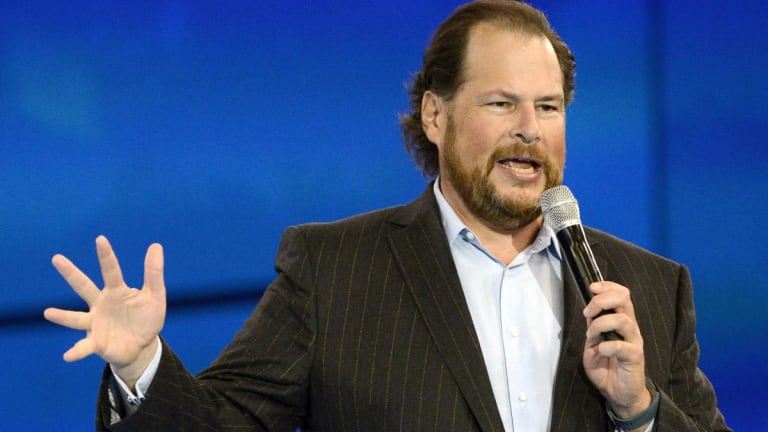 Salesforce Execs Tout Acquisition Strategy Following Earnings Beat
Revenue growth from Salesforce's organic development and from acquisitions can work in harmony together, executives said on the company's latest earnings call.
Salesforce (CRM) and its recent acquisitions are one big happy family. 
Shares of the CRM giant jumped in after-hours trading on Thursday and were rising 6% to $157.25 in pre-market trading on Friday after it posted a 22% increase in revenue to $4 billion and earnings of 66 cents per share, ahead of analyst estimates for revenue of $3.95 billion and earnings of 47 cents per share. Salesforce also raised its full-year revenue guidance to $16.9 billion from its previous estimate of $16.75 billion.
Prior to Thursday's earnings release, Salesforce's stock had slumped about 5% in August on a mix of macroeconomic concerns, currency headwinds and some skepticism about the company's run of costly acquisitions. In early August, Salesforce closed its $15.7 billion acquisition of Tableau, a data visualization platform; just days later, it bought ClickSoftware, a workforce management platform that focuses on field service, for $1.3 billion. 
On a call with investors after the release of its earnings, Salesforce executives addressed several questions related to the company's M&A roadmap and how acquisition targets may tie into its core platform. 
"We have tremendous innovation happening at Salesforce and that's been so important for us over the last 21 years. But we're also in awe of a lot of other innovation that's happening outside of our company and we've been fortunate to have a big enough view of innovation that it's motivated us to be one of the most innovative companies in the world," said Salesforce co-CEO Marc Benioff.  
As far as revenue goes, Salesforce anticipates a top line contribution of $550 million to $600 million from the Tableau acquisition -- an increase over its previous estimate of $350 million and $400 million (the deal closed two months ahead of schedule, hence the disparity.)
For now, Tableau will operate as a separate company serving its own base of some 86,000 customers, Salesforce executives said on the call, with no immediate plans to merge operations. But Salesforce CFO Mark Hawkins pointed to the company's track record in augmenting acquisition targets -- Mulesoft, which has topped revenue forecasts in each quarter since it was acquired last year, is one probable example -- in setting investor expectations from the deal. 
"We have a tremendous history with acquisitions of complementing organic innovation and being able to make progress in that way. And when we do M&A, we're always looking for opportunities to make these companies even better," he said.
In discussing the ClickSoftware acquisition, Benioff said that the deal will boost Salesforce's fast-growing Field Service Lightning product, which saw its revenue increase 100% year-over-year last quarter.
"Field service is incredibly strategic to a number of industries such as utility, telecommunications, equipment manufacturers. And we have a very strong product in Field Service Lightning," he said. "The combination...is very, very compelling. So that's a great example of marrying innovation organically and inorganically."
Bret Taylor, Salesforce's chief product officer, pinned the growth in the field service product partly to investments "in maps and geolocation and mobility," and suggested that ClickSoftware's technology could be folded into some of the existing service functions, such as case routing, to deliver an improved product for both. 
Salesforce likely isn't finished buying up smaller firms as its organic growth decelerates, said Daniel Elman, an analyst at the IT research firm Nucleus Research. 
"Recurring revenue numbers from mature companies like ClickSoftware and Tableau with large user communities are huge for showing growth at the multi-billion dollar enterprise scale," Elman said, noting that exceeding 20% revenue growth has served as an important threshold at the 20-year-old software firm. "It maintained its streak, which has been a focal point for Salesforce execs." 
Save 57% With Our Labor Day Sale. Join Jim Cramer's Action Alerts PLUS investment club to become a smarter investor! Click here to sign up!
Salesforce is a holding in Jim Cramer's charitable trust ActionAlertsPLUS. Want to know when Jim buys or sells Salesforce? Sign up for a free trial now