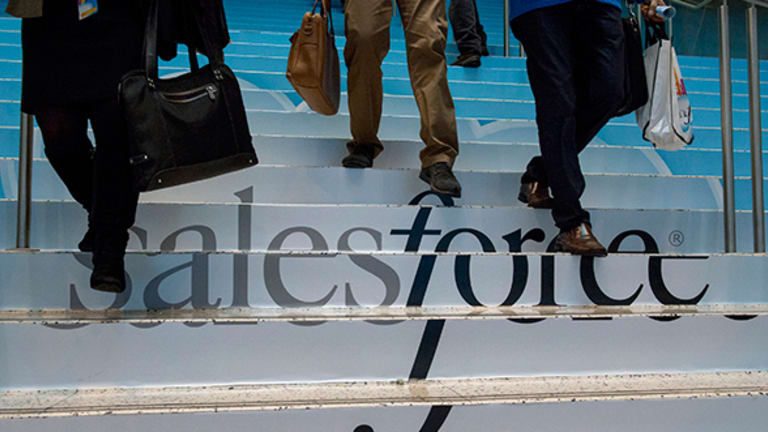 Salesforce's Stellar Results Still Fall Short: What Wall Street's Saying
Investors may have been disappointed by the software giant's guidance on billings growth and operating margins for the second quarter of fiscal 2018.
Investors may have been disappointed by the software giant's guidance on billings growth and operating margins for the second quarter of fiscal 2018.
Salesforce.com Inc. (CRM) - Get Report on Tuesday, Aug. 22, topped estimates for the second quarter of fiscal 2018 while hiking its forecast for the third quarter and full year, but even that didn't satisfy Wall Street's seemingly sky-high expectations. 
Despite the outperforming results, the software giant's stock slid nearly 3% after hours on Tuesday. Shares have since pared most of their losses, though, and were up 0.6% to $93.53 on Wednesday morning. The stock is up 36.7% so far this year. 
For the second quarter, Salesforce reported adjusted earnings of 33 cents per share on revenue of $2.56 billion, which surpassed analysts' estimated 32 cents per share and $2.51 billion in sales. It also gave an upbeat forecast for fiscal 2018, saying it now expects to see revenue between $10.35 billion and $10.4 billion with earnings in the range of $1.29 to $1.31 per share. Both were in line with Wall Street's projections. 
The initial selloff likely was tied to some pressure from profit-taking, since Salesforce shares had risen about 6% over the past two weeks or so, FBN Securities Inc. analyst Shebly Seyrafi said. Investors also may have been disappointed by the projected billings growth for the third quarter. When factoring in deferred revenue and sales guidance for the quarter, it implies that Salesforce will see billings growth of 10% year over year, lower than the 19% growth analysts were hoping for, Seyrafi said. 
Additionally, Seyrafi said Wall Street may not have liked that Salesforce maintained its guidance for non-GAAP operating margin growth in fiscal 2018. 
Notwithstanding some of these concerns, several analysts said Salesforce's strong second-quarter results show that it's becoming a bigger player in the cloud software space. Here's what they had to say about the quarter: 
Joel Fishbein, BTIG Research (Buy, $100 Price Target) 
"2Q results showed Salesforce is a dominant force in the digital transformation. Sales Cloud and Service Cloud shined during the quarter; both are accelerating growth as additional features have added to the value proposition to drive deeper relationships within accounts and displace competition. ... With growth rates like this, Salesforce is on the road to $20B in revenue."
Michael Nemeroff, Credit Suisse (Outperform, PT raised to $115 from $110) 
"CRM's Q2 results were strong across the board, but mgmt. didn't budge from their +125-150 [basis point operating] margin improvement guide for F2018, which may disappoint some investors that were hoping for more. However, we think most investors will begrudgingly accept the reiterated margin improvement guide given the large bookings outperformance." 
Brian Wieser, Pivotal Research (Hold, PT raised to $84 from $83) 
"Overall, these results represented a continuation of recent trends, without a major negative or positive read-through vs. prior expectations. We continue to see marketing technology taking share of marketers' overall budgets as they look to better capitalize on customer relationships, automate workflows and apply related data towards improved media choices. Salesforce.com is a key catalyst and beneficiary of these changes within the industry." 
Shebly Seyrafi, FBN Securities (Outperform, PT raised to $110 from $105) 
"On the [deferred revenue] concerns, the company has noted for a few quarters now that it is experiencing 'deepening seasonality' with its deferred revenue (DR), which means that it expects to have strong Q/Q growth in DR in FQ4 but generally lighter Q/Q growth in DR in FQ3. In our model, we assume that DR will grow by ~58% Q/Q in FQ4 2018 (similar to the 59% Q/Q growth in FQ4 2017), and we therefore estimate that billings growth will increase to ~20% Y/Y in FQ4.  Therefore, we would not be overly concerned here."
Brian Schwartz, Oppenheimer & Co. (Outperform, $100 PT) 
"F2Q results exhibit: 1) solid y/y billings, cash flow and margin improvements as CRM becomes more profitable on a bigger base; 2) the blended Europe and [Asia-Pacific] growth outpaced North America by ~500bps, indicating CRM's global attraction is increasing; and 3) fastest sequential and y/y growth for Sales Cloud in 3+ years is impressive given the business size. ... Additionally, guidance for <20% deferred revenue growth in F3Q is uninspiring but appears a low hurdle given the 30 consecutive quarters of 20%+ deferred revenue growth."
Raimo Lenschow, Barclays (Overweight, PT raised to $101 from $100) 
"A typical CRM quarter: Salesforce delivered better revenue and billings but guided to increased seasonality, which limits Q3 billings upside, and also damped hopes for margin guidance increases by reiterating its focus on growth investments. This means that the investment case for long-term bulls (including us) is unchanged (healthy growth at scale and suboptimal margins, which can improve over time). However, in the short term, shares may pause as our conversations with investors suggested some expectations of a margin guidance increase."
Patrick Walravens, JMP Securities LLC (Market Outperform, $95 PT) 
"We continue to believe salesforce.com is likely to drive outsized capital appreciation as it: 1) helps the Global 2000 with its digital transformations; 2) maintains its growth trajectory to go from $10B to $20B in annual revenue; and 3) more tactically, is well-positioned heading into F2H18 and into its annual user conference, Dreamforce, which will be held November 6-9, 2017."
Watch Jim Cramer's full live show replay here:
Don't miss these top stories on TheStreet:
We Might Have Unlocked the Secret Behind Amazon's Big Deal for Whole Foods
Berkshire Hathaway Stock Reaches All-Time High on S&P's Vote of Confidence