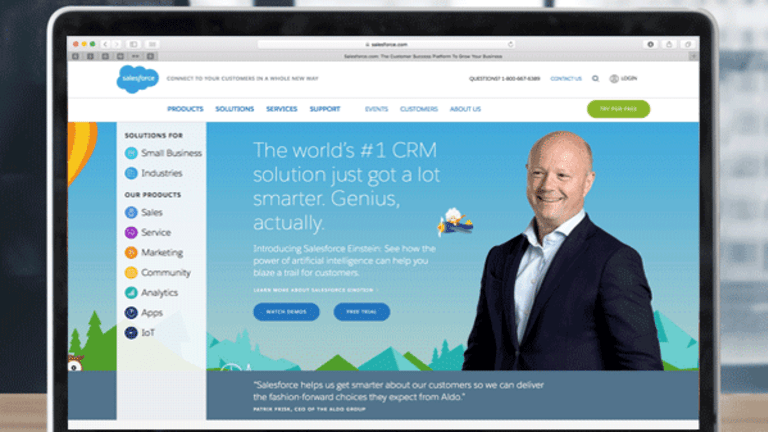 Publish date:
Salesforce's Profit Guidance Disappointed, but Its Sales Momentum Remains Strong
While bulls were hoping for a larger profit guidance hike, the company continues taking share in a growing market.
While bulls were hoping for a larger profit guidance hike, the company continues taking share in a growing market.
This column has been updated to note that Salesforce's shares have moved slightly higher in Wednesday trading. 
What does Salesforce.com Inc. (CRM) - Get Report now have in common with Microsoft, Google, Nvidia, Skyworks and KLA-Tencor? Its shares moved lower after delivering a fairly strong earnings report this summer that fell a little short of the high bar set by investors following a sizable 2017 rally.
But Salesforce's losses were pretty modest, and for now shares are ticking higher in Wednesday trading. This is no doubt due to the fact that while Salesforce's profit/cash flow guidance disappointed some, it's hard to complain at all about the cloud CRM software giant's top-line execution.
Salesforce reported July quarter (fiscal second quarter) revenue of $2.56 billion (up 26% annually, slightly better than the April quarter's 25%) and adjusted EPS of $0.33, beating consensus analyst estimates of $2.52 billion and $0.32. It also guided for October quarter revenue of $2.64 billion to $2.65 billion (up 23% to 24%) and adjusted EPS of $0.36 to $0.37, above consensus estimates of $2.62 billion and $0.35.
Apple iPhone 8's 'Crown Jewel' Has Everything to Do With Your Face
Why Google's Android Oreo Doesn't Push the Envelope as Much as Apple's iOS 11
The company also hiked its fiscal 2018 (ends in January 2018) sales guidance by $100 million to $10.35 billion to $10.4 billion (up 23% to 24%). But EPS guidance was only hiked by a penny to $1.29 to $1.31. And Salesforce is maintaining guidance for 20% to 21% operating cash flow (OCF) growth and a modest 125 to 150 basis-point increase in adjusted operating margin.
As a result, shares fell 1.3% to $91.73 in after-hours trading Tuesday, after having risen 1.3% to new highs in regular trading. However, they reversed course on Wednesday morning, trading slightly higher. They're up 37% in 2017.
On the earnings call, CFO Mark Hawkins attributed the lack of a full-year cash flow guidance hike to "a strong new business" obtained in the last quarter that led to higher cash commission payments, along with the fact that full-year cash flow depends a lot on the January quarter, Salesforce's second-biggest after the April quarter for cash collections. He did add that free cash flow (FCF - OCF minus capital spending) is expected to grow faster than OCF this year.
FCF grew 31% last quarter to $203 million, and 14% over the first six months of fiscal 2018 to $1.28 billion. Like other cloud software firms, Salesforce's annual free cash flow tends to be much higher than its reported earnings, since it gets paid upfront for annual and multi-year subscriptions but has to record the revenue a quarter at a time.
Regarding the lack of a margin guidance hike, Hawkins blamed investments in new products and growing software distribution, as well as in Salesforce's Trailhead platform for training customers in the use of Salesforce's software. These investments, which of course impact cash flow as well, helped Salesforce's GAAP operating expenses grow 24% last quarter to $1.84 billion. As is the case for many peers, sales/marketing spend ($1.17 billion) is easily Salesforce's biggest expense.
But Salesforce's heavy spending is still yielding a decent payoff. The company's closely-watched deferred revenue balance, which consists of revenue Salesforce has billed clients but hasn't yet recorded, grew 26% to $4.82 billion, topping a $4.7 billion consensus. And unbilled deferred revenue -- related to deals under contract that haven't been billed yet -- grew 30% to $10.4 billion.
Salesforce's mainstay Sales Cloud platform saw revenue grow 17% to $886.4 million, thanks to growth for both the company's salesforce automation software (widely used by sales pros) and configure-price-quote (CPQ) software (a product of the 2015 Steelbrick acquisition). Service Cloud, which covers cloud customer support/engagement software, saw revenue grow 21% to $698.5 million.
Marketing and Commerce Cloud revenue grew 57% to $317.1 million. This figure includes $63 million in revenue related to products stemming from Salesforce's $2.8 billion purchase of e-commerce software firm Demandware, which closed late in the year-ago quarter. Salesforce Platform and Other revenue, which includes the Heroku and Force.com cloud app development (PaaS) platforms, grew 32% to $466.5 million. Salesforce noted Heroku, used by many enterprise cloud app developers, performed especially well.
Americas revenue (still 72% of total revenue) grew 24% in constant currency, EMEA revenue grew 31% and Asia-Pac revenue grew 27%. Financials, retail and healthcare/life sciences were said to be strong verticals. COO Keith Block touted new deals with the likes of Amazon (a major cloud infrastructure partner), 21st Century Fox, Samsung and Nomura, while mentioning 8 of the world's 10 biggest automakers and 15 of the 20 biggest pharma firms are now Salesforce clients.
CEO Marc Benioff was eager to proclaim Salesforce has hit his long-time goal of reaching a $10 billion annual revenue run rate, and insisted a laser-like focus on customer needs would let Salesforce eventually get to $20 billion. He also asserted Salesforce's focus on a growing CRM software market -- IDC estimates total spending on CRM apps grew 10.1% last year to $32.9 billion, and cloud-related spending undoubtedly grew faster -- would help its cause.
And like Oracle Corp.'s (ORCL) - Get Report Larry Ellison, Benioff isn't above trash-talking rivals. "I have to say our competitors have really done a horrible job in the last few years," he said at one point. "I just would say that a lot of them have abandoned the CRM market."
While that's probably an exaggeration, Oracle's commentary about its May quarter cloud performance suggests it's putting more pressure on cloud ERP/financials leader Workday Inc.  (WDAY) - Get Report than Salesforce. While reporting its cloud ERP and Fusion Human Capital Management (HCM) software revenue respectively grew 156% and 96%, Oracle would only say its various cloud CRM solutions saw double-digit organic growth. And a lot of that CRM growth is doubtlessly coming at the expense of Oracle's on-premise CRM software sales.
SAP SE (SAP) - Get Report , also historically a big enterprise CRM player, hasn't talked much about its CRM performance on earnings calls lately. The company has talked more about its Hana in-memory database, S/4Hana ERP apps, SuccessFactors cloud HR apps and Ariba procurement software/services platform.
But as with many other richly valued tech market leaders, the question of how much much investors should pay for strong growth and a solid competitive position looms large. Salesforce went into earnings trading for 26 times a fiscal 2019 FCF consensus of $2.58 billion.
That's not an exorbitant multiple, but not a cheap one either, and so markets decided to respond cautiously to a solid earnings report that fell a little short of what bulls were hoping for.
Don't miss these top stories on TheStreet:
We Might Have Unlocked the Secret Behind Amazon's Big Deal for Whole Foods
Berkshire Hathaway Stock Reaches All-Time High on S&P's Vote of Confidence