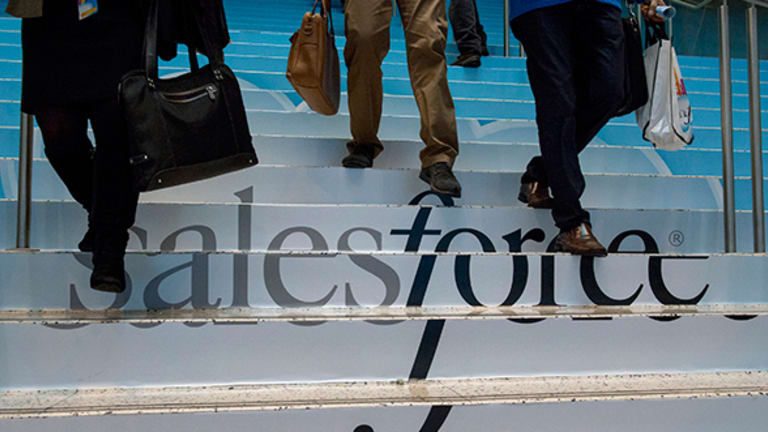 Salesforce Rises on Earnings Beat, Growing Cloud Demand: What Wall Street's Saying
Salesforce's better-than-expected first-quarter results show that the company continues to benefit from robust demand for cloud computing products.
Salesforce (CRM) beat across the board in its first quarter earnings reported after the close on Thursday, causing shares to rise 1.7% to $89.29 on Friday morning. The stronger-than-expected results come after Salesforce had warned in its previous earnings report that it would see a slowdown in deferred revenue as a result of seasonality. Instead, deferred revenue, or revenue that has been booked from contracts but not earned yet, increased 26% year-over-year to $5.04 billion. 
For the quarter, Salesforce posted adjusted earnings of 28 cents per share on revenue of $2.4 billion, exceeding Wall Street's estimated 26 cents per share and $2.35 billion. Revenue for Sales Cloud, the company's flagship product, grew 14% during the period. 
The San Francisco-based company also gave upbeat full-year guidance, saying it expects adjusted earnings in the range of $1.28 to $1.30 per share and revenue between $10.25 billion and $10.30 billion. That's compared to consensus estimates for earnings of $1.29 per share and $10.19 billion, respectively. 
Wall Street analysts on Friday said the fiscal first quarter results are incrementally positive, as Salesforce continues to benefit from robust demand for cloud computing products. Here's what they had to say about the quarter: 
Steve Koenig, Wedbush Securities (Outperform, Price Target raised to $105 from $102)
"CRM's big 1Q beat and guidance raise was comforting, given investor nervousness about a weak 1Q guide...CRM is one of our top 2017 picks, and we would accumulate based on reliable execution and sustainable growth." 
Abhey Lamba, Mizuho (Buy, PT raised to $100 from $95) 
"The company called out strong large deal activity during the quarter, with particular strength in the financial services and government verticals. Billings beat meaningfully as well...Mgmt. called out greater seasonality; we think the company is guiding conservatively leaving room for upside."
Scott Berg, Needham (Hold)
"Business commentary has several positive items, including two of the largest deals ever signed, Europe outperformance and accelerating 1Q revenue growth. Although CRM raised its FY18 revenue guidance by $100mm, it maintained its 20-21% operating cash flow growth guidance, which indicates to us that the raised revenue guidance is more a function of rev rec versus higher than expected deal flow."
Brian White, Drexel Hamilton (Buy, PT raised to $111 from $100)
"Despite macro uncertainties highlighted by large tech vendors of late, Salesforce began FY:18 on the right foot and we are very pleased with the company's performance. In our view, Salesforce represents the best vehicle for investors to play the cloud trend."
Joel Fishbein, BTIG (Buy, $100 PT) 
"Salesforce reported excellent F1Q17 results and bumped up guidance for the third straight quarter...Salesforce should easily march past $10B in revenue this year and at this rate the road to $20B looks pretty clear. CRM should continue to be a core holding."
Brent Bracelin, Pacific Crest Securities (Overweight, PT raised to $108 from $106)
"We remain buyers of CRM based on increasing confidence that it can become a leading digital platform for large B2B and B2C enterprises. AI is early but has promising potential to accelerate share gains and further enhance margins over time."
Patrick Walravens, JMP Securities (Market Outperform, PT raised to $95 from $92)
"The strong F1Q18 performance included: 1) a number of large expansion deals with Fortune 500 customers and two of the largest transactions in company history as companies are increasingly "embracing this concept of digital transformation"...solid execution across all four Clouds, highlighted by 32% organic growth in the Marketing Cloud."
John DiFucci, Jefferies (Hold, $80 PT)
"CRM reported strong results on the back of large deals, uncharacteristic for a F1Q, with billings +16% versus guidance of +5%...The only thing that some may question is that F2Q guidance implies billings +15% (against an easy comp), versus Street's +22%."
Rodney Nelson, Morningstar (Hold, $99 PT) 
"Salesforce.com hit the ground running in the first quarter, surpassing our revenue expectations as the firm continues to see revitalization in its Sales Cloud business. The firm is seeing strong growth in all geographies, but sales in Europe and Asia-Pacific continue to grow at a strong clip. We are maintaining our wide moat and positive moat trend ratings for Salesforce."
Keith Bachman, BMO Capital Markets (Outperform, $100 PT)
"We thought CRM delivered a solid Q, led by upside in revenues/billings, with the primary source of upside from Sales Cloud. We think the quarter points to the durability of growth as represented by salesforce.com's collective clouds (product breadth), which continue to take share in all markets serve."
Shebly Seyrafi, FBN Securities (Outperform, PT raised to $105 from $100)
"After landing a major telecommunications company for Service Cloud, Marketing Cloud, and Salesforce Platform, CRM now has 10 of the top 15 telecommunications companies in the world. It also noted a major expansion with Ralph Lauren, which is powered by the Commerce Cloud. CRM now has 8 of the top 10 US retailers and nearly half of the top 20 global retailers."