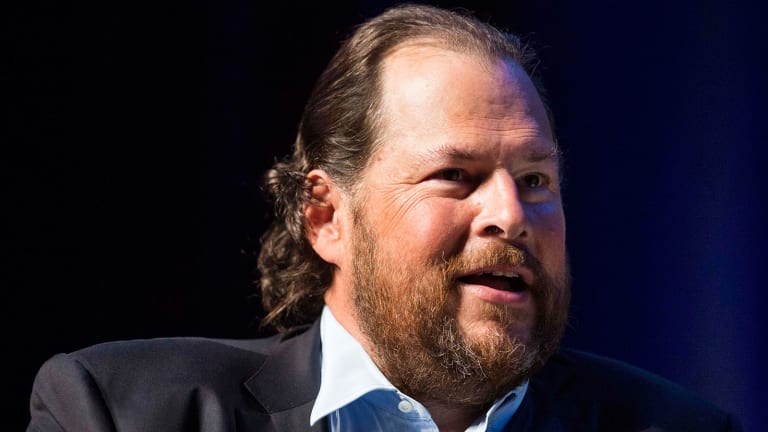 Salesforce Investors Will Look for Marc Benioff to Explain LinkedIn Bid
Investors have been wary of the Salesforce CEO's appetite for big deals.
While Salesforce (CRM) shareholders hope the enterprise cloud leader can continue a string of earnings beats after the market close on Wednesday, they are also a bit wary that CEO Marc Benioff is trophy hunting after his pursuit of LinkedIn (LNKD) .
Benioff can assuage concerns during the call, while addressing foreign exchange issues, touting Salesforce's Einstein artificial intelligence platform and likely taking a shot or two at Larry Ellison.
Wall Street expects earnings of 22 cents per share and $2.019 billion in sales. Shares of the company were down 69 cents, or .9%, to $79.14 on Wednesday early afternoon, but are up 16% over the last year.
Salesforce has topped earnings and sales forecasts for "at least the past seven years," noted Jack Andrews of D.A. Davidson in a Tuesday report.
The second quarter looks "trickier" than other recent periods, however, RBC Capital analyst Ross MacMillan wrote. MacMillan's concerns include jitters about M&A, the exits of Salesforce Marketing Cloud CEO Scott McCorkle and Chief Experience Officer Neil Sands and fear that billings will grow less than 20% despite recent acquisitions.
Benioff may provide some color on Salesforce's Einstein artificial intelligence initiative. He told Forbes recently that, "If this is not the next big thing, I don't know what is."
Investors will be looking for color on the $2.8 billion purchase of digital commerce company Demandware, which closed in July, and the $582 million acquisition of word processing and workplace collaboration app maker Quip, announced in August.
The $26-billion gorilla in the room, however, will be a discussion about LinkedIn, which Microsoft (MSFT) agreed to buy in June. Benioff has acknowledged that Salesforce bid aggressively for the workplace social media group.
"Clearly, the pursuit of LinkedIn changed the near-term narrative around Salesforce and coupled with a tough billings compare, we expect the shares could remain range bound in the immediate near-term," Evercore ISI analyst Kirk Materne wrote in his late-August earnings preview. The stock would benefit from commentary that LinkedIn was "a fairly unique asset and there are no plans to pursue 'larger' deals."
While some may fear that Salesforce is buying rivals to account for a slow-down in sales, Wedbush analyst Steve Koenig suggested in a late-August note that the motivation for its acquisitions was strategic. "Our conversations with a handful of Salesforce partners point to larger deal sizes and more complex implementations, not to any negative inflection in business, although these checks are anecdotal," he wrote.
Brexit and foreign exchange are another concern. Brian Schwartz of Oppenheimer estimated in a Tuesday that the fallout could "restrain" Wall Street growth forecasts.
However, Schwartz suggested that Salesforce is trading with second-tier cloud software companies like Adobe (ADBE) , Ultimate Software (ULTI) , Veeva Systems (VEEV) , Ellie Mae (ELLI) and Cornerstone OnDemand (CSOD) , among others. Salesforce should trade at a premium, he wrote, because of the larger market for its software and its stronger free cash flow.
Benioff can also work in a few digs at his former employer, Oracle (ORCL) . During the last call, Benioff explained Salesforce's success by saying, "we are doing so well is because Oracle and SAP (SAP) are doing so poorly in the cloud."