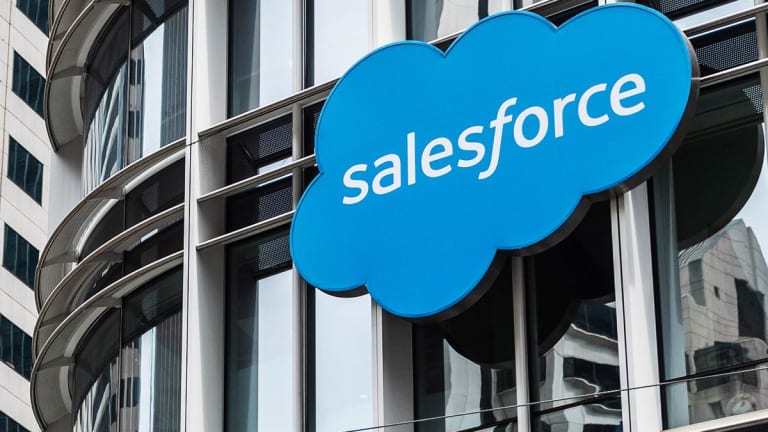 Salesforce Execs Lay Out What Acquisitions like Tableau Mean for the Bottom Line
Salesforce co-CEO Keith Block called Mulesoft "the most successful acquisition its ever done," and hopes to replicate that success with Tableau.
Salesforce is giving investors a deeper look at its acquisition playbook. 
On day two of the annual Dreamforce event, Salesforce executives hosted an investor day in tandem with the main conference, where analysts questioned company brass on their financial outlook. Salesforce (CRM) - Get salesforce.com, inc. Report shares closed 0.15% higher on Wednesday to $164.20.
Co-CEOs Keith Block and Marc Benioff, along with a slew of other executives, drilled down on the company's plans for sustained growth as the 20-year-old software firm matures. The company has set a goal of reaching between $26 and $28 billion in revenue by fiscal 2023; for fiscal 2020, revenue is expected to come in at between $16.75 billion to $16.90 billion.
Salesforce told investors that it's a combination of organic growth, secular drivers like growing cloud adoption worldwide, and strategic acquisitions that will get them there. 
Mark Hawkins, Salesforce's CFO, described its strategy as "integrate and innovate," saying that large acquisitions -- such as its $15.7 billion buyout of Tableau earlier this year -- make the company stronger in the long term by lowering attrition and churn, despite pressure on margins in the short term. 
Regarding acquisitions, tailwinds will come from immediate revenue contributions, cross-selling and scaling of operations. Tableau is expected to contribute $580 million to Salesforce's top line this year.
And Salesforce investors should look no further than company's track record in M&A to see where things will go, Hawkins said: Mulesoft has grown revenue by 52% since it was acquired by Salesforce in May 2018. Demandware, which was acquired in July 2016, has more than doubled its revenue. ExactTarget has grown its revenue by a factor of five since Salesforce bought it in 2013. 
Co-CEO Keith Block later called the Mulesoft acquisition "a home run" and Salesforce's most successful acquisition ever -- a level of success it can replicate with Tableau, he said. 
"You've seen the numbers in how we've accelerated that business, and that's really rare," he said. "We knew when we acquired Mulesoft it was a great asset....but it really is part of every conversation."
Block cited examples of successful cross-selling between the two companies, whereby exclusive customers of Mulesoft have since signed on to Salesforce's core software suite. 
Investors are eager to see whether a similar playbook will work with Tableau, Salesforce's most recent major acquisition. (It also acquired ClickSoftware, a software platform aimed at field operations, in August for $1.3 billion.)
Adam Selipsky, CEO of Tableau, guided analysts through a demonstration of its data analysis and visualization tools and highlighted its highly dedicated and engaged customer base, which he described as "Tableau's secret weapon."
"In my estimation, it's a unique asset and continues to power Tableau intrinsically to this day," he said. 
Selipsky added that Tableau's and Salesforce's integration teams have been hard at work in finding areas in which to integrate their various products, but said it was too early to talk specifics on what offerings may arise from those efforts. He reaffirmed that Seattle-based Tableau will continue to operate independently. 
"Salesforce has been very clear with us they want to accelerate the non-Salesforce part of the business, not hamper it," Selipsky said. 
And Salesforce buyout aside, he said that the ongoing explosion of data and analytics needs across the world, as well as cloud adoption, bode well for Tableau's growth prospects. Selipsky pointed out that roughly one-third of its customers are deploying Tableau on public clouds like Amazon's AWS (AMZN) - Get Amazon.com, Inc. Report , Microsoft's (MSFT) - Get Microsoft Corporation Report Azure, Alphabet's Google Cloud (GOOGL) - Get Alphabet Inc. Class A Report and Alibaba (BABA) - Get Alibaba Group Holding Ltd. Report . 
"That remains a big, growing trend," he said. 
Amazon, Microsoft, Alphabet and Salesforce are holdings in Jim Cramer's Action Alerts PLUS member club.