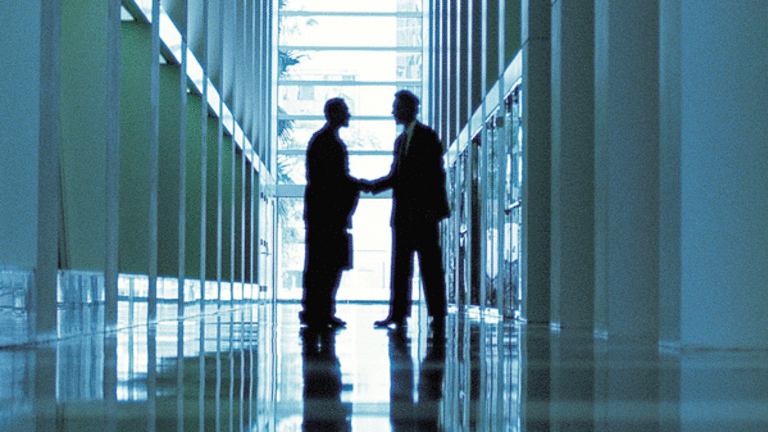 Publish date:
SAC's Alleged Insider Trade Hid in Dark Pools
The U.S. attorney's charge against a SAC trader highlights the opacity of so-called 'dark pools.'
The U.S. attorney's charge against a SAC trader highlights the opacity of so-called 'dark pools.'
NEW YORK (
) - U.S. Attorney Preet Bharara may have hooked his biggest insider trade, after unveiling
against a
SAC Capital Management
trader that raises the prospect the worst is yet to come for the hedge fund and its founder Steven A. Cohen.
But as prosecutors untangle a web of fraud that's so far ensnarled scores of Wall Streeters and industry heavyweights like former McKinsey & Co. head and
Goldman Sachs
(GS) - Get Goldman Sachs Group, Inc. (GS) Report
director
and Galleon Group founder Raj Rajaratnam, the implications of Bharara's newest allegations may extend far beyond SAC Capital and its highly watched head.
Details of a Tuesday charge laid out against a former SAC trader raises the prospect that the rise of algorithmic trading and so-called 'dark pools' are facilitating insider hedge fund trading. Were the U.S. Attorney's newest charge to be borne out, algorithmic and dark pool trading will be at the heart of the insider trading conspiracy.
It would also be an indication of the work left for the Securities and Exchange Commission to gain a grip over increasingly opaque stock trading venues, which have been considered at the heart of a May 2010 market meltdown and various subsequent 'flash crashes.'
The U.S. attorney's charge alleges that former SAC trader Mathew Martoma was able to make $276 million in profit and avoided losses on the shares of
Elan
(ELN)
and
Wyeth
by way of trading on illegal knowledge of negative trials in an Alzheimer's drug being developed by both companies. While allegations do not mention Cohen by name, they repeatedly refer to a "Hedge Fund Owner" as receiving Martoma's advice to sell shares and instructing the hedge fund to liquidate large blocks of stock.
In Martoma's alleged fraud, algorithmic trading and dark pools appear to have played a key role in obscuring what the U.S. Attorney says is the biggest insider trading profit in U.S. history for years.
According to the U.S. Attorney, after receiving a tip that pharmaceuticals Elan and Wyeth would soon disclose negative Alzheimer drug trials tests in late July 2008, Martoma is alleged to have told SAC's owner to liquidate the fund's position in both company's shares.
SAC did so by way of its head trader and a massive selling program of over 10.5 million Elan shares over a span of four days. The U.S. Attorney says in its charge that SAC Capital's selling represented over 20% of the reported trading volume in Elan's shares and 11% of the volume of Wyeth's shares in the seven trading days prior the disclosure of negative drug trials.
Still, emails floated between a SAC's trader who executed the sale, the fund's owner, and Martoma show that SAC Capital felt its selling had gone undetected by the wider market. The main reason why: the use of trading algorithms and 'dark pools.'
"We executed a sale of over 10.5 million ELN for
four internal Hedge Fund account names at an avg price of 34.21. This was executed quietly and effectively over a 4 day period through algos and darkpools," writes the executing trader, according to the U.S. attorney's complaint.
"This process clearly stopped leakage of info from either in
or outside the firm and in my viewpoint clearly saved us some slippage," the trader adds.
In spite of such large stock selling - and just days ahead of a market moving drug trial announcement - the SEC doesn't appear to have taken much notice of SAC's trading. Consider that Tuesday's charge comes over four years after the alleged trading violation and well into a multi-year insider trading probe that is the largest in U.S. history.
Were that to be the case, the newest revelations indicate that 'dark pools' are being used by hedge funds to obscure what could be illegal trading from the purview of regulators.
Dark pools are used by large traders to put out buy and sell orders without revealing their identity, thus avoid smaller traders attempting to front run their orders. More recently, venues like
BATS Global Market
,
Direct Edge
and venues owned by the
New York Stock Exchange
,
Nasdaq
and investment banks like
Goldman Sachs
(GS) - Get Goldman Sachs Group, Inc. (GS) Report
,
Credit Suisse
(CS) - Get Credit Suisse Group AG Sponsored ADR Report
and
UBS
(UBS) - Get UBS Group AG Report
are considered to be a breeding ground for short term high frequency traders, who have been accused of front running actual stock buying by ordinary investors and fund managers.
To be seen is if the U.S. Attorney's allegations make it to the top of SAC Capital Management, after founder Cohen has been able to distance himself from criminal convictions and ongoing fraud probes.
Already, two former SAC Capital traders and an analyst at the hedge fund have pleaded guilty to insider trading, and a former portfolio manager Michael Steinberg has been named as an unindicted co-conspirator, but is yet to be charged.
While the SEC is still working to gain better oversight of dark pools and high frequency traders to avoid destabilizing market events, the U.S. attorney's probe against SAC Capital may yet underscore how far the agency has to go in its regulation of stock markets.
For more on high frequency trading, see why the NYSE is promoting
cheaper, faster and dumber trading
and why algo's
.
See why
flash crashers are ready to feast on corn
for other suspicious algorithmic trades.
Follow @agara2004
-- Written by Antoine Gara in New York