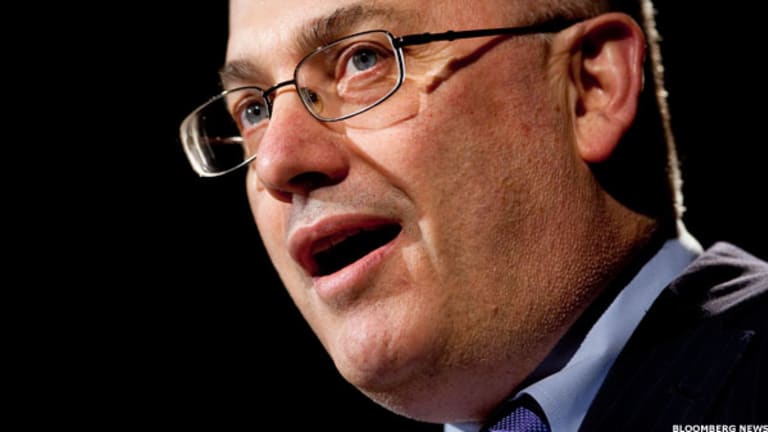 Publish date:
SAC Capital Indicted on Decade-Long Fraud Conspiracy Charges
U.S. prosecutors have charged SAC Capital with fraud and disclosed new guilty pleas, saying the criminal activity was 'on a scale without known precedent.'
U.S. prosecutors have charged SAC Capital with fraud and disclosed new guilty pleas, saying the criminal activity was 'on a scale without known precedent.'
Updated from 2:52 p.m. ET with SAC Capital statement and additional information throughout
.
NEW YORK (
) -- If Steven A. Cohen and his hedge fund
SAC Capital
are the prized catch in a half-decade regulatory dragnet of insider trading on Wall Street, Thursday may be the day legal authorities finally set their hook.
A grand jury has indicted hedge fund giant
SAC Capital
for one count of wire fraud and four counts of securities fraud, in an insider trading conspiracy U.S. prosecutors allege lasted over a decade and led to hundreds of million of dollars in illegal profits and avoided losses.
"Unlawful conduct by individual employees and an institutional indifference to that unlawful conduct resulted in insider trading that was substantial, pervasive and on a scale without known precedent in the hedge fund industry," U.S. prosecutors said in a criminal complaint unsealed on Thursday.
The hedge fund's alleged insider trading occurred between 1999 and at least 2010, according to the complaint, which was filed by Preet Bharara, U.S. Attorney for the Southern District of New York.
"SAC became, over time, a veritable magnet for market cheaters," Bharara said at a Thursday press briefing.
Illicit profits came "at the expense of members of the investing public," and prosecutors will seek a forfeiture of alleged unlawful gains, Bharara said. The U.S. attorney also levied civil money laundering charges against the fund.
While prosecutors are indicting SAC and its affiliates
CR Intrinsic
and
Sigma Capital
, they have not charged the hedge fund's billionaire head Steven A. Cohen.
Fraud charges against SAC Capital do put the firm's viability in doubt. "SAC will continue to operate as we work through these matters," Jonathan Gasthalter, a spokesperson for SAC Capital, said in an e-mailed statement Thursday. "SAC has never encouraged, promoted or tolerated insider trading."
SAC Capital has hired law firms
Willkie Farr & Gallagher
and
Paul, Weiss, Rifkind, Wharton & Garrison
to defend the fund against the government's charges.
At its peak, SAC Capital managed over $15 billion in investor assets and boasted some of the best returns in the industry since its founding in 1992. The fund also made its founder Cohen a billionaire as a result of abnormally high fees, charging investors up to 3% annually for assets under management and 50% of investment gains.
The criminal complaint alleges SAC's insider trading involved at least eight portfolio managers and research analysts and the trading of nearly two-dozen publicly traded companies such as
Dell
(DELL) - Get Report
,
Altera
(ALTR) - Get Report
,
AMD
(AMD) - Get Report
,
Yahoo!
(YHOO)
and
Elan
(ELN)
.
Prosecutors also said on Thursday Richard Lee, a former SAC Capital portfolio manager, pleaded guilty on July 23 to conspiracy and securities fraud after admitting he obtained inside information and made trades based on that information while employed with SAC.
Charging SAC Capital with Securities Fraud
The U.S. attorney charged SAC because of the pervasiveness of insider trading at the fund, the size of illegal profits and a lack of adequate policing, Bharara said on Thursday. The criminal inquiry was conducted alongside the
Federal Bureau of Investigations
.
"Compliance was willfully inadequate," George Venizelos, head of the FBI's New York office, said in the press briefing.
Former SEC chairman Arthur Levitt characterized the government's investigation into SAC as an "artful combined" effort between legal authorities that has former employees of the fund ready to confess their guilt.
Currently, the U.S. attorney is poised to try insider trading cases against former SAC portfolio managers Matthew Martoma and Michael Steinberg, who both maintain their innocence. Prosecutors have already won guilty verdicts or received admissions of guilt from former SAC employees Wes Wang, Richard Choo-Beng Lee, Richard Lee, Jon Horvath, Noah Freeman and Donald Longueuil.
"The handful of men who admit they broke the law does not reflect the honesty, integrity and character of the thousands of men and women who have worked at SAC over the past 21 years," SAC Capital said on Thursday.
The Fallout on Wall Street
.
Blackstone Group
and the wealth management division of
Citigroup
pulled investor money from SAC Capital earlier in 2013, amid an escalating investigation of SAC and its employees. SAC's assets are reported to have been whittled by about $5 billion or 33%.
It is yet to be seen whether SAC Capital's biggest Wall Street trading counterparts such as
Goldman Sachs
,
Morgan Stanley
,
JPMorgan
and
Barclays
suspend their trading relationship with the fund. Over the years, SAC is reported to have paid hundreds of millions of dollars in trading fees to its Wall Street dealers.
Goldman Sachs spokesperson Tiffany Galvin, Mark Lane of Barclays and Brian Marchiony of JPMorgan declined to comment. Representatives for Morgan Stanley didn't immediately respond to emails seeking comment.
As SAC has come under increasing legal scrutiny this year and over a half-dozen of the fund's former employees brace for prison, the hedge fund's head Steven A. Cohen has been on a shopping spree. Among Cohen's purchases are a Hamptons beach house and Picasso's
Le Reve
, according to media reports.
On Friday, the
Securities and Exchange Commission
charged Cohen with failing to supervise two senior traders -- Matthew Martoma and Michael Steinberg -- amid allegations of insider trading under his watch. Both traders have been charged with criminal conspiracy to commit insider trading and face trials in coming months.
The SEC's administrative proceeding, while potentially a career ender for Cohen's multi-decade run atop Wall Street, isn't a criminal charge or an accusation of fraud. "Steve Cohen acted appropriately at all times and will fight this charge vigorously," Gasthalter, the SAC Capital spokesperson, said of the SEC's proceeding.
The Government's Complaint Against SAC
The U.S. attorney's Thursday criminal complaint alleges systematic insider trading at the hedge fund, and says portfolio managers consistently sought the "edge" of illegal insider tips. Whether or how those alleged criminal insider trading violations reach Cohen remains unclear.
"This is going to be a guillotine hanging over Steven Cohen's head for a long time and it could come down at any time," Michael Robinson, head of the corporate and public affairs practice at
Levick
, said in a Thursday interview.
According to the U.S. attorney's complaint, Cohen, referred to as "SAC owner," ran the company's largest internal fund and was in close communication on trading positions with portfolio managers who have since been found guilty of criminal charges.
"SAC deliberately encouraged the no holds barred pursuit of an edge that literally has carried it over the edge into corporate criminality," Bharara said. He said the firm sought traders with direct contacts inside prominent corporations, but that it had few safeguards to prevent trading on non-public information.
The U.S. attorney highlighted the newly announced criminal conviction of former SAC trader Richard Lee as indicative of a culture of indifference to criminal activity at the hedge fund.
According to the complaint, Lee was hired by SAC in spite of concerns of insider trading at his previous employer, hedge fund
Citadel Securities
, and conducted illegal trades throughout his time managing a $1.25 billion merger arbitrage portfolio at the fund.
Lee headed Citadel's Value Special Situation portfolio from March 2008 to April of that year and was fired for improperly valuing assets as a means to inflate his bonus, Citadel said in a Thursday statement.
"Citadel does not have, and never has had, an "insider trading group," the fund said, rebutting language in the U.S. attorney's complaint. The Value Special Situation team was disbanded in 2008, Citadel said.
While the U.S. attorney levied a civil money laundering charge against SAC, Bharara said the government is mindful of outside investor losses.
"
The government's action today does not attempt to freeze any of SAC's assets. We have been advised by the U.S. Attorney's Office that their action is not intended to affect the ongoing operations of SAC's business, prevent investor redemptions, or impact the interests of any of SAC's counterparties," SAC said in an e-mailed statement.
The Future
Currently, it is the SEC's action against Cohen that will determine what penalties or industry bans he could face.
Earlier in 2013, SAC Capital and its affiliates agreed to pay more than $600 million in the largest-ever insider trading settlement by the SEC. Sigma Capital, another SAC affiliate, agreed to pay nearly $14 million to settle insider trading charges.
A layering of the U.S. attorney's criminal complaint on top of SEC settlements and administrative action indicates that the government will try the hedge fund to the fullest extent of the law.
"Mr. Cohen is going to have to consider whether and how he is going to testify to defend himself in the supervisory case given the criminal charges and the risk that the U.S. attorney might jump at the opportunity of a perjury charge were it to believe he lied under oath," said Marc Powers, head of the securities litigation and enforcement practice for
BakerHostetler
.
Powers, however, noted the SEC case may be stayed until the criminal case against SAC is finalized.
The government's escalating investigation comes amid a six-year insider trading inquest that has so far led to scores of arrests and more than two dozen criminal convictions, including
Galleon Group
founder Raj Rajaratnam and former
Goldman Sachs
board director Rajat Gupta.
If SAC were to fall under the weight of criminal charges or if the U.S. attorney moves against Cohen, the fund could become the most significant prosecution on Wall Street since the fall of
Drexel Burnham Lambert
in the leveraged buyout and insider trading boom of the late 1980s.
-- Written by Antoine Gara in New York