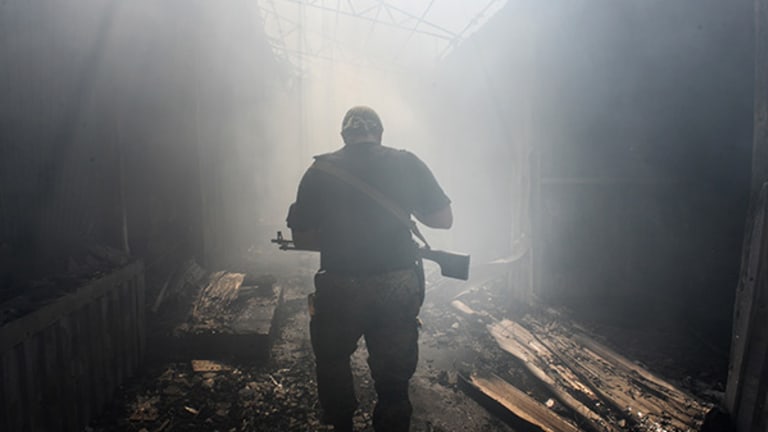 Russian Invasion Rattles Ukraine, Europe as Markets Shrug
TheStreet correspondent Peter S. Green reports from Kiev: Global markets brush off the appearance of 1,000 Russian troops inside Ukraine, even as European leaders scramble to address the crisis.
TheStreet correspondent Peter S. Green reports from Kiev: Global markets brush off the appearance of 1,000 Russian troops inside Ukraine, even as European leaders scramble to address the crisis.
Updated from 3:09 p.m. ET to include President Obama's comments.
By Peter S. Green, TheStreet correspondent in Ukraine
KIEV (TheStreet) -- Ukrainian separatists aided by over 1,000 Russian Army troops gained control of three areas in the southeast of the country today, according to statements by Ukrainian and NATO officials, opening up a new front in the country's battle with the Russian-backed rebellion, and setting back any hopes of a swift end to the months-long conflict in eastern Ukraine, even as global markets seemed not to take notice.
Ukrainian President Petro Poroshenko cancelled a planned trip to Turkey today, and accused Russia of openly bringing troops into his country just two days after he held late night peace talks with Russian leader Vladimir Putin. Ukraine's National Security Council said in a statement that Russian-backed separatists controlled the city of Novoazovsk and populated areas of the Amvrosiyivka and Starobesheve districts, and that Ukrainian troops prevented Russian forces from crossing into Ukrainian held territory from Crimea.
"Russian troops have actually been brought into Ukraine," Poroshenko said in a statement on his Web site. Brigadier General Nico Tak, director of NATO's crisis center told reporters in Mons, Belgium, Thursday, that satellite images show Russian combat forces engaged in military operations inside Ukraine. "Russian combat soldiers, equipped with sophisticated heavy weaponry, are operating inside Ukraine's sovereign territory," Tak said.
President Obama, speaking at the White House Thursday, said "This is not a homegrown, indigenous uprising. The separatists are backed, trained, armed, financed by Russia." He said he expects the U.S. and its European allies to "deepen or expand the scope" of existing sanctions on Russia.
Analysts say there's little chance that either Russia or Ukraine will turn off the so-called "Friendship" pipeline that brings Russian gas to Europe through Ukraine, as Ukraine needs the gas the pipeline supplies and Russia needs the cash it gets from selling gas to the European Union.
"I don't think Russia will cut the gas long term," Petro Burkovskiy, an analyst with Ukraine's National Institute for Strategic Studies, said in an interview. But as German Chancellor Angela Merkel Warned, a meeting of EU ministers Friday could lead to stronger economic sanctions against Russia, Burkovskiy said Russia may be tempted to shut the Friendship pipeline briefly as a warning.
The UN Security Council is planning an emergency meeting Thursday to discuss the fighting in Ukraine. Also Thursday, the country's defense council said it will bring back military conscription, the BBC reported.
Outside of the Ukraine, markets appeared to largely shrug off the new fighting, with the Morgan Stanley Emerging Market Index down 0.43 points, or 0.93% to 45.15 at 2 p.m. Thursday in New York trading. The Ukrainian stock market was down 6.2%.
Ukraine's currency, the Hryvnia, strengthened against the dollar by 40 kopecks to 13.60, the Ukrainian News Agency reported, citing market players. It said the country's central bank did not enter the market Thursday.
A brief halt in gas deliveries through Ukraine would have little direct effect on European Union economies, as the Northstream pipeline taking Russian gas across the Baltic Sea directly to Germany is operating at slightly more than half its capacity, and most European countries are sitting on hefty gas reserves.
Russia Denies Reports
Russia continues to deny that its troops are operating in Ukraine, saying the fighting is being done by ethnic Russians who want to be free of the government in Kiev. In Russia, reporters seeking to verify the burial of Russian soldiers killed in Ukraine were assaulted and threatened by people in plainclothes near a Russian army base outside Pskov Russia, the BBC reported, as the Kremlin said reports of Russian military deaths in Ukraine would have to be investigated.
Rebel commander Aleksandr Zakharchenko, prime minister of the breakaway Donetsk People's Republic, said in an interview on Russian television that "there are active soldiers fighting among us who preferred to spend their vacation not on the beach, but with us, among their brothers, who are fighting for their freedom," the New York Times reported.
Russia's "aim is to freeze this conflict for a long period of time," NATO's Tak said. "It's likely that the situation will end in a stalemate. The foothold that's been created will be expanded and secured so that the separatists will not suffer a defeat."
In Kiev, a small crowd demonstrated outside the military's headquarters calling for the army to relieve embattled militiamen in the east of the country, while the city was otherwise quiet and showed little sign of concern.
"It's a stab in the back," said Oleg, an aviation engineer in Kiev, who trained and served with ethnic Russians in the Soviet Army and who asked that his last name not be used. Ukrainians will fight to keep their country free of Russia, Oleg said. Russia's attacks, he added, may in the end benefit Ukraine. "Putin united our people as nobody before."
Peter S. Green is a New York-based writer who spent more than a decade covering the former Soviet Bloc.