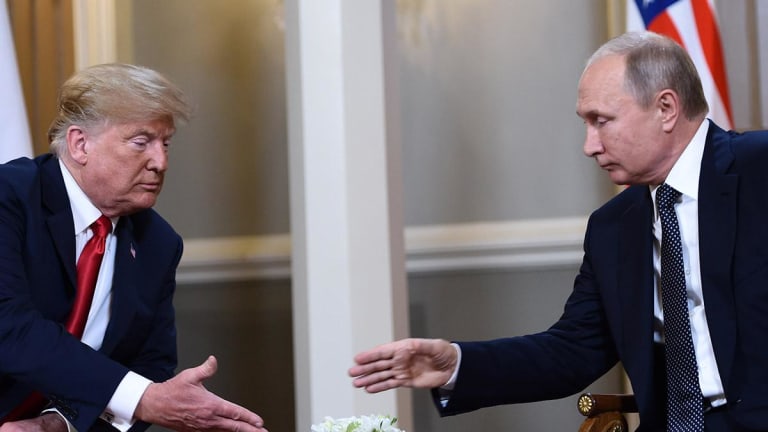 Stocks to Watch as U.S. Decides Which Way to Go on Russia Sanctions
ExxonMobil, Alcoa and other names could rise or fall.
Less than two weeks after President Donald Trump's summit with Russian leader Vladimir Putin in Finland, several Republican and Democratic proposals are seeking to broaden sanctions against Russia, which would impact multiple industries and Russian companies with a sizable share in each market.
A Senate Foreign Relations Committee hearing Wednesday is questioning U.S. Secretary of State Mike Pompeo on the details of agreements and commitments made to Russia at the summit. The Senate Banking Committee also plans to hold a hearing on the topic later.
South Carolina's Republican Sen. Lindsey Graham and New Jersey's Democratic Sen. Robert Menendez said on Tuesday they are working on a proposal that would target Russia's sovereign debt, Bloomberg reported. The Russian ruble fell 0.6% on Wednesday against the dollar in response.
Earlier, Florida Republican Sen. Marco Rubio and Maryland Democratic Sen. Chris Van Hollen Jr. introduced a bill that would add sanctions if the U.S. director of national intelligence determines that Russia is interfering with the next U.S. election.
Russia's lawmakers replied Wednesday with promises to introduce their own retaliatory sanctions against America. "In case of new sanctions, I'm sure they will not stay without a reaction," said Leonid Slutsky, the chairman of the State Duma committee for international relations, according to Russian news agency RIA. "On Capitol Hill, [U.S. lawmakers] can't make peace with the fact that even the leadership doesn't see Russia definitively as an enemy. Evidently, these proposals have to do with internal political struggle, which intensified after the Helsinki summit and is aimed in part to limit the actions of President Donald Trump."
The Russian lawmaker referenced the theme of going back to a "constructive dialogue" between Russia and United States, which was discussed at the Helsinki summit.
Congress last year passed the Countering America's Adversaries Through Sanctions Act (CAATSA) in addition to other measures introduced following Russia's interference in Ukraine.
But now, if U.S. lawmakers follow through on easing sanctions on Russian aluminum giant Rusal and fail to introduce new sanctions, Russia believes this would in fact represent a step towards a new, friendlier chapter as outlined by Putin and Trump at the meeting.
Energy
ExxonMobil (XOM) is among the companies that is against sanctions on Russia and is lobbying the U.S. Congress, CNBC reported on Friday, citing congressional sources. The group lobbying U.S. lawmakers includes other "oil and gas firms with interests in Russia."
The U.S.-Russia Chamber of Commerce, which opposes the new bill according to the CNBC report, includes ExxonMobil, Baker Hughes undefined , Royal Dutch Shell (RDS.A) and Chevron (CVX) among its members and partners, according to the organization's Web site.
Aluminum
U.S. Treasury Secretary Steve Mnuchin said on Friday that the United States could lift sanctions on Rusal, saying that "our object is not to put Rusal out of business," according to Reuters. "I'm not going to go into exact specifics of what those proposals are and where we stand on them, but, yes, if we can find an acceptable solution, that is our objective."
The Rusal sanctions boosted aluminum trade volume and have been good news for Rusal's American competitors like Alcoa Corp. (AA) and Century Aluminum (CENX) . But Wednesday, Rusal rose 8.6% in Hong Kong trading.
Defense Industry
Also in response to the Helsinki summit, a new $717 billion defense bill proposed by Texas Republican Mac Thornberry of Texas would "prohibit military-to-military cooperation with Russia," while funding research and development to "counter weapons deployed by Russia that are in contravention of the Intermediate Nuclear Forces treaty." Thornberry serves as the Chairman of the House Armed Services Committee.
But Secretary of Defense Jim Mattis asked Congress last week for a Russia sanctions waiver, as the United States "continues to transition from reliance on Russian military equipment."
U.S. exports to Russia were $576.6 million in exports compared to nearly $2 billion in imports in May 2018, according to U.S. Census data.
Without a consistent U.S. policy on the Russia sanctions, investors are left to choose which voices to believe: the U.S. lawmakers pushing for tougher sanctions against Russia or U.S. President and his most loyal supporters, who want to appease Russia and strive for a more cordial relationship.