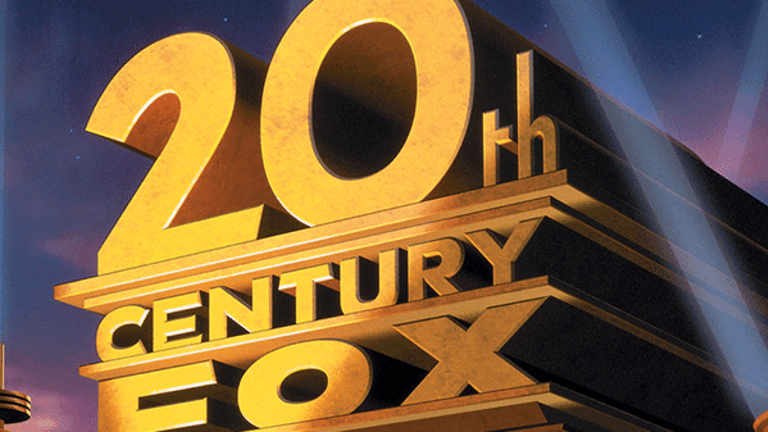 Rupert Murdoch Doesn't Push Fox Film Studio Politically, Says CEO Snider
Fox studio chief Stacey Snider says she's under no pressure from Rupert Murdoch to make films that might appeal to voters who elected Donald Trump president.
21st Century Fox (FOXA) - Get Fox Corporation Class A Report  Executive Chairman Rupert Murdoch hasn't talked politics or pushed Fox's film studio to make movies that might have greater appeal to the millions of people who helped to elect Donald Trump president.
"Never has and I can't imagine he will," Stacey Snider, chairman and CEO of 20th Century Fox, said Tuesday at ReCode's Code Media conference in Dana Point, Calif. "We don't talk politics."
Murdoch, co-founder of Fox News, has long supported conservative candidates both in the U.S., the U.K. and in his birthplace, Australia. Murdoch temporarily took over management of the news network, which has sought in recent months to become more supportive of the Trump presidency. 
In the wake of the Republican's victory, Hollywood was criticized by conservatives for producing films that fail to speak to a large swath of the country. Snider acknowledged that she does "live in a bubble" surrounded by like-minded people but said the studio is mindful of making films that can play well throughout the country, and also the world.
"You have an obligation if you're going to be in politics and culture to be inclusive," said Snider, who previously headed Universal's film operation, a unit of Comcast (CMCSA) - Get Comcast Corporation Class A Report . 
But consciously making films so that they will appeal to a certain political demographic is inherently tricky, she said, adding that assumptions can often be wrong.
A case in point was the film Fifty Shades Darker, an erotic romantic thriller, which was a focus one Monday morning a few months ago as Snider and her staff analyzed the previous weekend's box-office totals.
"It surprised me when my colleagues in distribution told me that Fifty Shades Darker played best in the Bible Belt, so go figure," said Snider, the only woman to head a major Hollywood studio. "Whenever I've tried to calculate a creative choice from the outside-in, I face-plant."
20th Century Fox received three Oscar nominations for the film Hidden Figures, abouta trio of African-American women who defied racism to play unsung roles in the development of the U.S. space program. Fox Searchlight, the studio's independent arm, secured three nominations for Jackie, about former first lady Jacqueline Bouvier Kennedy.
Snider took over 20th Century Fox in June after longtime chairman Jim Gianopulos was removed from the post nine months earlier than expected. The move comes as Fox and other studios are under pressure to grow revenue at a time when on-demand services, led by Netflix (NFLX) - Get Netflix, Inc. (NFLX) Report , are making it harder to get people to go to the movies.
Revenue at Fox's film business totaled $4.17 billion for the final six months of 2016, a nominal increase from 2015 when the studio posted sales of $4.14 billion.
Fox had success with Deadpool last year and The Revenant in 2015. Hidden Figures was something of a surprise, generating $132 million in box office sales after costing around $25 million to make, according to Box Office Mojo.
Snider takes over management of the Alien and  Avatar series, two of Fox's key franchises as the studio, like the rest of Hollywood, contends with Disney's run of Marvel Entertainment and Lucasfilm blockbusters.
Disney generated $3 billion in box office revenue last year, easily eclipsing second-place finisher Warner Bros. of Time Warner with $1.9 billion, Box Office Mojo reported, and Fox at $1.72 billion.
Disney, Snider said, is benefitting from a string of acquisitions led by CEO Bob Iger, which include Pixar in 2006, Marvel in 2009 and and Lucasfilm in 2012. 
"This was a product of Bob Iger's master stroke, and extremely expensive," Snider added. "The rest of the industry has adjusted and taken lessons from it. At Fox, we've also adjusted our production plans to what's working while Disney is able to enjoy its own advantages."