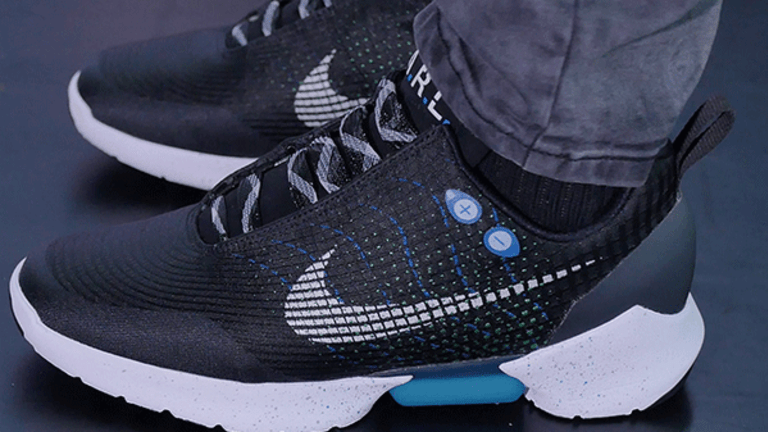 Run Quickly if You Want Nike's New $720 Self-Tying Sneakers
It's showtime for one of Nike's biggest product releases in recent memory, the Hyperadapt 1.
It's showtime for one of Nike's biggest product releases in recent memory, the Hyperadapt 1.
Editors' pick: Originally published Nov. 29.
If you can't wait to buy a pair of Nike's (NKE) - Get Report new $720 self-tying sneakers, best pick up a plane ticket to New York City.
Nike's Hyperadapt 1 sneakers have gone on sale this week at two stores in New York City's Soho area. Some Nike Plus app users are also being given offers to buy the shoe through the app, which judging by several Instragram photos (below) is something being taken advantage of quickly. The innovative new shoes are expected to arrive at more stores on Dec. 1.
Nike first showed off its Hyperadapt sneakers in March. The sneakers feature what Nike calls "adaptive lacing" technology, which can automatically tweak the snugness of the shoe. There are two buttons on the side to tighten and loosen the laces. Say goodbye to tripping over your shoelaces.
Ultimately, the sneaker giant could use a major new product win.
Sales of Nike footwear in North America rose 7% year over year to $2.5 billion for the first fiscal quarter ended Aug. 31, slower than the year ago growth rate of 9%. In large part, the slowing sales growth for Nike has been fueled by  sluggish demand for its basketball sneakers in the face of greater competition from the Under Armour (UA) - Get Report  Stephen Curry basketball brand and new fashion offerings from  Adidas (ADDYY) .
Nike shares have fallen about 18% to $51.01 so far this year, lagging the Dow Jones Industrial Average's 9.6% gain.
"Nike needs something for the blog culture to hype over, and since the ball was dropped with the Back to the Future Mag [sneakers], they wanna make sure they stay in the fight socially with both Adidas and Under Armour being all the buzz lately. It's a smart plan, but a game changer [the Hyperadapt], no," says sneaker expert Clyde Edwards.