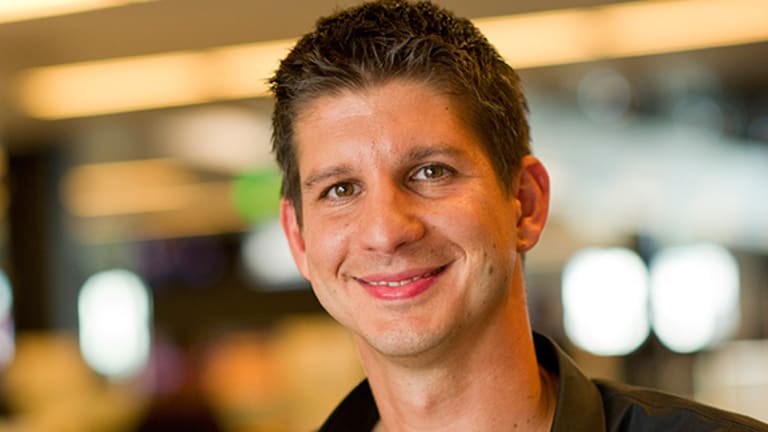 Rubicon Project Looking for Targets in Crowded Ad-Tech Market
Rubicon Project CEO predicts the automated ad market will continue to expand significantly, but sees consolidation in technology behind it.
LOS ANGELES (TheStreet) -- When Frank Addante took The Rubicon Project (RUBI) - Get Free Report public a year ago, his primary goal was raising cash to build out the company's automated advertising platform, which encourages marketers and publishers to buy and sell space on thousands of Web sites in real time.
But in the back of his mind, Addante, 38, also wanted to position Rubicon to make acquisitions. Having raised more than $80 million in its April 2014 initial public offering, Rubicon is ready to make a deal if one of the newer ad-tech companies can't survive on its own and seeks a buyer.
"There will continue to be more expansion and more participants in the market, as has happened in other industries that have become automated," Addante said in an interview at Rubicon's Los Angeles headquarters in Playa Vista, which is becoming known as the hub of LA's growing Silicon Beach and counts Google (GOOG) - Get Free Reportand Youtube as neighbors.
"We wanted to go public to get that currency, cash as well as stock, to be a consolidator," Addante said, standing before a glass wall at the company's offices that shows visitors gigantic multi-colored screens displaying real-time bidding for online advertising.
Rubicon's stock has been steadily rising since the fall, a stark contrast with many of the ad-technology companies that went public in the past 18 monts. Shares of the company, which have gained 48% over the past six months, are up 8.5% this year, trading around $17.50.
Other ad-tech stocks haven't fared as well. TubeMogul (TUBE)  which tripled in price in 2014 has lost 40% this year, Rocket Fuel (FUEL) has plummeted 41%, Millennial Me (MM)  is 12% lower, and Tremor Video (TRMR) has dropped 7.8%.
The automated buying and selling of advertising, better known by the industry term programmatic, totaled $7.4 billion in the U.S. in 2014, according to Magna Global. By 2017, that figure is likely to grow to $17 billion as marketers, publishers and ad agencies centralize their activities among a handful of platforms.
Despite such forecasts, industry observers expect the sector to consolidate, a natural reaction to growth from 100 ad-tech firms seven years ago to more than 1,000, Addante said. Larger players such as Google and AOL (AOL)  battle for clients with demand-side specialists such TubeMogul and an increasing number of verification and security firm such as White Ops and Moat that are emerging to deal with fraud. 
In November, Rubicon acquired two closely held companies, iSocket and Shiny Ads. Earlier this week, Rubicon forged a partnership with Virool, a video advertising platform aimed at boosting video offerings. Addante declined to identify potential targets or whether Rubicon would ever agree to be bought itself.
Several major online publishers, including Guardian, CNN International, The Financial Times, Reuters and The Economist announced earlier this month the formation of a programmatic sales alliance that will run on Rubicon's platform. Addante expects more such arrangements, allowing a group of publishers to offer their inventory to prospective marketers.
"Companies are recognizing the opportunity to create scale in the market," he said. "Scale attracts dollars because it creates efficiency to reach their audiences."
Apart from competing with similarly focused companies, Addante said the biggest challenges for Rubicon, and the rest of the sector, are nagging questions about security. Rubicon is part of an industry-led task force called TAG focused on stamping out fraud such as malware and bots, phony computer-simulated viewers that are among the most insidious forms of fraud plaguing the market.
Hackers use these zombie-like computer programs to siphon money from companies tricked into spending advertising money to reach larger audiences. 
"There's a lack of transparency that exists in this market that creates a little bit of a black box in the market," Addante said. "We need to bring more clarity to how all the pieces fit together," he said.
Rubicon bought SiteScout in 2010 to bolster web security for its clients by blocking malicious advertising. Addante expects Rubicon to continue to invest in protection, in part to convince marketers and publishers that their transactions are safe from tampering. 
"If you can bring trust into the market, then that's going to drive dollars," he said.
Addante, describing  himself as an engineer who likes to find ways to "automate" things, said that becoming a first-time dad in March has given him new perspective. Addante grew up in a small Illinois town, started his first company while in college to help pay tuition and then dropped out to continue working on his start-up.
"I walk around trying to optimize my house, and now that I have the baby, I try to automate everything," he said. "You can't automate parenthood, but I try."
This article is commentary by an independent contributor. At the time of publication, the author held no positions in the stocks mentioned.