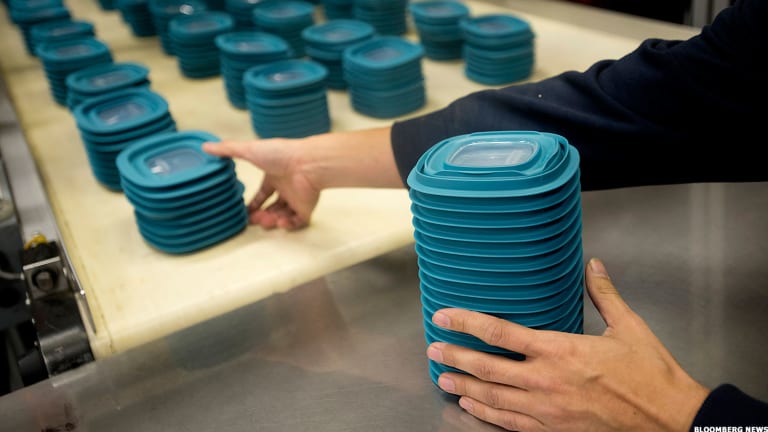 Rubbermaid Food Storage Bowl Maker Sees Stock Price Smashed 22% in 3 Days
Newell Rubbermaid has seen its stock pounded following a lackluster second quarter earnings report. The heat is back on CEO Michael Polk.
Newell Brands (NWL) - Get Report shares have melted as badly as a Rubbermaid bowl accidentally put in the oven.
Shares of the struggling maker of Rubbermaid, Crock Pot and Paper Mate have crashed 23% since the company's disappointing second quarter earnings report on Monday. Investors have locked into embattled Newell Brands CEO Michael Polk's earnings call comments that the bubbling global trade war could hit profits by $100 million annualized. 
Year to date Newell Brands stock is down 33%, worse than the 19% drop in the S&P 500 Household Durables Index. 
"We expected 2Q18 results would be messy and they were," acknowledged Newell Brands bull Bonnie Herzog of Wells Fargo. "NWL re-stated its financials, moving assets "held for sale" into discontinued operations and re-segmented its remaining businesses. However, mgmt didn't help by providing very little guidance for the continuing business, where results in FY18 are optically depressed due to stranded overhead and high interest expense in our view."
The stock's free-fall puts the heat back on Polk not long after a recent win.
In June, Newell announced the sale of Rawlings Sporting Goods Co. for about $395 million.
The deal is part of the Newell's so-called "accelerated transformation plan" that was enacted after a March settlement between the company and activist investors Carl Icahn and Jeff Smith of Starboard Value LP. As part of that agreement, which added Icahn- and Starboard-backed directors to the board, Newell agreed to divest $10 billion worth of assets, up from a previously announced $6 billion.
On May 4, Newell announced it planned to sell its Waddington Group unit for $2.3 billion at the same time that it accelerated ongoing divestiture plans.
Newell said the proceeds would be applied to deleveraging and share repurchases.
The company also announced that it had added its Jostens and Pure Fishing divisions to a list of brands it planned to divest, which also includes its Rubbermaid products, Rawlings baseball gloves and a U.S. playing cards businesses, among others. Jostens makes yearbooks and consumer goods serving schools, colleges and professional sports.
-Michael Brown contributed to this story.