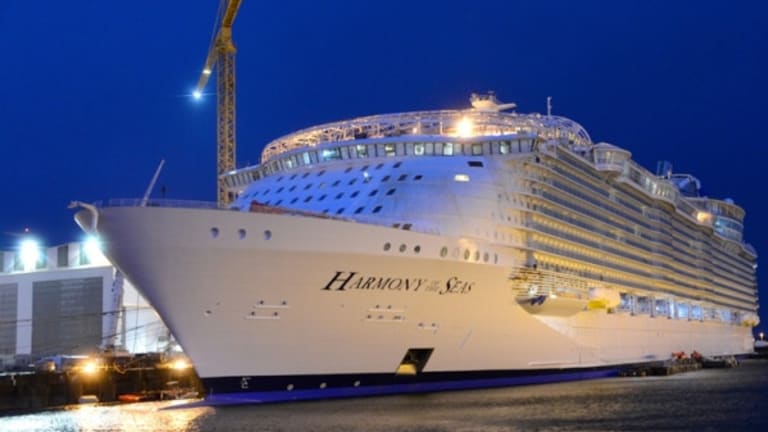 Royal Caribbean Stock Spikes on Earnings Beat
Shares of Royal Caribbean Cruises (RCL) continue to gain after the company reported better-than-expected 2016 fourth quarter earnings but weak revenue.
Updated at 4:15 p.m. to reflect closing stock prices.
Royal Caribbean Cruises (RCL) - Get Free Report stock rose 9.09% to $95.64 a share on Thursday after the Miami-based cruise line reported 2016 fourth quarter earnings that beat analysts' expectations.
Before today's market open, Royal Caribbean reported fourth quarter adjusted earnings of $1.23 a share, compared to expectations of earnings of $1.21 a share, according to analysts surveyed by Factset.
However, fourth quarter revenue of $1.91 billion missed Wall Street's predictions of $1.96 billion. Last year, Royal Caribbean posted fourth quarter earnings of 94 cents a share on revenue of $1.9 billion.
The company posted 2016 full-year adjusted earnings of $6.08 a share, compared to year-over-year earnings of $4.83 a share. Royal Caribbean's full-year revenue of $8.64 billion was higher than Wall Street's predictions of $8.56 billion and rose year-over-year from revenue of $8.3 billion.
Despite pressures from the rising cost of fuel, the strengthening dollar and travel concerns related to terrorist attacks in Europe, Royal Caribbean delivered a 25% increase in earnings in 2016, representing its fourth consecutive year of double digits earnings growth, company CFO Jason Liberty said in an interview with TheStreet.
Royal Caribbean's earnings in 2016 were negatively impacted by about 20 cents from the rising cost of fuel coupled with the strong dollar, according to Liberty.
Liberty added that Royal Caribbean still saw "exception demand" in bookings from North America, which includes Europe, despite the travel concerns but that the company still "definitely" felt its impact.
Luckily, "North American consumers still wanted to go on a cruise," Liberty said. Guests from the U.S. and Europe opted to take cruises to the Caribbean islands, Alaska and Bermuda, balancing out the concerns in traveling to certain countries such as Germany, Italy and Spain.
Looking ahead for 2017, Liberty said Royal Caribbean is 60% hedged against the rising cost of fuel prices. The company anticipates 2017 full-year adjusted earnings to be in the range of $6.90 to $7.10 a share.
Currently, Royal Caribbean is taking bookings for its first trips to Havana, Cuba. The first cruise is set to sail in April on the company's Empress of the Seas ship.
Liberty said Cuba bookings so far are doing "very, very well" but that they amount to only 1% of Royal Caribbean's total bookings. The company is trying to get more of its brands approved to sail to Cuba but currently the "product is very small."
He said it is still too early to tell what impact the Trump administration will have on its Cuban business. President Trump has made comments that he intends to review the Cuban-U.S. deals made under former President Obama and that some may be overturned.
"No one is really quite sure what actions or lack thereof will be taken," Liberty said.
Royal Caribbean primarily operates under its three owned global brands -- Royal Caribbean Int'l, Celebrity Cruises and Azamara Club Cruises, traveling to 535 destinations on all seven continents.