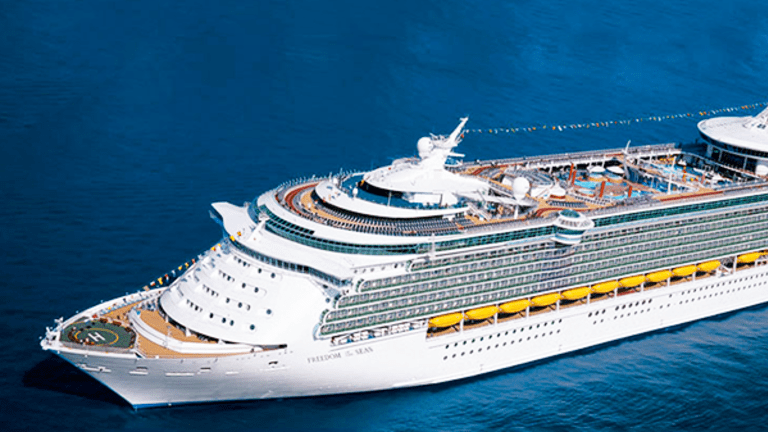 Royal Caribbean Cruise Set to Sail Through Caribbean Hurricane Disasters?
Cruise operators like Royal Caribbean, Norwegian, Disney and Carnival are experiencing disruptions thanks to numerous hurricanes pummeling the Gulf of Mexico. There will be fallout, but it may be limited.
For the non-rock dwellers around the world, it's no surprise that hurricanes have dealt a devastating blow to the southern United States. Hurricane Harvey caused unprecedented rainfall and flooding in Texas. Hurricane Irma -- a category 5 storm at one point -- dealt out enormous damage to the state of Florida those north of it.
Hurricane Katia churned away in the Gulf of Mexico, Hurricane Jose turned up from the Caribbean and rode along the East Coast and now Hurricane Maria is pummeling the Caribbean, Bahamas and British Virgin Islands.
The impact will be widespread. Some, like homebuilders and building-supply companies, will be benefit. Others, like insurance companies, will see enormous losses. 
Oil companies, logistics providers and travel-based organizations are among the many feeling the impact. However, cruise lines may be among the more consistently disrupted companies.
Royal Caribbean Cruises Ltd (RCL) - Get Free Report , Carnival Corp (CCL) - Get Free Report , Norwegian Cruise Line (NCLH) - Get Free Report and Disney (DIS) - Get Free Report operate cruise vacations in the Caribbean, Gulf and Bahamas. Many sail out of Florida, but New Orleans, Galveston, TX and the East Coast also serve as ports for departures and arrivals.
Impacting Cruise Lines Going Forward
These storms don't materialize instantaneously, so cruise line operators do have time to react. But still, when Texas, Florida and other key destinations or ports are being continuously ravaged by hurricanes, it will surely disrupt plans.
RCL stock is down about 7% from its highs, while CCL and NCLH are down about 8% and 10%, respectively.
Where to from here? It's hard to say what the impact will be, only that there will be a financial hit without question. In a recent CNBC interview last week, Royal Caribbean CEO Richard Fain said the company is working to get back on track. Refunds ranging from 25% to 100% were issued depending on the disruption customers faced, as well as 25% to 50% credits for future cruises.
Royal Caribbean was actually able to deliver surplus supplies to some of the affected islands, and provided a lift for several thousands passengers from St. Maarten and St. Thomas back to the States.
Goodwill, discounts and future credits will all stunt Royal Caribbean's business for the current quarter -- not that it's the cruise line's fault. Additionally, future revenue could be at risk should consumers not want to visit these areas over the next few months, although analysts recently pointed out that Caribbean vacations tend to bounce back quickly and should remain strong in this case.
We'll see how quickly RCL, CCL, NCLH and DIS will bounce back. Perhaps the market is pricing in these disruptions and the stocks won't get hit too hard as a result.
Don't miss these top stories on TheStreet:
This article is commentary by an independent contributor. At the time of publication, the author had no positions in the stocks mentioned.