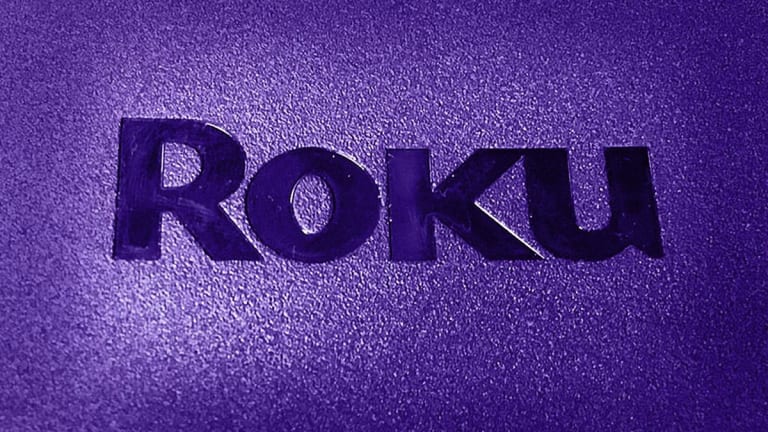 Roku's Recent Surge Means It's a Good Time to Take Profits
Yes, Roku's prospects are bright and its takeover value high, but it's all priced into the stock already after an almost 40% move over the past three weeks.
It's been a good time to own Roku (ROKU) - Get Roku, Inc. Class A Report of late.
In the three weeks since the company's chief financial officer, Steve Louden, spoke to TheStreet about his company's third-quarter earnings and its outlook, the shares have soared 38%. 
Louden urged TheStreet readers to look past what he called "a bit of noise" in the air at the time, and clearly many investors have done just that. The stock, at a recent price of $163.03, is now within 8% of its 52-week high. 
This might be a good place to take some profits in Roku. Nothing substantive has changed since Nov. 7, and after a rise of over 400% this year, much of the opportunity to which Louden spoke is fairly reflected in the price, and then some. 
Roku, which is expected to lose money for several years to come, now trades at a multiple of price to sales of 18 times, a huge multiple relative to any comparable established company. To take just one example, Walt Disney (DIS) - Get Walt Disney Company Report , which brings in seventy-four times the annual revenue of Roku, fetches just 3.35 times projected revenue. 
That's not to say Disney is equally desirable. Roku is growing much faster, with its revenue expected to rise 49% this year and another 20% next year, compared to an estimated 17% rate of growth for Disney revenue this year. The comparison is only meant as a rough indicator that Roku's valuation is sky-high. Even based on 2020's projected revenue of $1.55 billion, the stock is priced at a fairly high twelve times revenue. 
Using another multiple, enterprise value (market cap less net cash) divided by Ebitda (earnings before interest, taxes and depreciation and amortization), does not produce anything better in the way of valuation. Roku has just a couple hundred million dollars in cash and equivalents, and its projected Ebitda is small, perhaps $32 million this year, $62 million next year, meaning its enterprise value multiple is around 325 times projected twelve-month forward Ebitda, versus about 17 times for Disney. 
So Roku is pricey by any measure and has had a very good run this year. Why are the shares so high after just three weeks? Partly it's because the fear of Apple (AAPL) - Get Apple Inc. (AAPL) Report and Disney's new streaming services being a problem has gone away. Back when Apple announced in September its "Apple TV+" service, the company's plan to give away a year of the service with the purchase of new Apple hardware was a bit scary for Roku bulls. Although Roku pointed out that it would partner with Apple to support TV+ on Roku-powered devices, the prospect that people might just use an iOS-based Apple device to watch and bypass Roku entirely was a risk. 
It still is a risk, but Louden & Co. have managed to shift the narrative back to the prospect that Apple TV+, and Disney's forthcoming streaming service, "Disney+," mean more opportunity for Roku overall, not less. 
Beyond just the competitive question, what always hangs in the background for Roku is that the company is the "pure play," so to speak, in multi-platform streaming. That means that it is the one company that is a carrier, or distributor, of all streaming content and that also sells advertising against that content. It is a unique vehicle compared to every other party that's in streaming. 
And that means Roku is inevitably an acquisition target. For some bulls, the only real question will be, is Roku where I think it could get a buyout at some point? Certainly, any offer, in order to be accepted by founder and chief executive Anthony Wood and the board of directors, would have to come with a premium in a situation where the company is doing well and the stock has strength. 
What's the right premium? A mark-up of 15% is not a bad haul. That would value Roku at $23 billion and put its valuation at 14.8 times projected revenue. Pricey, sure, but not out of the question in the current somewhat overheated market. Is 25% or 40% as a premium possible? It is, although as the valuation starts to get so high, and the absolute dollar cost to an acquirer rises, it starts to become questionable as a reality. 
So investors have a choice whether to sit and wait around for a buyout offer and a 15% or 40% move from here, or to look elsewhere. The fundamentals -- even very good and improving fundamentals -- just don't justify the current stock price. 
A lot of money has lately shifted out of other momentum names, such as Twilio (TWLO) - Get Twilio, Inc. Class A Report and Zscaler (ZS) - Get Zscaler, Inc. Report , as TheStreet noted last week, and some of that money may have gone chasing Roku in the past three weeks. Some of it may already be shifting back to those beaten-down names, and may come out of Roku, making it a good time to lock in profits.
Tiernan Ray neither trades nor owns any shares of any companies mentioned in this article.