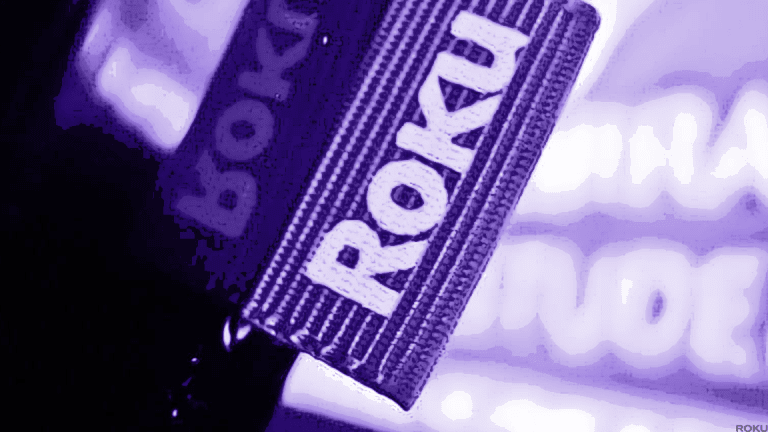 Roku CFO on Company's Rocketing Stock Price: 'We Are Ideally Positioned'
Is Roku's stock cheap or pricey? Either way, there's value in the company's role in the middle of streaming, says its CFO.
"The way I think about it, we are ideally positioned in the middle of a fundamental shift in TV towards streaming," said Steve Louden, CFO of Roku (ROKU) , on Wednesday evening.
The streaming video platform provider had just released a first-quarter report that handily beat revenue and profit expectations and boosted guidance for the full year. As a result, shares surged in after-hours trading and they were rocketing more than 23% to $80.00 on Thursday morning, bringing year-to-date gains to more than 160%.
"Being a neutral platform that has the most scale and the most capabilities in the U.S. is a very viable and valuable position over the long term," Louden continued. 
Louden was responding to a question about Roku's stock price and the observation that its shares are "dirt cheap" on a price-to-sales basis, even after factoring in the latest surge. At its price on Thursday morning, Roku has a market cap of roughly $9.1 billion. Divided by this year's expected revenue of $1.03 billion to $1.05 billion, that's a price-to-sales multiple of about 9 times.
But at the same time, the stock is rather pricey when measured against projected Ebitda of perhaps just $20 million -- a multiple of 455 times. 
How should investors think about the shares? I asked Louden.
"There are a lot of different opinions out there," he said, "but for us, the thesis that [CEO Anthony Wood] founded the company with, that all TV will be streamed, and that all advertising will be streamed, and being the platform for that, is a great position to be in."
On the conference call with analysts following the report, the questions followed a familiar theme: asking about Roku's strategy for international expansion, and how the company thinks about the rise of "virtual multi-channel video programming distributors," or "vMVPDs" -- basically, the over-the-top versions of the traditional TV bundle such as those offered by Google's YouTube.
For the quarter, Roku's revenue rose 51.3%, much faster than the company's forecast of 37%, to $206.7 million, yielding a net loss of 9 cents per share. That was far better than the Street's average estimate for $189.9 million and a net loss of 25 cents.
For this quarter, the company sees revenue in a range of $220 million to $225 million, again, higher than consensus for $219.49 million. For the full year, revenue is now expected in a range of $1.03 billion to $1.05 billion, ahead of the average $1.02 billion, while Ebitda is expected in a range of $10 million to $20 million.
"First and foremost, it was obviously a great quarter, and we beat expectations, and then we raised our outlook," said Louden, when asked what things investors should focus on. He added that there are "three big takeaways," the first being the "great quarter," the second being positive trends working in Roku's favor. "It is increasingly clear that the shift to streaming is accelerating," he said. "There is more cord cutting, more major new streaming announcements, and more ad dollars flowing to OTT [over-the-top video programming]. 
Roku's own subscriber count rose by two million in the quarter, a 40% year-on-year increase, to 29.1 million active accounts (Roku does not disclose churn because, it says, it does not get paid directly by those account holders).
And third, Louden said, the thing he was "most proud of" in the quarter was that market data showed that Roku had surpassed Samsung Electronics (SSNLF) as the number one smart television operating system in the U.S. Roku gets about half of its new accounts from TV sets running its software, with the other half coming from its traditional set-top device.
Analysts didn't get much out of Louden or Wood, or the company's head of platform operations, Scott Rosenberg, as far as the international business. When asked about it, Louden said merely that "we've been investing more in this past year, and 2019 will be a big year for us in investment in international."
On the matter of vMVPDs, including Alphabet's (GOOGL) Google's YouTube and "a half a dozen others," as Louden characterized them, he noted that Roku has "all of them on the platform" and that "for many, we are the top partner for where they gain viewership from."
As far as market share, Louden said that's a tricky matter to calculate, because while there is "certainly a lot of competition" among vMVPDs, some are part of bigger companies," such as the AT&T (T) DirecTVs of the world, and so they don't always report a clean break-out of what's in their over-the-top subscribership. 
"There are a lot of sub[scriber] numbers and trends moving around," he observed. 
"In general, as a category, its' been a good category," said Louden. "But it's early days, a lot of them trying to tweak pricing and offering and right balance of costs and service offerings."
On that last score, I asked Louden if there was pressure on how much money Roku can get from the vMVPDs because of the rising cost of producing and buying content. Roku gets paid by some vMVPDs for special placement on the Roku user interface on its players. 
"We commented that with a lot of these content publishers, there are complex deals," said Louden. "You're right, in terms of strict SVOD [streaming video-on-demand] revenue share,  that's off the top" of what the vMVPDs themselves earn. But, he added, "we also, many times, get access to ad inventory on the platform, or commitments from them for audience development spend," he pointed out. 
In sum, Louden said that "we haven't necessarily seen a lot of impact" from the rising cost of content. "But certainly, there's a lot of competition, so we're happy to be the platform to provide them tools to grow that audience."
Alphabet is a holding in Jim Cramer'sAction Alerts PLUS Charitable Trust Portfolio. Want to be alerted before Cramer buys or sells GOOGL? Learn more now.
Tiernan Ray neither owns nor trades any shares of any companies discussed in this article.