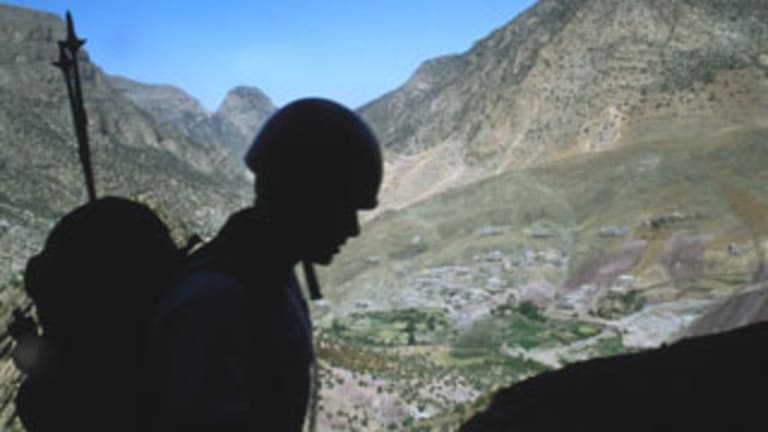 Rogers: My First Day as a Military Embed
A chilly early morning runway at Ramstein Air Force base in Germany feels a million miles away from the comfort of <i>TheStreet's</i> offices on Wall Street.
RAMSTEIN, Germany (
) -- A chilly early morning runway at Ramstein Air Force base in Germany feels a million miles away from the comfort of
TheStreet's
offices on Wall Street, but it's the first stop on my journey to witness a crucial part of the U.S. military in action.
Over the coming days I will be swapping tickers and tech earnings for transport aircraft as I travel to Afghanistan to cover an Air Force Aeromedical Evacuation mission in action. The first stage of my journey, from Dover Air Force base in Delaware to Ramstein, was spent in the bowels of a huge
Boeing
(BA) - Get Boeing Company Report
C-17 packed with military
materiel
.
The seeds for this trip were sown on a blisteringly hot day at the USS Intrepid museum in New York last summer. As part of the city's Air Force Week,
TheStreet
was invited to check out some of the military's latest
, from
to virtual reality systems for treating PTSD.
Much of the gear on display was designed specifically for Aeromedical Evacuation -- a highly sophisticated form of mobile medical care whereby aircraft such as the C-17 and the
Lockheed Martin
(LMT) - Get Lockheed Martin Corporation Report
C-130 are turned into flying hospitals for wounded personnel.
Pioneered in the aftermath of World War II, Aeromedical Evacuation, or AE, plays a critical role at the heart of the U.S. military. Since the start of Operation Iraqi Freedom on March 19, 2003, Air Force AE personnel have conducted nearly 200,000 patient movements and flown almost 42,000 sorties.
Keen to explain the sheer scale of this operation and tell the stories of the people involved,
TheStreet
was invited to embed with the Air Force on an AE mission. This explains why I'm at the sprawling Ramstein Air Force Base in Southern Germany, en route to Afghanistan, where I will see the operation first hand.
Embedding with the military, though, is no small undertaking -- I have even had to rent body armor and bring a helmet with me as a condition of my embed. Both items, as stipulated by media rules set by the International Security and Assistance Force in Afghanistan, have to be military grade. For the body armor, this means two heavy duty plates (one front and one back), which fit into a vest made of extremely thick blue nylon. (ISAF rules also insist on non-military colors, so no camouflage).
The ceramic plates, classified as "level four" body armor, provide the highest level of protection, even withstanding rounds designed to pierce armor, according to Tony Tanner, president of Clearwater, Fla.-based
, who provided me with my flak jacket. Combined, the vest and plates weigh in at just under 25 pounds, but feel much heavier after you've been carrying them round for a while.
Another new experience for me is the bewildering lexicon of military jargon and acronyms, from Zulu time (better known as Greenwich Mean Time -- key in a vast logistics operations which spans different days) to NMR (News Media Representative -- that's me) and PAO (the highly patient Public Affairs Officer who is escorting me on this trip). Confusingly, even a runway isn't always referred to as a runway in the Air Force -- it's also known as a "flightline".
Check back for more updates from my trip.
-- Written by James Rogers in Ramstein.
>To submit a news tip, send an email to:
.