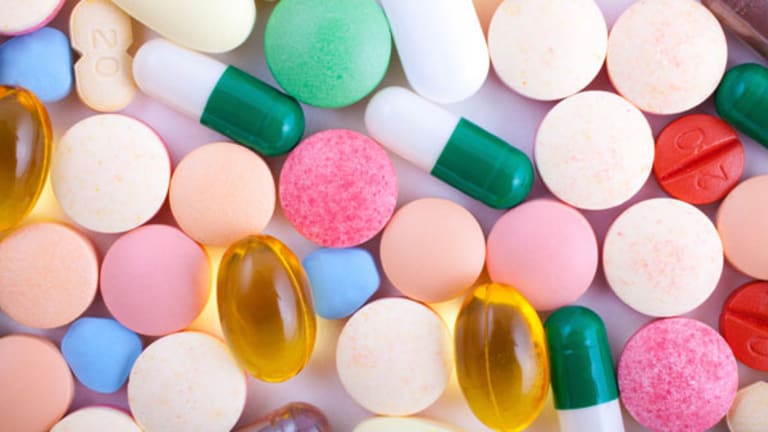 Rodman Rambles: Promising Biotechs
This week's Rodman investor confab included some small, early biotechs worthy of investor attention.
NEW YORK (
) -- I saw some promising, small biotech companies at this week's Rodman & Renshaw Annual Global Investment Conferences. The confab wasn't all about the
.
AVI Biopharma
( AVII) has a long and checkered history of biotech drug development futility, but the company's early work on a novel drug to correct the genetic damage in boys with Duchenne muscular dystrophy (DMD) is very interesting. The AVI drug, AVI-4658 is designed to "skip over" the section of damaged gene in DMD patients and therefore restore the gene's ability to produce partially functioning dystrophin, a protein that plays a key role in muscle function and repair.
The genetic inability to make dystrophin is what causes muscular dystrophy.
Studies in a very small number of patients done in the U.K. have shown AVI-4658 to be relatively safe and even better, some of the patients showed a restoration of dystrophin levels. AVI is in the process of getting FDA sign off to begin clinical trials in the U.S. next year.
DMD is a rare genetic disorder, so AVI is working from the playbook successfully used by
Genzyme
( GENZ),
BioMarin Pharmaceuticals
(BMRN) - Get BioMarin Pharmaceutical Inc. Report
and
Alexion Pharmaceuticals
(ALXN) - Get Alexion Pharmaceuticals, Inc. Report
-- develop a drug for a rare, genetic disorder with a sky-high price tag that patients will need to take for the rest of their lives. That's an excellent way to make investors happy, if the drug works.
I may be a bit late to the AVI story, unfortunately. The stock has almost doubled since April, trading today at just under $2 a share. Owing to its checkered past, AVI is saddled with more than 100 million shares outstanding and the company probably needs to raise cash at some point soon, but if '4658 is successful, AVI's share price today will look very cheap.
I was surprised to learn that
BioDelivery Sciences
(BDSI) - Get BioDelivery Sciences International, Inc. Report
has three drugs entering phase III clinical trial programs. All of the drugs are based on BioDelivery's buccal (inside of the mouth) delivery technology and will use the previously validated and relatively easy 505(b)2 route for FDA approval.
Bema Buprenorphine will soon start two, phase III studies in chronic back pain, with completion expected in the third quarter next year. BioDelivery CEO Mark Sirgo says "Bema Bup" should be superior to generic tramadol ($2 billion in 2009 sales), which doctors and patients often use as the preferred choice for chronic pain relief before graduating up to more potent but also riskier and addictive narcotics.
The market for a buccally delivered buprenorphine as a treatment for chronic pain was also recently validated by the FDA's approval of a buprenorphine patch made by
Purdue Pharma
.
The other late-stage products in BioDelivery's pipeline are a BEMA Buprenorphine/naloxone combination for the treatment of opioid dependence, which would compete against Suboxone and a bucally delivered formulation of granisetron, used to treat nausea and vomiting caused by cancer chemotherapy.
BioDelivery's stock price has taken a serious beathing this year because of the poor commercial launch of Onsolis (the company's first approved drug) used to treat cancer-related pain. Onsolis is handicapped by a restrictive risk-management plan mandated by FDA. Unfortunately, none of Onsolis' competitors have similar risk-management plans in place due largely due to bureaucratic foot-dragging on the part of the FDA.
Sirgo told me that he hopes FDA will get its act together and level the playing field for all the breakthrough cancer pain products by the end of the year. If that happens, Onsolis' commercial outlook should start to brighten.
I have a reputation for being a stem cell skeptic, not because I don't believe in the potential for stem cells --- both embryonic and adult-derived -- to one day treat disease, but because most of the companies developing these stem cell therapies today are too small and too risky to be considered investable.
With that said, I did catch a presentation from
Athersys
(ATHX) - Get Athersys, Inc. Report
on Wednesday which had me re-thinking my stem cell negativity. I like the company's strategy of developing an "off the shelf" stem cell product that has pharmaceutical-like qualities in terms of reproducible manufacturing capacity, reliability and potential profitability.
Results from a phase I study of Athersys' Multistem in heart attack patients demonstrated a very early peek at efficacy in terms of improved heart function. More data from the study will be presented at a medical conference later this month, and of course, Athersys needs to follow up with a much larger, well-designed phase II study which should start next year.
Dendreon
(DNDN)
CFO Greg Schiffman didn't really say anything about the Provenge commercial launch that investors haven't heard before. He did say that Dendreon was preparing for the CMS national coverage meeting on Nov. 17 as if it were an FDA advisory panel. The difference, he added, was that the discussion and debate will focus on better understanding or defining the current Provenge label and not on the broader (and more risky) question of whether Provenge is safe and effective.
For the biotech catalyst junkies out there,
Neoprobe
(NEOP)
is scheduled to meet with FDA in early October to discuss an approval filing for the company's radioactive lymph node cancer tracing agent, Lymphoseek. If this meeting goes well, Neoprobe plans to file the Lymphoseek application with FDA by the end of October and get a six-month review, which would put the company on the clock for a second quarter 2011 FDA approval decision.
Polymedix
(PYMX.OB)
attracted a good-sized crowd to hear discussion about two drugs in development. The first, PMX-60056 is designed to quickly reverse the blood-clotting effects of heparin and low-molecular weight heparin for use in surgical procedures or in preventative care.
Early studies show '60056 can normalize blood clotting in healthy volunteers who were previously treated with blood-thinning drugs. The company's next step is to conduct a larger, phase II study in cardiac bypass patients. That study will begin later this year and complete in 2011.
Polymedix's second drug is a novel injectable antibiotic, PMX-30063, designed specifically to be effective against highly resistant strains of bacteria. Early, phase I dose escalation studies have shown the drug to be effective even against mutating superbugs. Polymedix is working on a larger, phase II study in staph infection to begin later this year.
Shares of
RXI Pharmaceuticals
(RXII)
took off last week after a biotech penny stock promoter spread a rumor that the small developer of RNAi drugs was about to sign a major deal with a large pharmaceutical company, suggesting further that RXI would use the forum of the Rodman conference to announce the deal.
Well, RXI CEO Noah Beerman presented Monday but made no partnership announcement. When asked about any pending deals, Beerman had no comment other than to say that signing a "significant" corporate partnership was a corporate goal for 2011.
RXI earns some credibility because the company was co-founded by Dr. Craig Mello, winner of the Nobel Prize in 2006 for his research into RNAi. Yet, Mello's reputation only goes so far. RXI still has no drugs in human clinical trials, in fact, another corporate goal for next year is to finally select its first drug candidate to treat dermal scarring.
A second drug candidate for retinal disorders is supposed to enter the clinic in 2011.
The inability to administer RNAi drugs systemically is a big -- as yet unsolved -- challenge for all the companies developing RNAi drugs. RXI is no different and based on what was presented Monday, the company isn't even trying to tackle the delivery problem because its focus indications -- dermal scarring, eye disease and even spinal injury -- can all be addressed with local delivery methods.
RXI closed the second quarter with $11 million in cash, enough to take the company into the middle of 2011, said Beerman. In other words, RXI has less than a year's cash remaining, which means it will look to raise money soon if the rumored partnership deal doesn't materialize.
--Written by Adam Feuerstein in Boston.
>To contact the writer of this article, click here:
Adam Feuerstein
.
>To follow the writer on Twitter, go to
http://twitter.com/adamfeuerstein
.
>To submit a news tip, send an email to:
.
Adam Feuerstein writes regularly for TheStreet.com. In keeping with TSC's editorial policy, he doesn't own or short individual stocks, although he owns stock in TheStreet.com. He also doesn't invest in hedge funds or other private investment partnerships. Feuerstein appreciates your feedback;
to send him an email.