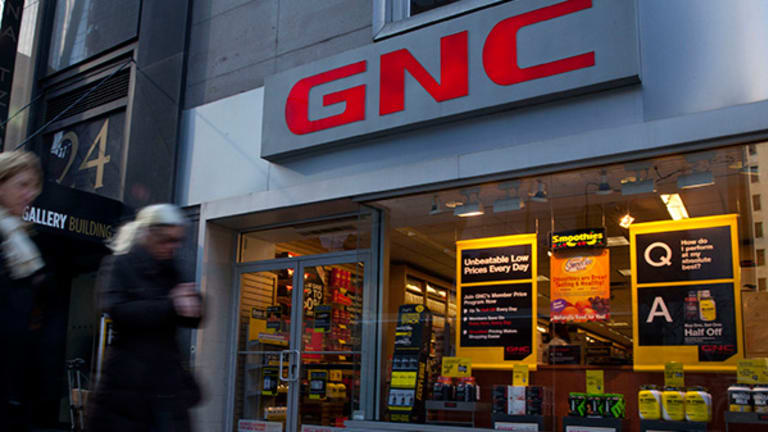 Rock Bottom: 4,400 GNC Stores Closed Today as They Try to Avert Death
Here comes a reboot for the vitamin seller as it attempts to overhaul its pricing system.
Updated from 12:14 p.m. with additional details
When things hit rock bottom, retailers are taking to a once unthinkable strategy -- close all their stores and hit the reset button.
The latest struggling outfit to employ such a strategy is vitamin-seller GNC Holdings (GNC) - Get Report , which will close its 4,400 U.S. stores on Wednesday to overhaul its pricing system. When the stores open their doors Thursday, labels for GNC's protein powders, herbal remedies and nutritional supplements will feature a single price. About 50% of the company's products will be offered at lower prices than before, while a quarter of the prices will be higher. Gone will be the company's generally unpopular Gold Card rewards program, replaced by a new simplified one called My GNC Rewards. The company will also launch a new mobile app. 
No word on whether the company will halt its notorious hard-sale approach on higher priced items and private label products by store employees. But on December 29, the company plans to emerge as the "New GNC."
GNC's stock dropped as much as 4% to $11.07 in afternoon trading on Wednesday.
To be sure, drastic measures such as these needed to be taken at GNC, which for years has lost share to more competitively priced online vitamin sellers and Walmart (WMT) - Get Report . Meanwhile, shoppers have become disenchanted by GNC's high-pressure shopping experience and confusing prices. Tepid mall traffic hasn't helped the mostly mall-based retailer, either.
GNC's third-quarter same store sales decreased 8.5% at U.S. company-owned stores (including GNC's online business), and dropped 8.9% at U.S. franchise locations. Net earnings plunged 30% from the prior year to $32.3 million.
GNC's stock has cratered to the tune of 76% to $11.55 over the past two years, badly under-performing the S&P 500's 8.5% gain. While not pretty, shares of rival Vitamin Shoppe (VSI) - Get Report has only lost 47% during a two-year span.
"The New GNC leaves the old, broken model behind," said Robert Moran, GNC's Interim CEO. Moran who was brought into GNC in July and was the CEO of PetSmart from 2009 to 2013, added, "We're confident it will have a positive impact on the business, but it will take time for the changes to take hold and translate to improved financial results." 
The outcome from closing the stores for a day will likely determine whether Moran gets to remove the interim tag from his corner office in early 2017. Judging by the consumer response to GNC's newest gamble, the company faces a long road in regaining some of its once loyal customer base.
"You could beat their prices online," exclaimed Ty Scales on TheStreet's Facebook page. Added Joseph Arseneau, "[Offering] consistent prices would be a great start."
Nevertheless, GNC isn't alone in closing all its money-makers for a day to try and improve operations and drive some free marketing of the changes (the media loves these types of unusual stories). TheStreet takes a look at two other retailers who have made similar moves. 
Chipotle shut all its stores to check on employee morale
Chipotle (CMG) - Get Report
In a bid to review new safety procedures and rally workers tasked with even more responsibilities in the wake of a massive E. coli outbreak last year, as well as several instances of norovirus, all 1,998 Chipotle locations in the U.S. closed on Feb. 8 between 11 a.m. and 3 p.m.
During that time, Chipotle's then co-CEOs Steve Ells and Monty Moran (Moran has since left the company) broadcast a live meeting via satellite to hundreds of offsite locations across the country. In hindsight, the effort seemed to have been a giant waste of time. 
Third-quarter sales plunged 21.9%, falling well shy of Wall Street forecasts for a drop of 18.9%. Excluding one-time items, earnings came in at 56 cents a share, badly missing analyst expectations for earnings of $1.56 a share. Chipotle's stock has plunged 12.6% to $388.75 since the powwow, under-performing the S&P 500's 22% increase. More recently, Ells flat out said he is unhappy with how the company's restaurants are operating.
"I'm not satisfied with the rate of recovery and the quality of the restaurant experience," Ells told investors at a Barclays conference earlier this month. "We are not offering the necessary guest experience," added Ells, who said 50% of the company's restaurants -- or about 1,050 -- are worthy of scores of "C, D or F."
Howard Schultz first gained attention for shutting all Starbucks stores for a day in 2008
Starbucks (SBUX) - Get Report
When the energetic Howard Schultz returned to Starbucks as CEO in 2008, he closed all locations on Feb. 26 for over three hours (5:30 p.m. to 8:30 p.m.) so that workers could be retrained. Schultz had hated how Starbucks was serving up coffee; it had become a commoditized experience.
"We are passionate about our coffee, and we will revisit our standards of quality that are the foundation for the trust that our customers have in our coffee and in all of us," Schultz wrote in a memo titled "Howard Schultz Transformation Agenda Communication #8."
The tactic was unheard of at the time, but it worked.
The coffee giant was able to remind the public why Starbucks was great, while resetting the mindset of slacking employees. Since Starbucks shut its doors for the day, sales and earnings have recovered, the company has launched several new concepts and the stock has surged 533%.
Starbucks is a holding in Jim Cramer'sAction Alerts PLUS Charitable Trust Portfolio. Want to be alerted before Cramer buys or sells SBUX? Learn more now.