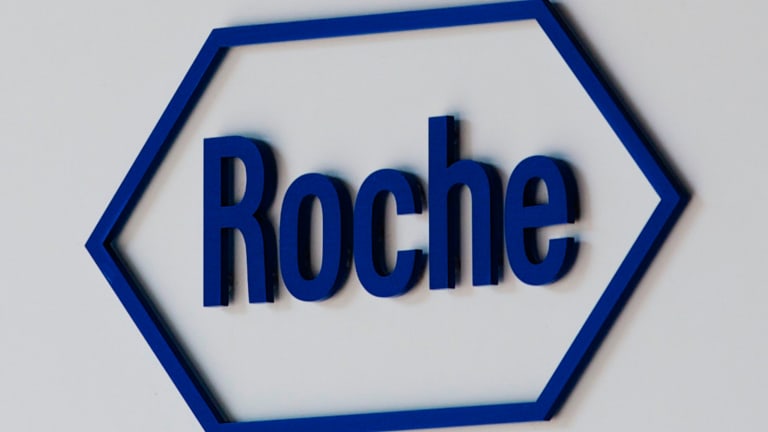 Roche Stock Surges on Trial Successes in Cancer, Haemophilia
Roche sees success in trials for its cancer and hemophilia drugs
Roche (RHHBY) stock surged in the early part of trading on Monday after it announced trial successes in for its cancer and hemophilia drugs.
Roche shares were marked 39.95% higher in Switzerland, changing hands at Sfr239.40, extending a year-to-date gain of 4.26%.
The Basel-based pharmaceutical company said that its its immunotherapy drug Tecentriq mixed with cancer drug Avastin and chemotherapy significantly reduced the risk of disease worsening or death in the initial treatment of people with a type of advanced lung cancer. However, the data is not fully mature and the next analysis is expected in the first half of 2018.
"We are extremely encouraged by these results and will submit these data to health authorities globally with the goal of bringing a potential new standard of care for the initial treatment of lung cancer," said Sandra Horning, MD, Roche's Chief Medical Officer and Head of Global Product Development. "In addition to first-line NSCLC, we are testing the ability of Tecentriq and Avastin to enhance the potential of the immune system to combat a broad range of other cancers."
Separately, Roche said a study of Hemlibra, its hemophilia drug, found that it cut the risk of treated bleeds in patients who have not developed resistance to standard therapy, compared to those receiving no preventative treatment.
"Hemlibra is the first product to show superior efficacy to factor VIII prophylaxis. These results in people with haemophilia A without inhibitors represent the next step forward in our clinical trial program, which includes the positive HAVEN 1 and interim HAVEN 2 data in people with inhibitors," Horning said.
The $482,000-a-year drug was approved last week in the U.S.
Shares in rivals AstraZeneca (AZN) - Get Free Report fell 0.97% to change hands at 4.929 pence and Shire (SHPG) - Get Free Report fell 0.99% In London to 3,640 pence.
More of What's Trending on TheStreet: