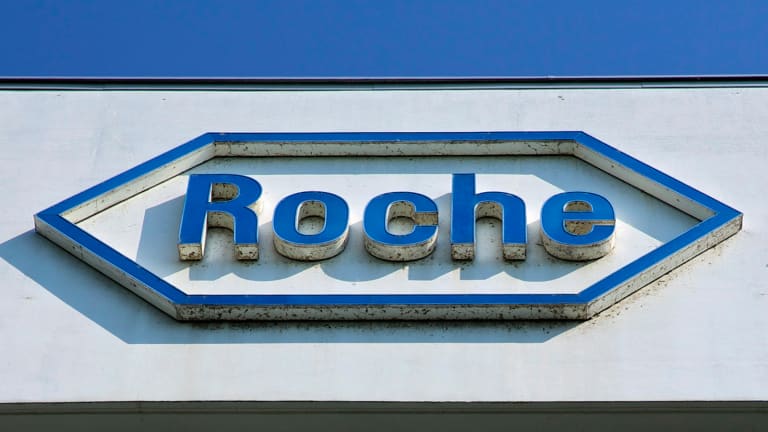 Roche Plunges After a Key Breast Cancer Treatment Trial Disappoints
Not a good session for Roche.
Not a good session for Roche.
Roche AG  (RHHBY) shares fell the most in more than two years Tuesday after data that indicated a new form of breast cancer treatment by the Swiss drugmaker, which combined an older drug with a recently developed one, had only a limited impact on patients. 
The three-year APHINITYtrial showed that using two Roche drugs in combination -- Herceptin and Perjeta -- resulted in only marginally better results for women suffering an early form of breast cancer than those treated only with Herceptin and a placebo. The APHINITY data was announced Monday at the American Society of Clinical Oncology (ASCO) annual meeting.
"The goal of adjuvant treatment is to help each person with cancer have the best chance of a cure, and we come closer to this goal with each advance," said Roche's chief medical officer Sandra Horning. "In the APHINITY study, the Perjeta-based regimen improved upon the high bar set by Herceptin in people with HER2-positive early breast cancer. We look forward to working with global health authorities to bring this treatment option to patients."
Roche shares fell 5% lower in early Zurich trading, the biggest decline since January 2015, and changing hands at Srf251.7 each in the opening 15 minutes, trimming the year-to-date gain to around 8.2%
Herceptin is the second-largest drug in the Roche's portfolio by revenue, generating Sfr1.756 billion ($1.8 billion) in first quarter sales, about half of that from the United States. Perjeta sales totalled Sfr524 million in the first quarter, according to the company's latest report, up 19% from the previous period. 
Click here for the latest business headlines.
Read More Trending Articles: